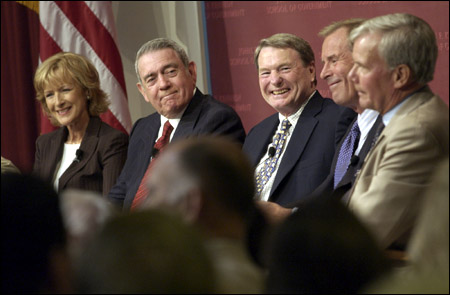 A politically polarized nation and corporate concerns have applied increasing pressure on the nation's major news broadcasters, top anchors told an audience at the Kennedy School of Government (KSG) Sunday (July 25), but they are resisting such pressures and perhaps doing their jobs better in the process.
"I've had a freer career at ABC News than I could have ever imagined. But I feel the presence of anger in the air all the time," said ABC News' "World News Tonight" anchor and senior editor Peter Jennings of rising hatred in a nation that is strongly politically divided. "This wave of resentment rushes at our advertisers, rushes at the corporate suites, and gets under the newsroom's skin, if not completely into the decision-making process."
Jennings' colleagues on the high-profile panel – Tom Brokaw, anchor and managing editor of "NBC Nightly News"; Jim Lehrer, executive editor and anchor of PBS's "The NewsHour with Jim Lehrer"; "CBS Evening News" anchor and managing editor Dan Rather; and CNN's Judy Woodruff, anchor of "Inside Politics" – presented a range of views from across the dial.
"I think this may be a place-to-place situation," Rather responded. "At CBS, I have not felt this one iota."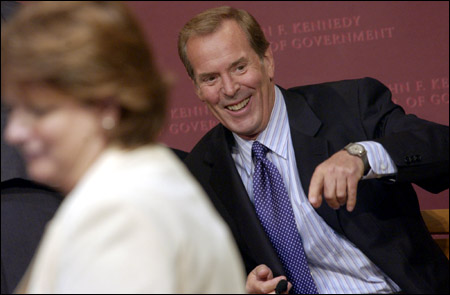 The panel, sponsored by the KSG's Joan Shorenstein Center for Press, Politics and Public Policy and ably moderated by its director, Alex Jones, drew an audience of local and national journalists and other luminaries in Boston for the Democratic National Convention. Political coverage dominated the lively, often extremely candid discussion among the anchors.
As the campaign heats to a frenzy this week, the panelists agreed they feel the pressure of responding to increasingly rapid news and messages churned out by well-organized interest groups as well as instant media like Web sites and Web logs. They stood united in their philosophical tactics for countering political spin machines.
"Our job remains to be gatekeepers, to make sure that there is a kind of filter … that we test for factual accuracy, what the motivation is, and put it in some kind of context," said Rather.
"I am never tempted to yell, 'Liar!' because that's not my function. My function is to press them," said Lehrer, adding that few political "lies" are black or white.
Brokaw noted that viewers must take in campaign coverage – like the campaigns themselves – with a long view. "Campaigns, especially, are about the continuity of coverage. It's not just about one broadcast, one night, and then we go on to other matters," he said.
Reporting on a nation divided
The broadcasters agreed that the political polarization of the nation is sharply felt in their newsrooms as they strive to present perspectives that span the country. Jennings described an encounter with a fellow passenger on the plane to Boston who said to him, "America hater, leave the country." Putting together an upcoming special on the nation's divided viewpoints, said Brokaw, is "the hardest thing I've ever done."
But others saw positive effects from increasing polarization and hatred. "This is our business, to reflect varying views," said Lehrer. "The fact that they're strongly held is terrific from our point of view, because that means people are going to watch us with a little more vigor, a little more interest."
Rather described it as exerting positive pressure on good journalism. "It has made us at least a little bit more cautious," he said. "You never can afford to be wrong with the facts, but you'd better have the story in good context and good perspective."
Covering war, elections, campaign
The anchors were self-critical – although not always in agreement – on their coverage of the conventions, the 2000 and 2004 elections, and the war in Iraq.
When asked about how the television news programs would cover the 2004 election night results better than the 2000 election, Brokaw quipped, "We got rid of that coal-driven computer we had."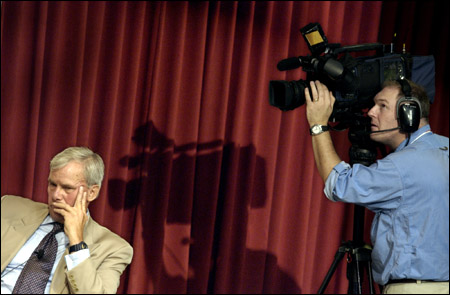 "We all know that 2000 was a disaster for our business," said Woodruff, who, with the others, described a slower, more careful process in place to ensure this November's coverage avoids the confusion of the muddled coverage of 2000.
Looking over their journalistic shoulders to the run-up to the war in Iraq, the anchors discussed how they might have reported those now-contested events with greater clarity and accuracy.
"One of the things we could have done was ask more questions, with more follow-up questions, in an effort to get more direct answers," said Rather. "There is an assumption, and up to a point a valid one, that he [the president] knows things that we don't know."
Journalists, like the rest of the nation, were inclined to believe and respect the Bush administration's claim of the danger in Iraq, said Woodruff. "In the aftermath of 9/11, there was still this hyper-patriotic mood, or demeanor if you will, that still had taken hold to some degree in the media," she said.
Coverage of the 2004 convention, which brought the anchors to Boston in the first place, divided the networks from their cable and public television colleagues. While Brokaw, Jennings, and Rather defended their networks' decisions to air three hours of convention coverage in prime time, Lehrer and Woodruff disagreed strongly (CNN and "The NewsHour" will air several hours of convention coverage each night).
"I think starting tomorrow, we're going to have four of the eight most important days we can possibly have as a nation. We're about to elect a president at a time when we have young people dying in our name overseas, we just had a report from the 9/11 Commission that says we are not safe as a nation, and one of these two groups of people is going to run our country," said Lehrer to the ABC, CBS, and NBC anchors. "You guys are a hell of a lot more important than your bosses are willing to admit."