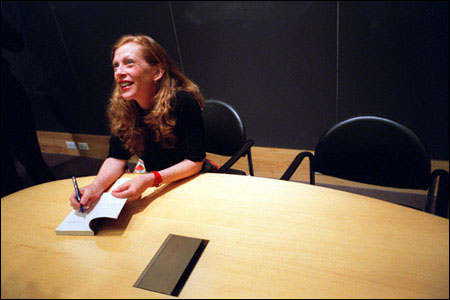 If ever a book-based film inspired questions of the original author, it is "Adaptation," the sideways interpretation of Susan Orlean's 1998 nonfiction book "The Orchid Thief." Unlike most movies drawn from literature, in which the original author and often even the story itself disappear in a Hollywood haze, "Adaptation" puts Orlean's book – and Orlean herself – front and center. In its deliberate blurring of fact and fiction, the author is portrayed (by Meryl Streep) as a repressed New York intellectual-turned-drug addict and murderer.
Who wouldn't have questions?
At a screening of "Adaptation" sponsored by the Writing Program of Harvard Summer School in Boylston Hall Monday night (Aug. 9), Orlean gamely fielded questions from the audience, its interest piqued after watching the acclaimed but unusual film. Orlean, a staff writer for The New Yorker, was a Nieman Fellow at Harvard this past year.
Orlean shared as much about her career as a journalist as about the film and the unexpected celebrity that has befallen her since the 2002 release of "Adaptation" (and its subsequent collection of prestigious reviews and awards). She described herself as ever curious about new worlds and obsessions, a quality that meshes perfectly with The New Yorker's mandate that its reporters ferret out unusual stories and tell them compellingly.
"I'm always looking for the next story," she said. "I never know where it's going to come from." She's currently working on a story, she said, that arose from a conversation she had with a girl she met while walking her dog. And "The Orchid Thief" sprang from a small article Orlean read in a cast-off Miami Herald that landed in her seatpocket on an otherwise boring flight.
'An interesting adventure'
Orlean optioned the film rights to her profile of obsessive Florida orchid collector John Laroche after it appeared as an article in The New Yorker but before she expanded it to "The Orchid Thief." She had no idea, she admitted, how anyone would turn it into a film. "I would not have taken the assignment" to write the screenplay, she said. "It was an incredibly difficult book to make into a movie for all the reasons that Charlie in the movie complains about."
Indeed, "Adaptation" centers far more on real-life screenwriter Charlie Kaufman (Nicolas Cage) and his neurotic, self-loathing efforts to forge Orlean's book into film than on Laroche, larceny, or even orchids. The film rewinds and fast-forwards, weaving Kaufman's writer's block with Orlean's journey to explore the passion that makes the oddball, toothless Laroche tick. Along the way, Kaufman develops a crush on Orlean's book-jacket image, his cocky twin brother Donald (also played by Cage) dabbles with great success in screenwriting, and Laroche gets Orlean lost deep in the Fakahatchee swamp in pursuit of the rare ghost orchid.
When Donald, as sunny as Charlie is dour, brings his by-the-book screenwriting tips to his twin's nonstarting opus, fact tangles with fiction and the film indulges in mistaken identity, spying, drugs, pornography, and violence. A romance, a car chase, and a happy ending complete the transition from Charlie's nontraditional vision to his brother's formulaic – albeit successful – take.
Orlean described her entry into the world of film with humor, poking fun at her own naïveté. When the producers told her screenwriting duties would fall to the relatively unknown Kaufman, she misheard that he had written a film called "Killing John Malkovich" (Kaufman did write "Being John Malkovich," directed by "Adaptation" director Spike Jonze). "I thought it would be a thriller," Orlean said. "I assumed it was going to be a movie about Laroche, that it would be a movie about the crime, not about everything but the crime."
When the producers showed her the script, after a lengthy and luxurious buttering-up lunch, "I was in shock," she said. She initially requested that they change her name to protect her professional reputation, a suggestion at which they balked. "Finally, I just decided, 'oh, what the hell, it will be an interesting adventure," said Orlean.
Facts are facts
This was Orlean's eighth viewing of the film, and she still gave it the proverbial thumbs-up. "I think it's an incredible piece of work," she said. "It's not my book, but that's fine." Little has changed for her since her star turn in "Adaptation," she said. She continues to cherish her work at The New Yorker and to launch each new project with little more than her own curiosity. She owes her success in finding compelling stories, she said, to "a combination of luck and instinct."
Orlean said she reads primarily fiction, although many of the masters of her genre are also on her reading list: Joan Didion, Tom Wolfe, John McPhee, and writers from "the long tradition of The New Yorker," she said. While she described her work as heavily influenced by the techniques, tone, and style of fiction, her nonfiction writing "never crosses the line," she said. "There isn't an in-between. Facts are facts."
Although "Adaptation" does cross the line between fact and fiction, she and Charlie Kaufman share at least one writerly challenge. "Structure, I think, is the hardest thing, and frankly, the most important thing," she said. "It's always a challenge and it's something that never gets easier."