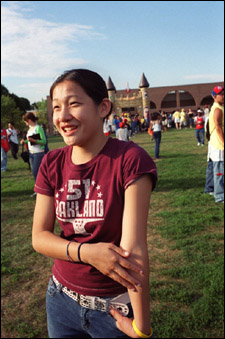 At the annual Mid-Summer Celebration of the 12 day camps run by Phillips Brooks House Association (PBHA), a student-led non-profit at Harvard College, Wednesday evening (Aug. 4), old-fashioned summertime fun took on a distinctly urban flavor. As campers from Boston and Cambridge ran sack races, tossed rings and softballs, slurped watermelon, and smeared their faces with equal parts cotton candy, face paint, and barbecue sauce, a sound system pumped out hip-hop and the Orange Line rumbled beneath Jamaica Plain's Stony Brook Park.
The celebration brought together campers and families from among the 850 low-income children and youth served by PBHA's Summer Urban Program (SUP) – camps that mix academics with field trips and recreation to provide safe, enriching, summer activities. To keep the cost of attending camp among the lowest of any in the area, the college-age directors from Harvard and beyond toil throughout the spring to raise money and in-kind donations.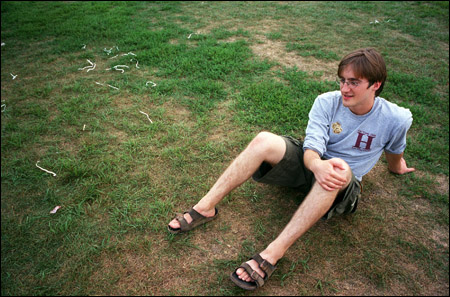 The festivities at Stony Brook Park, however, were primarily the work of junior counselors, the force of 80 high school students, most of them former campers, who assist in all aspects of daily camp life. After several years of budget cuts had significantly reduced government funding for these positions, Harvard – through grants from the Office of Government, Community and Public Affairs and the President's Public Service Fund – has stepped in with generous donations that match summer youth employment funds from the cities of Boston and Cambridge to provide full-time positions and training.
With the economy creeping slowly toward recovery, many junior counselors are grateful for the experience these positions provide. "It helps me out a lot," said Rafael Feliciano, a junior counselor at the Mission Hill Summer Program, as he took a break from setting up the stage for a talent show. "It's good to have a consistent job, for colleges and for my resume." In addition to on-the-job skills, junior counselors get year-round counseling on topics like money management, resume writing, college selection, and SAT preparation.
From her post at the "candy in a haystack" game, Roxbury Youth Initiative junior counselor Dionna Johnson gave high marks to working with young people from her community.
"The kids are great. Just knowing that I have an impact on them keeps me running back," said the Dorchester resident and four-year veteran of the camp. "This job is great experience. It's keeping us out of trouble and off the streets," Johnson added, mentioning the urban violence that's dominated recent news reports.
Any tension that might be in the city's streets and parks was absent Wednesday at the Mid-Summer Celebration, save for good-natured jostling in lines for food and some of the more popular games. "It's fun," said Shakala Hill, 11, a camper at the Franklin I-O camp in Dorchester. "We go camping and on field trips, and it's fun playing the games." Beside her, fellow camper Jekhare Matthews, 8, thoughtfully pondered the high point of the celebration. Burying his face in a sticky blue mound of spun sugar, he concluded, "Eating cotton candy."
The Phillips Brooks House Association Summer Urban Program camps run for seven weeks, through August 20.