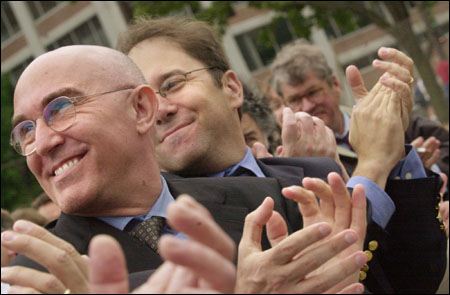 ---
Related article:
Broad Institute created:
Links Harvard, M.I.T. and others in interdisciplinary initiative in genomics and medicine >
---
Ground was broken July 14 for the new long-term home of the Broad Institute at 7 Cambridge Center on the corner of Main and Ames streets. The institute will serve as the vital center of a relatively new collaboration intended to bring the power of genomics to bear on the understanding of disease and to accelerate the search for cures.
Harvard President Lawrence H. Summers, Cambridge Mayor Michael A. Sullivan; Eric Lander, Broad director and a member of the faculty at the Massachusetts Institute of Technology (M.I.T.); M.I.T. Provost Robert Brown; and Whitehead Institute Director Susan Lindquist spoke at the afternoon ceremonies.
The Broad Institute is a partnership between M.I.T., Harvard and affiliated hospitals, and the Whitehead Institute for Biomedical Research. It was established in 2003 to create tools for genomic medicine, making them freely available to the world, and pioneering their application to the study and treatment of disease. The institute is named for lead donors Eli and Edythe Broad, who have pledged $100 million over 10 years to support the institute's work.