George Francis Fabyan Lombard, a former senior associate dean and professor of human relations at Harvard Business School (HBS) for 41 years, died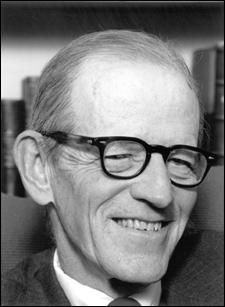 at his home in Weston on June 17. He was 93.
A pioneer of the field of study that eventually became known as organizational behavior, and a skilled dean known for his concern for individuals, Lombard initially was interested in pursuing a career in banking. A 1933 graduate of Harvard College and 1935 graduate of HBS, he postponed his job search for a year after receiving his M.B.A. in order to travel around the world.
While waiting to receive a job offer from an investment firm in 1936, Lombard was invited to spend a few minutes discussing his plans for the future with former HBS Dean Wallace B. Donham. The School had an opening for an assistant dean and Lombard could take the position if he wanted it. "That proposal was completely unexpected," recalled Lombard in a 1985 interview. After one night of deliberation, he decided to forgo banking and accept Donham's offer. He retired from the School in 1977 as a revered administrator and professor. Noted the late Lawrence E. Fouraker, dean of the School in the '70s, in a tribute to Lombard: "He is one of the kindest and most selfless men with whom I have ever been associated."
In 1938, Lombard joined the ranks of those who were pioneering the study of human relations. A handful of HBS faculty had begun to look closely at the social structures of interpersonal behavior in organizations. Many leading executives wanted to know more about this new field of knowledge, and in the latter part of the 1930s, a number of them participated in a series of meetings conducted at HBS by Phillip Cabot, Elton Mayo, and Fritz Roethlisberger. Out of these contacts came a request from General Motors (GM) for a team of field researchers to examine the corporation's executive bonus plan. Roethlisberger chose Lombard as one of four assistants for the GM project.
Roethlisberger and Lombard collaborated again on research at Macy's department store in New York. For six months, Lombard studied the social structure of the young girls dress department, observing the behavior patterns of the 20 salespeople who worked there as they interacted with customers, supervisors, and each other. Two years later, he earned his doctorate from the School, using the data he had collected at Macy's as the basis for his dissertation.
Lombard was appointed an assistant professor of industrial research in 1942. He soon turned his attention toward case writing and teaching in the special programs that were being held in the School during World War II. Lombard also spent time working with Roethlisberger on new courses he was teaching at the School, and with Mayo, who was studying the causes of absenteeism in factories. "The social sciences were no longer confined to primitive cultures or the fringes of industrial institutions," said Lombard.
As a teacher, Lombard was "very careful, very meticulous – painstaking, tolerant, patient, with a sense of humor," Professor of Business Administration Emeritus Arthur N. Turner once observed. Those qualities, plus a reputation for judgment and balance, were well known to George P. Baker when he became dean of the School in 1962, and so he named Lombard as associate dean for educational affairs.
In his new position, Lombard was responsible for staffing the School's programs, hiring new faculty, organizing the work of the appointments committee, and administering faculty salaries.
Lombard was born in 1911 and grew up in Brookline. He attended Dr. River's Open Air School for Boys in Weston. "The children sat outdoors in the winter," said Emily Lombard Hutcheson, one of George's daughters, in an interview with The Boston Globe. "He learned to write with mittens in the freezing cold. Things like that shaped him into the stoic he was. He never showed pain."
After graduating from Milton Academy, Lombard went to Harvard College, where he majored in economics and captained crew his senior year.
When he retired from HBS, Lombard held the titles of senior associate dean and Louis E. Kirstein Professor of Human Relations. He continued to remain active in the affairs of the School, developing a program for liberal-arts Ph.D.s who wanted to switch from teaching to business, and assisting a committee of the University's Board of Overseers. He received the School's Distinguished Service Award in 1985.
Married for 64 years to Mary Esther (Jackson), who died in 2001, he is survived by five children, 19 grandchildren, and seven great-grandchildren. Daughters Rosamond (Posy) Lombard and Rachel Bucciantini predeceased him.
A celebration of Lombard's life was held July 18 at the Josiah Smith Tavern in Weston. In lieu of flowers, donations in his name may be made to the HBS '35 Fund, HBS, Soldiers Field Road, Boston MA 02163.