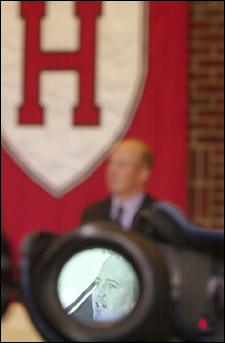 Former Harvard hockey captain, Olympian, and NHL player Ted Donato was   named head coach of the Harvard men's ice hockey team on July 2. A 1991 graduate of Harvard who captured an NCAA championship as a sophomore, Donato becomes just the sixth person to serve as Harvard's head coach since 1950. The appointment is Donato's first in coaching.
Donato replaces Mark Mazzoleni, who stepped down in June after leading the Crimson to two ECAC tournament championships and three consecutive NCAA tournament appearances in his five years with the program.
"This is a great day for me," said Donato at the recent press conference at the Murr Center announcing his appointment. "I'm thrilled to be back at Harvard. Obviously this is a special place for me. I embrace the history and tradition of Harvard hockey and the quality of people who are involved with the program."
"In hiring Ted Donato, we're confident that we've added an enthusiastic head coach who is prepared to build upon our success of the recent past," said Nichols Family Director of Athletics Robert Scalise. "He knows firsthand what it takes to be a successful Harvard student and hockey player, and I fully expect that with his leadership we will have great success with our program in the future."
As an undergraduate, Donato etched his name along the all-time greats in Harvard hockey history. He finished his career in 11th place on the Crimson's career scoring chart (50 goals, 94 assists, 144 points) and earned All-ECAC and All-Ivy League accolades in his 1990-91 senior season. He also was named MVP of the 1989 NCAA Frozen Four when Harvard won the national championship.
A native of Dedham, Donato was a member of four U.S. national teams, including the 1992 Olympic team that competed in Albertville, France. He also played in the World Championships in 1997 and 1999, and in the 1988 World Junior Championships.
The Boston Bruins selected Donato in the fifth round of the 1987 NHL entry draft, and he signed with his hometown club in March 1992 following the Olympics. His 13-year professional career included stops in New York (with both the Rangers and the Islanders), Ottawa, Anaheim, Los Angeles, and St. Louis.
Donato will inherit a Harvard squad that returns 16 letter-winners from last year's team, which went 18-15-3, won the ECAC tournament championship, and advanced to the NCAA tournament.
Donato is resides in Scituate with his wife, Jeannine, and their four children: Ryan, Jack, Nolan, and Madelyn.