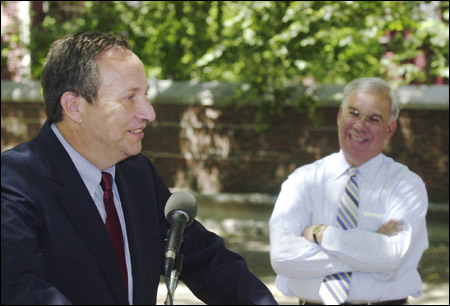 The John Harvard Mall, a historic park in the Charlestown neighborhood of Boston, is now restored and designed to be safer and more welcoming for local families and visitors, thanks to a partnership between the city of Boston and Harvard University.
"A lot of people talk about universities and what they don't do for this city. I'll tell you as mayor what they do for this city; they do so much," said Boston Mayor Thomas M. Menino at the park's dedication on a recent afternoon.
"They give us brain power we need, the resources the city may not have any longer because of budget cuts. [Harvard's president] Larry Summers has changed the attitude of Harvard University; they step up to the plate all the time to make things happen in Boston," said Menino, noting Harvard's partnerships in education and park renovations in Allston-Brighton.
Summers said that with more land in Boston than in Cambridge today, Harvard's future will very much include Boston.
"Success in forging that future in Boston will depend on our always recognizing that we and the city of Boston will succeed together or we will not succeed together, that we have a contribution to make but we also have enormous dependence on this city, on its economic vitality on how attractive a place it is to live," said Summers.
Summers also acknowledged Mayor Menino's 24-7 dedication to "every corner and every square foot in this city," noting that he is "always looking around noticing what could be better, what could be cleaned up a bit, what could be more effective."
Mayor Menino asked Harvard University to help the city restore the park in response to a request from an organization of nearly 300 mothers in Charlestown. Within a year, the tree-filled park sandwiched between house-lined streets had new playground equipment, painted gates, fences, and light poles. The brick wall that made mothers and children nervous with its shadows and hidden nooks was torn down and replaced with an iron fence making the park more open and safe. In addition to funding from Harvard, the Bricklayers Union Local #3 provided extensive masonry services through their apprentice program.
The John Harvard Mall, named after Harvard's benefactor, was built by the University in the 1940s and given to the city of Boston for public use.