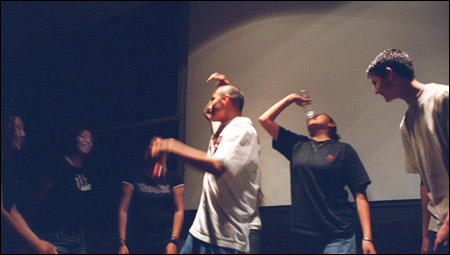 For three weeks, the 20 high school students from Hawaii and Hopi nations had studied the physiological and psychological effects of drug and alcohol addiction with some of the foremost researchers at Harvard Medical School (HMS).
Then, in less than three hours, they taught the Harvard faculty members an unforgettable lesson about the effects of drugs and alcohol in their native communities.
"Alcohol has been in my life for a long time, because my dad was an alcoholic and I lost him," said Staci Myron, a teenager from the Hopi Reservation, at the July 1 presentation. "The last time I saw him, he was drunk."
Dione Naha, Myron's classmate at Hopi Junior/Senior High School, was succinct in her pain. "It hurts so much to see how the alcohol and the methamphetamine use are getting into our culture and our lifestyles," she told the riveted audience.
One by one, 10 teenagers from the Hopi and Navajo reservations in Arizona gave such powerful personal perspectives that a Kleenex box circulated through the lecture hall. Their stories breathed life into the familiar, if remote, tales of untimely death, squandered lives, shattered families, incarceration, and – most heartbreakingly – crumbling tribal traditions.
"I think everybody was moved by it," said David Potter, research professor at HMS and leader, with fellow HMS research professor Edwin Furshpan, of HMS's Native American/Native Hawaiian Summer Program. "What kind of stone would you have to be not to be moved by such an account of misery?"
The science of addiction
The Hopi students' presentation, which included an original play in which a Hopi boy dies of an overdose as he celebrates his admission to Harvard, culminated their three-week visit to Harvard Medical School; it was an experience, on balance, more academically than emotionally challenging.
The students, selected for their academic promise, studied the neurobiology of substance abuse: "How these substances act in the brain to get a grip on you," said Potter. "You can't understand how drugs of abuse, like alcohol, cocaine, nicotine, and all the rest, work on the brain until you know something about how the brain is constructed."
In addition to two lectures each day, the students engaged with a case study pulled from the second-year curriculum of HMS. The case concerned a middle-class couple abusing cocaine, although, said Potter, cocaine abuse is not obvious at the start. Like medical students, the Hopi and Hawaiian teenagers worked through the realistic case gathering clues and presenting diagnoses as a real doctor would, drawing from their burgeoning knowledge of neurobiology.
While the program certainly hit its mark in providing an enriching academic experience for promising students from disadvantaged schools, it also gave these native students concrete tools for addressing the drug and alcohol abuse so prevalent in their cultures.
"This program gave us an opportunity to know how the drugs affect your body in the scientific way," said Vanissa VanWinkle of the Hopi Reservation. "At home, they do it out of curiosity and boredom. They don't even know what's going on and then they get addicted." VanWinkle struck a poignant chord with her description of drinking and drug use at traditional ceremonial dances and rituals; the hurt and disrespect, she said, threaten the entire Hopi culture.
"People think that alcohol doesn't mess you up that much, that it's fine," added Hopi student Joel Melvin. "It does hurt. It does do bad things to you."
Reaching deep into the pipeline
Beyond the obvious benefit to the 20 students, the Native American/Native Hawaiian Summer Program enriches HMS, too, said Jamae Kawauchi, assistant director of the Center of Excellence in Minority Health and Health Disparities in HMS's Office for Diversity and Community Partnership, which sponsors the program.
With a mission to diversify Harvard Medical School and the field of medicine in general, this program reaches deep into the educational pipeline to plant the seed of a career in medicine in the minds of high school students. That's when, as students and counselors from privileged high schools understand, students make the decisions that point them on a multiyear path.
"It helps us mostly with giving these students, many of whom have not left their states or reservations, an opportunity to see what life here would be like, and in a sense, having other students live vicariously through them," said Kawauchi, herself a native Hawaiian. "It helps with recruitment by having them serve as ambassadors from their respective communities here at Harvard."
The program, which continues with a second session for teens from the Massachusetts Wampanoag tribe and from the Assiniboine/Sioux tribes on the Fort Peck Reservation in Montana, also offers students an opportunity to share their cultural traditions with language, dance, and cooking demonstrations. Kawauchi said that embracing their native traditions helps to quell concerns that the pursuit of higher education might necessitate losing their Indian identities.
Now in its fourth year, the program has seen success as students fill the pipeline of higher education. While a Kellogg Foundation report found that only 52 percent of American Indians finish high school, this program's alumni have matriculated at Dartmouth, Stanford, Michigan State, Texas A&M, and other four-year colleges. This fall, one former participant will join Harvard College's Class of '08.
And, if last week's impassioned outpouring is any indication, these native youth stand to teach as much as they learn.
"You've made us laugh and you've made us cry, but more importantly, you made us think," said Joan Reede, dean for Diversity and Community Partnership at HMS, following the Hopi students' presentation. "You made us think about a shared journey, that we are not in this alone. I'm very pleased and proud to know that you are going to be my future colleagues and citizens of the world."