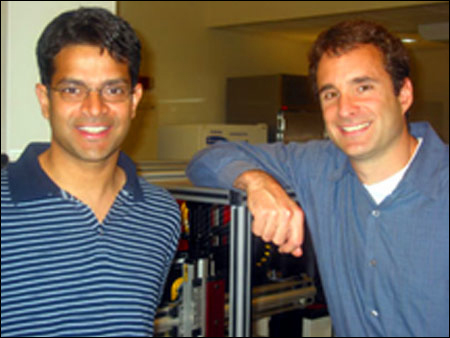 The Broad Institute's Brad Bernstein and Vamsi Mootha have each received a Burroughs Wellcome Fund (BWF) Career Award in the Biomedical Sciences.
Bernstein and Mootha, postdoctoral fellows at Broad, were two of 16 biomedical scientists selected by BWF, each receiving $500,000 over five years toward postdoctoral training and the early years of faculty service. Representing a range of disciplines, the recipients share a common goal of making discoveries that will lead to the improvement of human health and well-being.
Also a postdoctoral fellow in the Department of Chemistry and Chemical Biology at Harvard University, Bernstein is developing genomic and proteomic methods to identify chemical variations in histones, which are proteins found in chromatin, and their effects on gene expression. Located in the cell's nucleus, chromatin contains DNA and proteins that are condensed to form chromosomes during cell division. Bernstein's work represents a potential path to correcting aberrant regions in the genome and may possibly lead to the development of drug therapies to treat diseases such as cancer.
Bernstein is also affiliated with the Department of Pathology at Brigham and Women's Hospital and Harvard Medical School.
Mootha's work involves using genomics, proteomics, and computation to decipher the cell's instructions for making mitochondria, the powerhouses of the cell. Mootha, who is also an instructor in medicine at Harvard Medical School, is working to identify how these instructions go awry in human diseases, including type 2 diabetes. This research may help discover genes underlying common degenerative diseases, and may also help propel the design of new therapies.
"Brad and Vamsi are extraordinarily creative scientists who are inventing powerful methods and making fundamental discoveries that will contribute to the understanding and treatment of disease," said Eric Lander, director of Broad. "I'm delighted they were selected for this award."
Located in Cambridge, the Broad (rhymes with "code") Institute is a research collaboration of the Massachusetts Institute of Technology, Harvard University and its affiliated hospitals, and the Whitehead Institute for Biomedical Research. The Broad's mission is to propel genomic research by creating comprehensive tools for genomic medicine and making them available to scientists worldwide.
The scientific resources catalyzed at Broad allow researchers to take a systematic approach to genomic medicine. For example, the work by Bernstein and Mootha could not be accomplished in a traditional lab setting.
By Michelle Nhuch