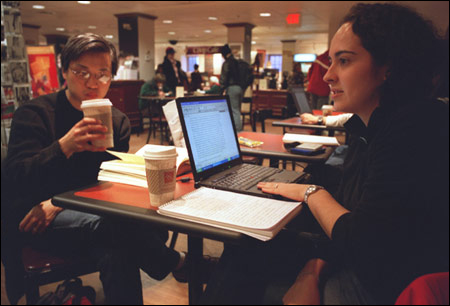 Harvard students today are part of a "replay generation" for whom technology has transformed how they learn, putting information at their fingertips, easing communication, and freeing them in time and space – but that freedom hasn't translated to less time spent on academics.
Time has become flexible, but students don't seem to have more of it. They can contact teaching fellows and faculty via e-mail when the inspiration strikes them and interact with faculty outside of class in nontraditional ways over the Internet. Time freed up from the physical search for reference materials has become engaged in the filtering of enormous amounts of information available at their fingertips.
"The emphasis has shifted from finding information to filtering information, a more complex and sophisticated set of skills that (GSE) certainly demand at least an equal amount of time," said Timothy E. Wirth Professor in Learning Technologies at the Graduate School of Education Christopher Dede.
All this freedom enabled by technology may seem like it should translate to more efficient learning, but authorities say they don't believe students are spending less time on academics.
Associate Dean of Harvard College Jeffrey Wolcowitz said students are finding it easier to do work beyond what is specifically required. Wolcowitz said he thought that as more and more materials are available to students online, the convenience means they're doing optional readings that they used to have to go to the library to access.
Harvard College Admissions Director Marlyn McGrath Lewis said the effect of technology extends down into the high schools. McGrath Lewis said she sees more and more applicants doing work at a higher level. She attributes that to the broader availability of quality materials electronically. Bright students, in effect, don't have to rely on the encyclopedias at the local library anymore. They can access information from a host of sources.
"There's no evidence from where we sit that anyone's doing less of anything," McGrath Lewis said. "Kids are doing more and more at a higher level. They really see the world as their oyster."
McGrath Lewis said that technology provides an important avenue for academically ambitious students to learn beyond their school's regular course material. In the same vein, she said, it provides more educational support for students whose families live in remote locations and for parents who are homeschooling their children.
The replay generation
Though there have been widely varying applications of technology on the Harvard campus, students and education experts say that one of the most important advances has been the ability to view material multiple times, such as a taped lecture available on the Internet.
"This is a replay generation," said Dede. "When I grew up, if you saw TV, it went by once. If you saw a movie, it went by once. It's amazing how kids watch something. You watch something differently if you know you're going to see it again."
Former U.S. Congressman Ron Mazzoli, who entered the John F. Kennedy School of Government's master in public administration program last fall at age 70, agreed. Mazzoli said learning habits ingrained in him at Notre Dame 50 years ago and at the University of Louisville Law School 40 years ago needed serious updating.
In the first weeks of the fall semester, Mazzoli said he found himself scribbling furiously in an effort to keep up with the pace of lectures in his classes. Other students, he said, don't do that. Instead of frantically writing from the beginning to the end of the class, students today tend to rely more heavily on material posted online, from class notes to Powerpoint presentations to videos of the entire lecture.
That allows the students to pay more attention to what the instructor is saying and less to whether their supply of ink will hold out.
"I wind up taking too many notes. I try to do a transcription of the class and I can't do it…. I [find I am] falling behind," Mazzoli said then. "Students now aren't religiously, slavishly, taking down every word."
It took some time, but Mazzoli said by the middle of the fall term he got the hang of note-taking, recording just the substance of a lecture rather than every utterance.
Charles Ducey, director of the Bureau of Study Counsel, said Mazzoli's experience is repeated each year by incoming freshmen struggling to manage their workload. Ducey said a common bit of wisdom the bureau shares with incoming students is to try to slow down and think about what they're hearing or reading. Laptops, he said, tend to encourage students to try to take down every word uttered by the instructor.
"They come out of the lecture with no idea what the professor said because they're being machines," Ducey said. "We're trying to get people to sit on their hands…because that's [transcribing lectures] not real learning."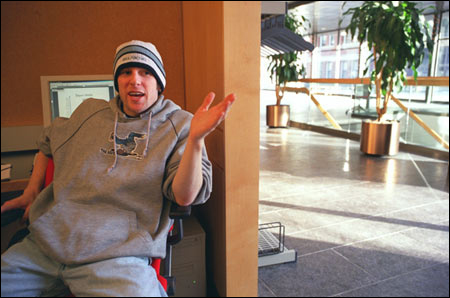 Talk amongst yourselves
Technology has opened the door to new kinds of collaborations that weren't possible before.
Assistant Professor of Education Katerine Bielaczyc said students today are much more likely to focus on the best resources to complete a project or assignment – wherever they're located – rather than simply looking for resources that are physically close.
"It's very enabling with respect to distance and time," Bielaczyc said. "People's sense of distance, who they talk to, who they collaborate with, who they partner with, changes. People look for the best partners and the best workmates, not just those who are nearby. . . . The question turns more toward, 'What resources do I need?'"
Liane Moody, a first-year doctoral student at the GSE, is a good example. One day last semester, Moody worked on her laptop amidst the buzz of the commerce and caffeine at the Harvard Coop café.
"The research I'm working on is based in Milwaukee. I e-mail the people there all the time," Moody said. "[Without e-mail], my research would be impossible without huge amounts of travel."
New faces, age-old problems
Though learning to use new technology may be a challenge to some older people – students and nonstudents alike – Ducey said that doesn't appear to be a hurdle for the younger generation. Despite having to learn to use a variety of programs to analyze data, search for reference material, and pull together presentations and papers, Ducey said he hasn't heard a single complaint from the hundreds of undergraduates the Bureau of Study Counsel sees each year.
"I haven't seen very much to contradict the stereotype that kids come out of the womb computer savvy," Ducey said. "What we're more likely to see than technophobes are dangerous technophiles."
Those "dangerous technophiles" Ducey spoke of are students who seem unable to disconnect from their technology – whether it be video games, Web surfing, instant messaging, or another application – to the point where their studies and nonvirtual relationships suffer.
Ducey said just a handful of students seek help for that sort of trouble each year, however, and even for those who do, the problem has familiar, age-old roots.
"There are a million and one ways of avoiding doing one's work. Computers are just one of them," Ducey said.
Overall, Ducey said, technology hasn't changed students developmentally. Harvard's students today are, for the most part, struggling with the same kinds of personal issues that students have in the past: lost love, a search for meaning, fear of failure.
"Students are coming in complaining about the same pain that you and I did in college. Technology is the sideshow," Ducey said.
The technology that surrounds students today is just one more thing to be managed in their busy lives. They may have the ability to e-mail a friend or look up an assignment on a class Web site, but like generations of students before them, that's not what's uppermost in their minds.
Curtis Mead, a first-year doctoral student in applied physics, recently sang technology's praises. He has hundreds of songs at his fingertips, stored electronically on a compact MP3 player he can carry with him. At a moment's notice, he can quickly call up the text of an article he authored in an academic journal from an online database.
But Mead said despite the central place that technology plays in what he does, he rarely compares technology notes with his father, an optometrist who graduated from the University of Minnesota more than two decades ago. Instead, they talk about the things that parents have talked about with their kids in college for decades.
"Mostly what I tell him is how tough it is, how hard the classes are," Mead said. "And he sympathizes."