Kofi Annan
Doctor of Laws
Kofi Annan is the seventh secretary-general of the United Nations and the first to be elected from the ranks of UN staff. Born in Kumasi, Ghana, in 1938, Annan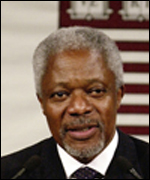 studied at the University of Science and Technology in Kumasi and completed his undergraduate work in economics at Macalester College in St. Paul, Minn., in 1961. From 1961 to 1962, he pursued graduate work in economics at the Institut universitaire des hautes études internationales in Geneva. As a 1971-1972 Sloan Fellow at the Massachusetts Institute of Technology, Annan received an M.S. in management.
Beginning in 1962, he has held a succession of important posts within the UN system and has played significant roles in UN operations in Ethiopia, Iraq, and the former Yugoslavia. He served as assistant secretary-general for Peacekeeping Operations and as undersecretary-general. Elected to his first term as secretary-general in 1997, Annan was elected to a second term in 2001 and will serve until 2006.
Annan's priorities as secretary-gen-eral have been to revitalize the United
Nations through a comprehensive program of reform; to strengthen the organization's traditional work in the areas of development and the maintenance of international peace and security; to encourage and advocate human rights, the rule of law and the universal values of equality, tolerance, and human dignity as expressed in the United Nations Charter; and to restore public confidence in the organization by reaching out to new partners and, in his words, by "bringing the United Nations closer to the people."
On Dec. 10, 2001, the secretary-general and the United Nations received the Nobel Peace Prize. In conferring the prize, the Nobel Committee said Annan "had been pre-eminent in bringing new life to the organization." In also conferring the prize on the world body, the committee said that it wished "to proclaim that the only negotiable road to global peace and cooperation goes by way of the United Nations."
Margaret E. Atwood
Doctor of Letters
Margaret Atwood is an acclaimed and award-winning writer of poetry, criticism, short fiction, and novels. Among her 30-plus books are the Booker Prize-winning
"The Blind Assassin" (Doubleday, 2000), "The Robber Bride" (Doubleday, 1993), "Cat's Eye" (Doubleday, 1989), and "The Handmaid's Tale" (Houghton Mifflin, 1985), which was made into a motion picture. Her most recent novel, "Oryx and Crake" (Doubleday, 2003), returns to the frightening futuristic landscape "The Handmaid's Tale" inhabited.
Atwood's novels often turn on themes of gender and politics, with heavy feminist and mythological themes. With a wry humor, she probes the lives of "everywoman" and plies the tools of social realism, myth, satire, parody, and poetry. Her work has been published in more than 30 languages.
Born in Canada and a current resident of Toronto, Atwood received her B.A. from the University of Toronto and her master's from Radcliffe College. She has taught or served as writer-in-residence at a variety of universities in Canada and around the world, including the University of Toronto, the University of British Columbia, the University of Alabama, New York University, and Macquarie University, Australia. She is a former president of the Writers' Union of Canada and of International P.E.N., Canadian Centre.
Atwood has received a Guggenheim Fellowship and honorary degrees from Oxford University, Cambridge University, the University of Toronto, Université de Montréal, and Smith College, among others. She received the Centennial Medal from Harvard University in 1990 and the Radcliffe Medal in 2003.
J. Michael Bishop
Doctor of Science
J. Michel Bishop, University Professor and Chancellor at the University of California, San Francisco, shared the 1989 Nobel Prize in Physiology or Medicine. He won it with Harold Varmus for their work on cancer genetics.
Bishop was born in rural Pennsylvania, and educated at Gettysburg College and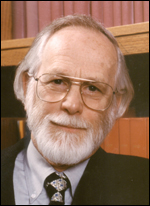 Harvard Medical School. While a medical student, he became interested in using viruses to study genetic processes in humans. Seeing an opportunity to follow that interest, Bishop went to Germany in 1967. A year spent in Hamburg was scientifically unproductive, but he learned the joys of Romanesque architecture and acquired an enduring fascination for German Expressionist art.
In 1968, Bishop moved to the University of California, San Francisco, and has been there ever since. He was joined by Harold Varmus in 1970, and together they explored the origin of tumors. This research led to the discovery of oncogenes, normal genes that can be converted to cancer genes as a result of genetic damage. Their work provided a foundation for new strategies for the detection and treatment of cancer.
Bishop was appointed to the National Cancer Advisory Board by President Clinton in 1994, and served as chair of that board from 1997 to 2000. He served on the Board of Overseers for Harvard University and is presently a member of the Advisory Council for the director of the National Institutes of Health. He has also been elected to the National Academy of Sciences, the Institute of Medicine, and the American Academy of Arts and Sciences.
Bishop continues to teach medical students and has been recognized for his efforts to increase public understanding of science. He has authored more than 300 research papers and reviews, including the book "How to Win the Nobel Prize: An Unexpected Life in Science."
The Hon. Robert L. Carter
Doctor of Laws
Fifty years ago, U.S. District Judge Robert L. Carter was part of the team of NAACP lawyers who argued the landmark school desegregation case, Brown v. Board of Education, before the U.S. Supreme Court.
Carter's fight for equality and civil rights led him to win 21 of 22 cases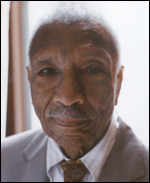 argued before the Supreme Court during his years with the National Association for the Advancement of Colored People, winning landmark rulings concerning desegregation of higher education and intrastate transportation, gerrymandering on racial grounds, and freedom of association.
Carter began with the NAACP as a legal assistant in 1944. Beginning in 1945, he served as assistant special counsel, and, beginning in 1956, as general counsel.
Carter was named a U.S. district judge in 1972 by President Richard Nixon. He serves in New York's Southern District.
Born in Florida in 1917, Carter served in the U.S. Army from 1941 to 1944, becoming a second lieutenant in the Army Air Corps. He received a bachelor's degree from Lincoln University in 1937, an LL.B. from Howard University in 1940, and an LL.M. from Columbia University in 1941. He was admitted to the New York Bar in 1945.
Carter has received numerous awards and honors throughout his career, including Harvard Law School's Medal of Freedom in September 2000, an honorary LL.D. from Yale University in 2002, and the Federal Bar Council's Emory Bucknor Medal for Outstanding Public Service in 1995.
He has served as adjunct professor at the City University of New York School of Law from 1999 to 2000, holding the W. Haywood Burns Memorial Chair in Civil Rights, as adjunct professor at the University of Michigan Law School in 1977, as visiting lecturer at Yale from 1976 to 1977, and as adjunct professor at New York University Law School from 1965 to 1970.
Suzanne Farrell
Doctor of Arts
Born in 1945, in a suburb of Cincinnati and raised by a devoted single mother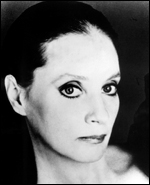 who moved the family to New York City so that her three daughters would have a chance to excel in the arts, Suzanne Farrell became a star of the New York City Ballet while still a teenager.
Her emergence from the corps de ballet came about in true "42nd Street" fashion when the principal female dancer of a new ballet choreographed by the legendary George Balanchine became pregnant and dropped out. The male dancer Jacques D'Amboise believed Farrell could learn the role and convinced Balanchine to give her a chance.
Balanchine not only gave her a chance, he featured her in ballet after ballet. Except for an interruption of a few years when Farrell left to dance in Brussels, their partnership continued until Balanchine's death in 1982.
Among the many dances that Balanchine created for Farrell were "Meditation," "Don Quixote," "Vienna Waltzes," "Walpurgisnacht Ballet," and "Mozartiana." Farrell gave her last public performance with the New York City Ballet in 1989. Joan Acocella, dance writer for The New Yorker, reflected the opinion of most dance enthusiasts when she called Farrell "the most influential American ballerina of the late 20th century."
Since 2000, Farrell has directed The Suzanne Farrell Ballet under the auspices of the Kennedy Center in Washington, D.C., which performs ballets by Ballanchine and other great 20th century choreographers. Farrell also teaches at the Kennedy Center and is a full-time professor in the dance department of Florida State University, Tallahassee. In 1990, she published an autobiography, "Holding on to the Air," and in 1997 she was the subject of a documentary film, "The Elusive Muse," directed by Anne Belle and Deborah Dickson, which was nominated for an Academy Award for best documentary.
Daniel Kahneman
Doctor of Laws
Daniel Kahneman is Princeton University's Eugene Higgins Professor of Psychology and Professor of Public Affairs at the Woodrow Wilson School of Public and International Affairs.
Kahneman, a psychologist, won the 2002 Bank of Sweden Prize in Economic Sciences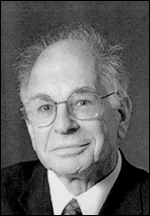 in Memory of Alfred Nobel for work applying insights of psychology to economics. Kahneman's work spawned a new field of research concerning decision-making under uncertainty. Kahneman found that human decisions depart from standard economic theory.
Born in 1934 in Tel Aviv, Kahneman received a bachelor's degree in psychology and mathematics from The Hebrew University in Jerusalem. He received a doctorate in psychology from the University of California in 1961.
Kahneman has won many awards and honors over the years. In addition to the 2002 Nobel, he won the Grawemeyer Prize in Psychology in 2002, the Career Achievement Award from the Society for Medical Decision Making in 2002, the Warren Medal of the Society of Experimental Psychologists in 1995, and the Hilgard Award for Lifetime Contribution to General Psychology, also in 1995.
Kahneman is a member of the National Academy of Sciences, a fellow of the American Academy of Arts and Sciences, the Econometric Society, the American and Canadian Psychological Associations, and the Society of Experimental Psychologists.
Before going to Princeton, Kahneman was a professor at the University of California, Berkeley, the University of British Columbia, and the Hebrew University, where he was also an associate professor, lecturer, and senior lecturer.
Kahneman was a fellow at the Center for Cognitive Studies and lecturer in psychology at Harvard from 1966 to 1967.
Sir Frank Kermode
Doctor of Letters
Frank Kermode is generally regarded as one of the most important and influential British literary critics of the second half of the 20th century.
He was born on the Isle of Man in 1919 into a poor but supportive family. Nearsighted and clumsy as a child, he excelled in his studies and won a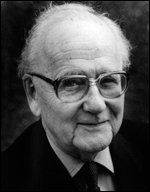 scholarship to the University of Liverpool, earning a B.A. in 1940 and an M.A. in 1947. As World War II began, Kermode registered as a conscientious objector, but later changed his mind after Germany invaded France, deciding that the Nazis could only be stopped through military means. Serving as a lieutenant in the Royal Navy, he was stationed for the first two years of the war off the coast of Iceland and later saw action in Africa and Asia.
Kermode is the former Lord Northcliffe Professor and King Edward VII Professor of English Literature at the University of Cambridge and has taught at numerous universities throughout the world, including Harvard and Columbia. He holds honorary doctorates from several universities and is a fellow of numerous learned societies, including the British Academy and the Royal Society of Literature. An honorary member of the American Academy of Arts and Sciences and the American Academy of Arts and Letters, Kermode was knighted in 1991.
He is the author or editor of some 40 volumes. Best known are "The Romantic Image" (1957); "Wallace Stevens" (1960); "The Sense of an Ending" (1967); "D.H. Lawrence" (1973); "The Art of Telling (1983); "Forms of Attention" (1985); "The Literary Guide to the Bible" (1987); "Not Entitled: A Memoir" (1995); "Shakespeare's Language" (2000); and a selection of essays, "Pieces of My Mind" (2003).
Kermode served as the Charles Eliot Norton Professor of Poetry at Harvard in 1977-78. His lectures were later published as "The Genesis of Secrecy" (1979).
Shirley M. Tilghman
Doctor of Laws
Pioneering genetics researcher Shirley M. Tilghman was named Princeton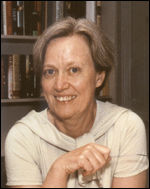 University's 19th president in 2001. An exceptional teacher and leader in the field of molecular biology, she served on the Princeton faculty for 15 years prior to assuming the presidency. She is the founding director of the Lewis-Sigler Institute for Integrative Genomics at Princeton and a founding member of the National Advisory Council of the Human Genome Project Initiative for the National Institutes of Health.
A native of Canada, Tilghman graduated from Queen's University in Ontario. After teaching secondary school in Sierra Leone, West Africa, she studied biochemistry at Temple University in Philadelphia, from which she received her Ph.D. During postdoctoral studies at the National Institutes of Health, Tilghman made a number of groundbreaking discoveries related to the cloning of the first mammalian gene.
Renowned not only for her scholarly research but also for her national leadership on behalf of women in science, she received national attention for a report on "Trends in the Careers of Life Sciences" in 1998. Tilghman was also a member of the ad hoc committee that shaped the transition of Radcliffe from a college to an institute of advanced study.
Tilghman was one of five winners of the L'Oreal-UNESCO For Women in Science Award in 2002, and in 2003 she received the Lifetime Achievement Award from the Society of Developmental Biology. She is a member of the American Philosophical Society, the National Academy of Sciences, the Institute of Medicine, and the Royal Society of London.
Edward O. Wilson
Doctor of Science
Edward Osborne Wilson is the Pellegrino University Professor Emeritus and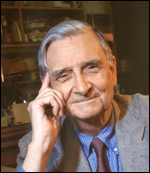 honorary curator in entomology at Harvard University, where he has studied and worked for the past 53 years. "The great pleasure anyone would receive from a Harvard honorary degree must be doubled," he says, "when you've spent your entire career here. I arrived as a Ph.D. student in the fall of 1951, and have witnessed directly and on an almost daily basis one-seventh of Harvard's entire history. I'm still in awe of the place, still with a lot of the kid in me who unpacked his bag in Richards Hall so long ago."
As a boy of 7, Wilson was fascinated by the behavior of insects he saw in the vacant lots of Pensacola, Fla. His interest focused on ants, and he traveled all over the world to study and collect them. "Most people have a bug period," he is fond of saying, "I never outgrew mine."
Wilson shared the 1991 Pulitzer Prize for General Nonfiction with Burt Hollodobler for their book "The Ants." It was his second Pulitzer, the first awarded in 1979 for "On Human Nature."
In his studies of ant societies, Wilson saw parallels in the social interactions of birds, apes, and humans. Describing the latter in his 1975 book "Sociobiology: The New Synthesis" led to enormous controversy, including a physical attack on him at a meeting of the American Association for the Advancement of Science. Today, the book is regarded as the founding text of the field of sociobiology and its offshoot, evolutionary psychology.
Wilson's interests have expanded to global ecology. In "The Diversity of Life"(1992) and "The Future of Life" (2002), he describes how human are causing a biodiversity crisis he compares to natural worldwide extinctions of the past. In "Consilience: The Unity of Knowledge," he argues that returning to the ideals of the original Enlightenment, including the bridging of sciences and the humanities, will make us better stewards of the living world.
Wilson has received more than 90 awards in science and letters, including the National Medal of Science, the Crafoord Prize of the Royal Swedish Academy of Sciences, and Japan's International Prize for Biology.
Commencement Day, June 10, 2004, is his 75th birthday.
– Compiled by William J. Cromie, Ken Gewertz, Beth Potier, Alvin Powell