It wasn't only students on the road to a diploma taking significant steps at the University this year. It was a time for progress in myriad areas. President Lawrence H. Summers announced an important new financial aid initiative that eliminates or reduces the familial contribution of students from low-income families. As part of its first curricular review in almost 30 years, Harvard College released a report with proposed changes to undergraduate education. Harvard moved forward in the process of deciding what to do with Harvard's property in Allston. A committee reviewing the Schools' academic calendars made some recommendations to bring them closer in line so students could more easily take classes at several Schools.
Harvard faculty and students reaffirmed the excellence of their work by earning some key awards. The MacArthur Foundation honored three faculty members with "genius grants." Harvard once again had the highest number of Rhodes Scholarships. A chemist received the Kyoto Prize. The Swedish Royal Academy awarded a pathologist the Crafoord Prize. Time magazine named two professors to their list of 100 most influential people. The American Academy of Arts and Sciences elected 10 Harvard faculty members to their organization. A few of the key research accomplishments this year include the creation of 17 new stem cell lines, a better understanding of how fish swim, advances in our knowledge of light, and more cancer research that brings patients ever closer to better treatments.
The University welcomed a typically eclectic range of provocative, exciting guests, such as the Dalai Lama, musician B.B. King, the nine Democrats who vied for the presidential nomination, Chinese Premier Wen Jiabao, former United Nations weapon inspector David Kay, U.S. Secretary of Homeland Security Tom Ridge, actor James Earl Jones, British naturalist David Attenborough, and cellist Yo-Yo Ma.
– By Jessica Baumgart
Summer 2003
Mario Garcia A.L.B. '04 and So-One Hwang '05, Lily Kang '03, and Manoj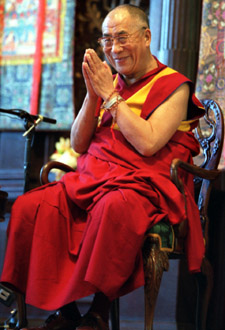 Ramachandran '04 test the effectiveness of one-person cardiopulmonary resuscitation (CPR) aboard the National Aeronautics and Space Administration's (NASA) Boeing KC-135A, which creates a weightless environment.
A collaboration of Harvard, the Massachusetts Institute of Technology (M.I.T.), the Whitehead Institute, and several Harvard teaching hospitals – the Eli & Edythe L. Broad Institute releases plans to focus on developing tools for genomic medicine and making them available for clinical care.
President Summers and Boston Mayor Thomas Menino announce Harvard's contributions of $250,000 to the Boston Youth Fund and $225,000 to Boston summer after-school programs.
Cambridge Mayor Michael Sullivan and President Summers attend an event recognizing Harvard's donation of more than $500,000 to Cambridge programs, agencies, and organizations that advance learning.
Sridhar Ramaswamy, instructor in medicine, and his colleagues at the Dana-Farber Cancer Institute and the Whitehead/Massachusetts Institute of Technology Center for Genome Research report a pattern that may show whether cancer will return after it is first treated.
Harvard Law School Library launches a Web site with digitized material from more than 1 million pages of documents from the Nuremberg Trials of Nazi political leaders and war criminals.
September 2003
Harvard's newest graduate student housing facility, One Western Avenue, opens.
His Holiness the Dalai Lama speaks at the Memorial Church during a 20-day American tour. He also participates in a conference about the mind-body connection with Harvard researchers at M.I.T.
The Kennedy School of Government renames the ARCO Forum for John F. Kennedy Jr. in a ceremony Kennedy family members attend.
Working Mother magazine includes Harvard University on its list "100 Best Companies for Working Mothers." Harvard is the only university on the list this year and only the third recognized for its benefits in the list's 18-year history.
Harvard Medical School announces the creation of the new Department of Systems Biology. One of the first department-level systems biology programs in the nation, it will build upon the understanding of molecular and genetic functions by exploring how whole cells and multicellular systems work.
President Summers and Harvard Medical School Dean Joseph Martin cut the crimson ribbon for the largest building Harvard has ever built. The 525,000-square-foot, $260 million New Research Building will house 800 employees of the Medical School and its affiliated institutions.
Nine Boston after-school programs join HASI, receiving more than $250,000 in grants and the chance to work with Harvard Graduate School of Education faculty and coordinators of other programs supported by the initiative.
October 2003
Jim Yong Kim, associate professor of medicine and medical anthropology in the Department of Social Medicine and Health Inequalities and associate professor of medicine at the Medical School (currently on leave); Medical School instructor in obstetrics, gynecology, and reproductive biology Nawal Nour; and Faculty of Arts and Sciences assistant professor of chemistry and chemical biology and physics Xiaowei Zhuang receive "genius grants" from the MacArthur Foundation.
Donella Rapier will replace Thomas M. Reardon as vice president for alumni affairs and development.
A series of interviews at the John F. Kennedy Jr. Forum between Chris Matthews of MSNBC's "Hardball" and the nine Democratic presidential candidates vying for the nomination begins.
President Summers announces a series of planning assumptions for Harvard's land in Allston and the creation of task forces to examine the feasibility of each plan.
Nine urban school districts, the Harvard Graduate School of Education, and the Harvard Business School announce a collaborative venture called the Public Education Leadership Project (PELP) to improve the educational outcomes of the school districts.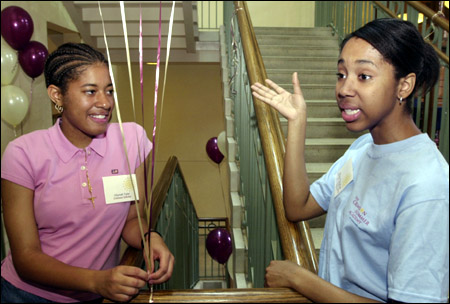 The Office for the Arts and President Summers present "Forte! A Celebration of Student Excellence in the Arts" at Sanders Theatre, featuring 22 acts ranging from solo performances by students to groups such as the Harvard-Radcliffe Collegium Musicum and the Kuumba Singers.
The city of Cambridge and Harvard reach an agreement on Riverside zoning after years of negotiations. As well as building graduate student housing, Harvard will provide affordable housing units and a park.
Harvard Design School Dean Peter G. Rowe announces he will resign as dean on June 30, 2004.
Harvard Medical School researchers have been able to make mice increase their production of blood stem cells. They are preparing for a Phase II trial to see if they can get the same effect in humans.
November 2003
Harvard agrees to buy 170 units in Residences at Fenway, a new construction project of 580 total units, to house graduate students, faculty, and staff.
President Summers and other Harvard administrators visit London during what is thought to be the largest gathering of Harvard alumni in one place ever.
Assistant Professor of Medicine Stephanie Seminara and colleagues at Harvard University and Paradigm Therapeutics have discovered the function of gene GPR54, which is responsible for causing mice to go through puberty.
Graduate School of Education Assistant Professor Nonie Lesaux finds that with proper intervention, children who speak English as a second language can learn to read English as well as or even better than their English-speaking peers.
Harvard Stadium marks its centennial with fanfare. As in the opening game of 1903, Dartmouth beats the Crimson.
Thomas W. Lentz becomes the Elizabeth and John Moors Cabot Director of the Harvard University Art Museums.
Five current students and one alumnus are awarded Rhodes Scholarships. Once again, Harvard leads other universities in the number awarded.
Crimson soccer players Katie Westfall '04 and Katie Hodel '04 are named to the All-Ivy first team and earn All-New England team accolades from the New England Women's Intercollegiate Soccer Association.
December 2003
Harvard College Professor, Gordon McKay Professor of Applied Physics, and Professor of Physics Eric Mazur has created an ultrashort laser pulse that can aid in certain types of medical procedures, like removing a part of a cell or cutting a single nerve.
Harvard Law School and the University of Cambridge's law faculty announce the creation of a joint degree beginning in 2004-05. A few Harvard Law School students could spend their third year at the University of Cambridge pursuing an LL.M., then return to HLS for a semester to complete a J.D. degree.
Boston Mayor Thomas Menino and President Summers break ground for the Brian J. Honan Apartments, affordable housing units in Allston. Harvard gave $2.8 million for the project.
Chinese Premier Wen Jiabao speaks at Harvard.
Harvard physicists build on earlier work of storing light by creating a pulse made of photons that does not move and fits into a few centimeters of space.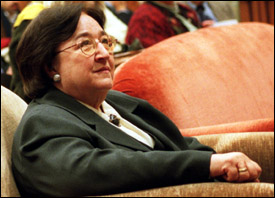 Harvard announces a new summer program, the Crimson Summer Academy, for financially disadvantaged, academically talented high school students from Cambridge and Boston. The intensive program includes academic and personal development activities over three consecutive summers with mentoring during the school year.
While doing an inventory of the Oceania storerooms, Peabody Museum staff find a rare American Indian bear claw necklace acquired by Meriwether Lewis, William Clark, and the Corps of Northwest Discovery during their epic exploration of the American West. In the spring, it joins the Peabody Museum's special exhibit of American Indian items related to that expedition.
A Russian delegation representing the Danilov Monastery in Moscow meets with Harvard University representatives to discuss returning the Lowell House bells to the monastery. Harvard agrees to pay for a feasibility study of removing and replacing the bells. Then, the parties will discuss whether to move the bells. The Russians would pay for the construction, transportation, and replacement of the bells if the delegation decides to pursue moving them.
January 2004
The Swedish Royal Academy awards Latham Family Professor of Pathology at Harvard Medical School Timothy Springer and colleague Eugene Butcher of Stanford University the Crafoord Prize for their work on white blood cell migration.
The National Institute for Allergy and Infectious Diseases awards the Harvard School of Public Health (HSPH) a $20.5 million biodefense grant for a project that studies the immune system response to pathogens.
D.C. United selects All-Ivy Crimson midfielder Kevin Ara '04 in the third round of the 2004 Major League Soccer draft.
February 2004
Jackie O'Neill becomes the first female University marshal, replacing Rick Hunt, who retired in August 2002.
The Harvard women's hockey team wins its sixth straight Beanpot title, defeating the Northeastern Huskies, 5-1.
The Hasty Pudding Theatricals selects Sandra Bullock as its Woman of the Year and Robert Downey Jr. as its Man of the Year.
The United States President's Emergency Plan for AIDS Relief awards the Harvard School of Public Health's AIDS Treatment Care and Prevention Initiative in Africa a $107 million five-year grant.
President Summers announces a new financial aid plan that eliminates the contribution of families making $40,000 or less and lowers the expected family contribution for families making between $40,000 and $60,000.
March 2004
Thomas Dudley Cabot Professor of Natural Sciences and Howard Hughes Medical Institute investigator Doug Melton announces the creation of 17 new lines of embryonic stem cells, adding greatly to the number of viable stem cell lines available for research.
The de Gaspé Beaubien Foundation donates $7.5 million to Harvard Business School in honor of Philippe de Gaspé Beaubien M.B.A. '54 and his wife, Nan-b. The gift will fund the de Gaspé Beaubien Family Endowment at Harvard Business School and focus on supporting a wide range of new and innovative activities, projects, and outreach programs associated with the historical collections of the School's Baker Library.
"Caring for the Harvard Community," a Universitywide initiative of the Office of the Provost, offers a series of events and workshops aimed at promoting the mental health of Harvard students, faculty, and staff.
Mary, Viscountess Eccles bequests an important privately held collection of 18th century English literature, the Donald and Mary Hyde Collection of Dr. Samuel Johnson, to Harvard University's Houghton Library and gives an endowment for a curator of the collection and to fund acquisitions.
Yang (Ted) Teng, assistant professor of surgery and assistant professor of physical medicine and rehabilitation, and Robert Friedlander, assistant professor of surgery and assistant professor of physical medicine and rehabilitation at Harvard Medical School, conduct experiments using the antibiotic minocycline to ward off damage to the spinal cord after an injury.
A U.S. Council on Foreign Relations task force chaired by President Summers and former U.S. Secretary of State Henry Kissinger releases a report about the relationship between Europe and the United States and how it has hit a critical point because of tensions over the conflict in Iraq.
Becoming the first Harvard wrestler to do so, senior Jesse Jantzen wins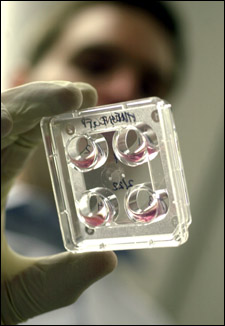 three-straight Eastern Intercollegiate Wrestling Association (EIWA) titles at the 100th EIWA Championships. He later wins Harvard's first national championship since 1938 at the NCAA Wrestling Championships and was named Most Outstanding Wrestler of the meet.
Fisher Professor of Natural History Andrew Knoll, who has been participating in NASA's Mars rover expedition, found evidence that liquid water was on Mars.
A. Kingsley Porter University Professor Helen Vendler delivers the annual Jefferson Lecture in the humanities, sponsored by the National Endowment for the Humanities, the highest honor the federal government bestows on someone who has made distinguished accomplishments in the humanities.
Harvard women hockey's Angela Ruggiero '04 was named Ivy League Player of the Year. Nicole Corriero '05 and Julie Chu '06 joined the first and second All-Ivy teams, respectively, and Ali Boe '06 earned an honorable mention.
The Harvard University Library System pairs up with Simmons Graduate School of Library and Information Science to provide training for Iraqi archivists and librarians. The National Endowment for the Humanities awarded the institutions a two-year $100,000 grant for the project.
After a series of five experiments prove female mice continue producing eggs as adults, reproductive biologists have turned a foundation of reproductive biology upside down.
Both hockey teams win the ECAC championships and advance to the NCAA tournament. The men fall against the University of Maine less than a week later, 5-4, in the first round of the NCAA Tournament to finish the season 18-5-3 overall (4-5-1 Ivy; 10-10-2 ECAC). In their second-straight NCAA championship game appearance, the No. 2 women's hockey team falls to the No. 1 University of Minnesota-Duluth, 6-2. On the eve of that game, the USA Hockey Foundation names Angela Ruggiero '04 the recipient of the 2004 Patty Kazmaier Memorial Award
The Harvard University Committee on Calendar Reform recommends certain shared dates among all of Harvard's Schools to promote better connections among the Schools, including a coordinated start date, fall exams before the winter holidays, and a Commencement date in May.
The Faculty of Arts and Sciences announces the formation of the Center for Systems Neuroscience, a new interdisciplinary research center. Neurobiologist Joshua Sanes Ph.D. '76 of Washington University in St. Louis will become the first director in July.
President Summers and European Central Bank President Jean-Claude Trichet give the keynote event of "Five Years of the Euro," a lecture series examining the new currency.
In the first formal visit to Latin America by a Harvard president, Lawrence H. Summers visits Chile and Brazil, meeting with teachers, students, Harvard alums and administrators in the region and Chilean President Ricardo Lagos and former Brazilian President Fernando Cardoso.
Harvard women's basketball produce a pair of All-Ivy first-team selections in Hana Peljto '04 and Reka Cserny '05.
Freshman foiler Enoch Woodhouse places fifth in the men's standings to help the Harvard fencing team match its best-combined finish (men's and women's teams) in University history as the Crimson placed eighth at the NCAA Fencing Championships.
April 2004
A historic milestone, the Harvard College admissions office accepts more women than men into the Class of 2008 from a pool of 19,750 applicants.
The Harvard Corporation elects and Board of Overseers approves James F. Rothenberg '68, M.B.A. '70 as the University's next treasurer. He will begin his new role on July 1 after D. Ronald Daniel M.B.A. '54 steps down.
The women's golf team finishes third at the Ivy League Golf Championships, its best finish ever.
President Summers writes to Secretary of State Colin Powell and Secretary of the Department of Homeland Security Tom Ridge urging the Bush administration to change the visa process because current procedures delay students and discourage some academically talented international students from studying in the United States.
President Summers announces Scott M. Black Professor of Political Economy David T. Ellwood will succeed Joseph S. Nye Jr. as dean of the Kennedy School of Government when he returns to the faculty in June.
Harvard Law School announces the creation of a new institute, the Charles Hamilton Houston Institute for Race and Justice, which Jesse Climenko Professor of Law Charles J. Ogletree Jr. will direct.
The new Harvard Stem Cell Institute holds its inaugural symposium. The institute hopes to encourage collaboration among all of the people working on stem cell research across Harvard's faculties and teaching hospitals.
Over spring break, Harvard College students participating in the Harvard in Asia Project establish an intellectual exchange with students at Peking University in Beijing.
The University announces a new joint M.D./M.B.A. degree program between Harvard Business School and Harvard Medical School beginning in September 2005.
With identical 7-0 Ivy records, the men's and women's tennis teams capture league titles.
Launched in October 2002, the first phase of Harvard College's undergraduate curriculum review ends with the release of "A Report on the Harvard College Curricular Review." The report recommends significant changes in the content and structure of the education of undergraduates and affirms Harvard's commitment to a liberal arts education.
May 2004
Trey Hendricks '04 was unanimously selected as the 2004 Ivy League Pitcher of the Year. Also named to the All-Ivy first-team were Schuyler Mann '05 and Zak Farkes '06.
Four faculty task forces charged with thinking about how Allston could advance Harvard's academic mission over the next 50 years and beyond issued their reports, focusing on Allston life, undergraduate life, professional Schools, and science and technology. The University also selected the planning and design firm Cooper, Robertson to develop an early planning framework for Allston.
Kara Brotemarkle '04 was named Ivy League Pitcher of the Year; freshman infielder Virginia Fritsch and utility player Lauren Bettinelli also earn first-team All-Ivy honors.
In partnership with Dubai Healthcare City, Harvard Medical School breaks ground for the Harvard Medical School Dubai Center in the United Arab Emirates.
Harvard tennis hosts the first and second round of regional NCAA tournament action. The Crimson women fall to Ohio State, 4-2, as the men put away Tulane to advance to the Round of 16 in Tulsa. Nearly a week later, defending national champion Illinois ends Harvard's postseason run with a 4-3 victory.
June 2004
Harvard men's heavyweight crew repeats as national champion at the IRA Regatta in Camden, N.J.
– Compiled by Jessica Baumgart