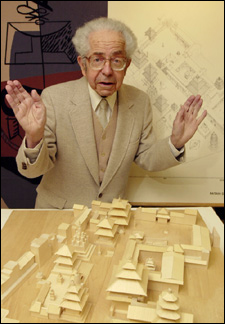 When Eduard Sekler first visited the Kathmandu Valley in 1962, he realized he was seeing something very special and very vulnerable.
Nepal had opened to the outside world only 10 years before, and the culture was still relatively untouched by industrial influence. There were no cars, no telephones, no television, and yet the society was anything but primitive. In the urban areas, Sekler found an exquisite vernacular architecture fully integrated into the daily lives of the inhabitants, while the surrounding hillsides, covered by terraced rice paddies, suggested an ancient, sustainable economy in harmony with the environment. Forming a background to the human realm stood the magnificent, snow-covered peaks of the Himalayas.
"It was the way it had been for centuries – a beautiful valley filled with happy, peaceful people. It seemed like Shangri-La," Sekler said.
But Sekler could see trouble approaching. It would not be long, he knew, before the forces of industrialization and capitalism would penetrate this peaceful, harmonious realm and wreak their inevitable changes.
"I knew that change was coming, but I didn't know it would come in such a fast and uncontrolled way and destroy that beautiful valley. It was clear to me that something had to be done."
Ten years after his first visit Sekler returned to the valley as the head of an international team under the auspices of UNESCO. The team prepared a document titled "Master Plan for the Preservation of the Cultural Heritage of the Kathmandu Valley." Sekler also drew up a detailed plan of action for UNESCO's "International Campaign to Safeguard the Kathmandu Valley." Finally, in 1990, he founded the Kathmandu Valley Preservation Trust (KVPT), which has implemented many of the renovation projects urged in the earlier document, sustaining its ongoing efforts through an international fundraising campaign. He continues to serve as honorary chairman emeritus and chief technical adviser to the project.
The organization's archives, comprising drawings, photographs, publications, and other materials, are now housed in the Harvard Graduate School of Design (GSD). A selection of items from the collection is on view through July 31 at the Special Collections Department, Frances Loeb Library, lower level, Gund Hall. Department hours are Monday-Friday, 1-4:45 p.m.
"I'm very glad the archives will have a safe home where they will be useful to future students," Sekler said.
The most dramatic items in the exhibition are photographs showing before and after views of monuments that the trust has already renovated. Some of these are as old as the 7th century, although most are from the Malla period (14th to 18th centuries), the most active building phase in Nepal's history. The structures include temples, shrine buildings, and pilgrims' rest houses. Many more projects are under way or in the planning stage.
Unfortunately, Sekler's initial fears for the region have turned out to be well founded. The buildings whose renovation the trust has undertaken were literally crumbling. Many of the pagoda-like roofs have partially or wholly collapsed, and the elaborate woodcarving that decorated their facades has been destroyed. Included in the exhibition is an example of such carving, a duplicate of a piece carved by a Nepali artist for one of the trust's projects. The elaborate design of Hindu gods and symbolic entities shows the skill and sophistication that native craftsmen still possess.
It is fortunate that the trust has been able to mobilize such indigenous talent. There is much more work to be done, both in the area of renovation and in the changing of attitudes toward the value of traditional architecture.
"The architecture is threatened by development and by the lack of understanding in the population, the belief that new is better than old. A tall, modern building is better because you can rent apartments and make lots of money. And like everyone else in the world, everyone wants a motorcycle or a car."
Population pressure has also taken its toll. When Sekler first saw the Kathmandu Valley in 1962, there were 400,000 people in the area. Today there are a million. The city of Kathmandu itself has become a modern metropolis. On streets that were innocent of automobiles a mere 40 years ago, diesel trucks now rattle past the ancient shrines and temples.
But the KVPT is exerting a significant counter-momentum. Each renovation the group has successfully undertaken has generated additional interest and attracted more funding, particularly from foundations in Germany, Canada, and the United Kingdom. And despite Nepal's recent political turmoil, the trust has been able to carry out significant renovations.
"We have been working to get people to appreciate the value of this architectural heritage," Sekler said. "Now there is enough awareness for the work to go on."
A life in architecture is recalled
Last month Eduard Sekler delivered the final lecture in his graduate course, "The Shaping and Preservation of Urban Space." The ending of this course marked the summation of a half-century of teaching at Harvard.
Sekler, the Osgood Hooker Professor of Visual Art Emeritus and professor of architecture emeritus, first came to Harvard at the invitation of Josep Lluis Sert, then dean of the Graduate School of Design (GSD). He became professor of architecture in 1960, and in 1962 he became coordinator of studies at the newly founded Carpenter Center for the Visual Arts. In 1966 he became the center's first director and served in that capacity through 1976.
Sekler remembers those early days at Harvard as something of a golden age for American architecture.
"It was a time of great optimism," he said. "We were convinced that we would make a great contribution through architecture and urban planning for a better life."
Back in that golden time, Sekler not only worked with greats like Sert and Walter Gropius, both of whom taught at the GSD, he also got to know most of the important architects of the 20th century, including Le Corbusier and Frank Lloyd Wright.
Sekler made a pilgrimage to Wright's home, Taliesin, in Spring Green, Wis., and found that the great man was less formidable than he had been given to expect.
"I was warned that he could be arrogant, but he was actually quite kind to me. He gave me a cup of tea."
He also invited Sekler to his experimental conclave in Arizona, Taliesin West. Sekler made the trip by Greyhound bus, enjoyed a communal meal with Wright's disciples and listened to Wright's wife play the piano.
"I felt that it was a great cultural event. He had this charisma about him. You had the feeling that you were in the presence of someone special."
Perhaps Wright responded so warmly to Sekler because he recognized a kindred spirit, someone for whom the art of design possessed a deep spiritual significance.
Sekler's feeling for architecture began during his childhood in Vienna when his father took him to visit the city's baroque and medieval buildings. Later, at the Technical University, he was inspired by the idea of being an architect.
"There seemed to be something wonderful about the idea of designing a building that would actually be built."
One of Sekler's first jobs was restoring the hilltop church at Leopoldsberg. Later, Sekler and his wife chose the church for their wedding.
"I thought since I restored it, I might as well get married there."
Sekler's work has ranged freely both geographically and chronologically. He has written scholarly works on figures as diverse as Christopher Wren, Le Corbusier, and the 20th century Austrian architect Josef Hoffmann. In addition to his work preserving the traditional architecture of Nepal, he has also advised the governments of Thailand and India on preservation matters.
And throughout his long scholarly career, he has been a devoted teacher, one who takes his role seriously enough to know when it is time to give it up.
"It seemed enough – 50 years. It is a moment when I still enjoy teaching, and the students still seems to enjoy it as well. It seems the right time to stop, not to drag it out."