Stephanie Saldana, who graduates with a master of theological studies (M.T.S.) degree from Harvard Divinity School today, recently heard that she was chosen to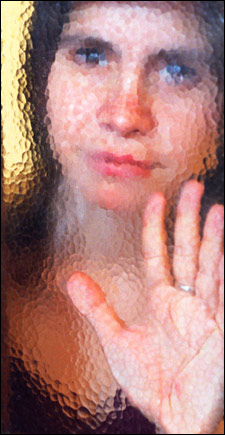 be a Fulbright scholar next year in Damascus, Syria, where she will research "the Muslim Jesus" both historically and in the current moment, focusing on how the figure of Jesus has provided and can provide a springboard for interfaith dialogue.
Given recent world events, Saldana's project could not be more timely, though the May 11 announcement of United States economic sanctions against Syria also means that its fate could not be more uncertain. Then again, Saldana seems to have a penchant for locating to hot-button places during turbulent times.
After graduating from Middlebury College in 1999 and spending two years traveling throughout the Middle East and China, Saldana was looking forward to easing into her first long-term job, working for The Lebanon Daily Star, an English-language newspaper based in Beirut. But as fate would have it, the day she arrived in Lebanon was Sept. 9, 2001.
Talk about a "shock," as Saldana describes it. "I showed up, and the first story I ever wrote was September 11," she said. "It was terrifying, of course, but it was terrifying for reasons that were so complex. On the one hand, I had no idea if I was going to be safe as an American, but on the other hand, my job meant that every single day, I was out there in the open confronting these questions and speaking with Lebanese people about them. There was no way for me to live a 'down low' life."
Saldana had no choice but to pursue this life actively and openly. "I had to try to experience the tragedy from the perspective of the Lebanese people, because they were my audience, and I immediately discovered that they had their own fears," she recalled. "It was a very humbling experience realizing that they feared they were going to be attacked because of Hezbollah, but also many people feared for their relatives who live in America (so many Lebanese emigrated during and after the war). I became acutely aware that September 11 wasn't just our tragedy, it was other people's tragedy, and it was a tragedy for Arabs in a way that I don't think Americans ever really tried to understand."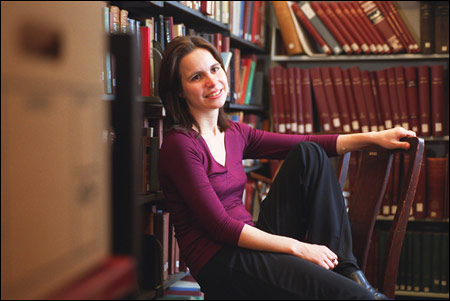 Saldana said she was even more humbled by the fact that during the entire year she spent in Lebanon, she never once felt she was in danger. "There I was, post-September 11, in what should have been the most dangerous places, walking home at two in the morning, and I never felt afraid," Saldana said.
Saldana, who grew up Roman Catholic in San Antonio, Texas, and majored in poetry and literature at Middlebury, had already become interested in Muslim-Christian relations during one of her two years of travel after college, on a Thomas Watson Fellowship. Her fellowship project combined the interests dearest to her heart. "I had a year to write poetry and to unearth the origins of Christianity," she said of the project, which took her to Egypt, Syria, Jordan, and Turkey, where she spent time with Middle Eastern Christian communities.
"I found myself in regions where Muslims and Christians had been living together for hundreds of years and where churches had been converted into mosques, which went against my idea of Islam as something very apart from Christianity. It occurred to me that I knew nothing about Islam and that I really couldn't understand Christianity completely without confronting Islam" Saldana said.
The following year, Saldana spent time among Muslim minorities in northwest China. Toward the end of the year, she landed the reporting job in Lebanon.
"I was so lucky, because I had a lot of freedom at the paper to cover a very broad spectrum of issues, not only political studies, but Arabic literature and the music scene," she said.
Saldana also did "a lot of stories on religion," including an article on Muslim-Christian dialogue in Syria, where she discovered a monastery called Deir Mar Musa that she found to be "a really amazing model" of Muslim-Christian relations. "All of the monks and nuns there take their vow to be Christians within the context of Islam, so they don't see living in Syria or living among Muslims as a trial but as part of their spiritual calling, since they believe it makes them better Christians."
Examining Muslim-Christian relations in the Middle East is very different from studying the same topic here in America, Saldana said, because "it's such a greater part of life there – there are churches and mosques everywhere [in the old cities] and you hear the call to prayer and church bells."
Writing about Muslim-Christian relationships in the region and other articles about religion "was really what made me want to come back here and study Muslim-Christian relations even further," Saldana said, so she applied to HDS and returned to the United States in fall 2002. While at HDS, she has taken a number of courses in Harvard's Near Eastern Languages and Civilizations Department, including Arabic (every semester), Islam and philosophy, and Sufism.
Saldana said her own religious community has helped her to maintain a more grounded and human-focused perspective while she has studied at Harvard. "I'm involved with the Boston chapter of a group called the Community of St. Egidio, which was founded in the late '60s in Rome by a group of Catholics who decided that the answer might actually lie in living the gospels literally, so they started serving the poor and the elderly, and the model spread to 60 countries," Saldana said. "In addition to serving the poor and the elderly, they're also very committed to international conflict resolution. They brokered the peace agreement in Mozambique, and they organize the international prayer of peace [which brings together leaders from the world's religions to pray for a peaceful solution to world conflicts]."
Taking these interests to the student body, Saldana has been the co-coordinator of a student action group on "Religion and Conflict" through the Program on Negotiation at Harvard Law School. "We share our own work that we've done in the field, because there are a number of students at the Divinity School who took time off before they came here and did work internationally in religion and conflict," she said, "and we've also brought in speakers to share insights with us."
"The community of students here is really phenomenal," Saldana said. "My friends here are Buddhist, they're Christian, they're Jewish, they're from the Middle East, they're from all over the United States, and so many of them have done amazing things. I feel every day as if I'm learning as much if not more from the student community as I am from the faculty, and that's a real blessing."
In addition to her religion and conflict work, Saldana has also worked for the Pluralism Project, editing its "In the News" section. "That's been great for me, because it means I'm always on top of issues in religious pluralism happening in America, and it has allowed me to hang on to the journalist side of me," Saldana said.
Because of her desire to make sure messages about religious pluralism and peaceful co-existence are heard in the Middle East, and here in America, Saldana plans to return to Syria next year whether or not United States sanctions affect her Fulbright status. "There is a mass migration of Christians leaving the Middle East right now," she said, "and of course many of the Jews who lived in the Arab world have migrated to Israel and to America, so although the Middle East has always been a religiously plural place, that pluralism is at a very dangerous point right now – it's actually in danger of disintegrating – and no one ever talks about it."
As for her future, Saldana says a Ph.D. may be in the cards, though she feels tugged equally between religion and literature. Whatever she chooses to do, she plans to continue working to spark dialogue between groups of people who consider each other "the other."