Ten Harvard College seniors swore to support and defend the U.S. Constitution Wednesday (June 9) as they were commissioned as officers in the U.S. armed forces during a ceremony in Harvard's Tercentenary Theatre.
The annual ROTC Commissioning Ceremony featured speeches by Harvard President Lawrence H. Summers, U.S. Air Force Secretary James G. Roche, and Col. Jerome J. McDonald, a member of the Harvard Class of 1954.
Both Roche and Lt. Col. Brian L. Baker, professor of military science at the Massachusetts Institute of Technology, who delivered opening remarks in the ceremony, called for closer ties between Harvard and the military.
Baker said it is Harvard ROTC's goal to double participation in the program, from the current 50 to 100 cadets and midshipmen and to become the best university leader development program in the country.
This group of graduating seniors has already taken a step toward that goal, Baker said, with each of the 10 receiving the highest possible score during a summer training program. That score typically goes to just a third of an ROTC class, Baker said. Harvard's performance put it at the top of all ROTC programs in the country.
Roche, who received a doctorate in business administration from Harvard in 1972, said the armed forces needs Harvard graduates in its officer corps, just as it needs graduates of West Point, Georgia Tech, and other universities across the country.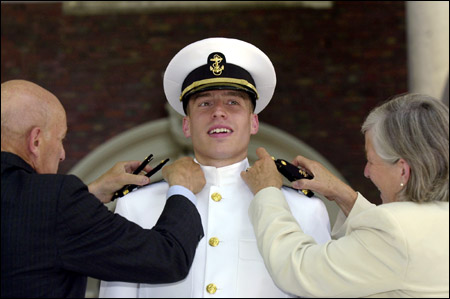 "We need graduates of Harvard to make our officer corps what it must be," Roche said.
Roche urged the newly commissioned officers to consider each job they do the most important one and to bring to each a commitment to excellence. Roche also said that how an enemy behaves is never an excuse to act unprofessionally.
"I ask that you always remember that the most important job you have is the job you are in," Roche said. "Learn your job, take care of your people, and insist on being the best you can…. Never forget a modified version of the old Army maxim: My mission, my troops, myself, in that order. It's a great guide for your life."
In his address to the new officers, Summers said he looks forward to the commissioning ceremony each year because it celebrates graduates who are embarking on a "profoundly important" mission.
Speaking as both a citizen and as Harvard's president, Summers thanked the new officers for the duty they are about to perform and congratulated them on their accomplishments over the past four years.
Summers said that America's strength comes from its freedom, including the freedom to debate that is exercised often at Harvard. But, he said, it is less well understood that America is free because it is strong and said anyone who cherishes the freedoms that we enjoy should support the strength that protects those freedoms.
Summers mentioned several recent Harvard graduates who are currently serving in the military, including Jim Meeks '02, wounded last month in Fallujah, Iraq. Summers cited a recent service for Meeks and quoted a sign over one of Harvard Yard's gates, "Depart to serve better thy country and thy kind."
"That is what you will do. That is why the ROTC program is so profoundly important at this University," Summers said.
Harvard's ROTC graduates include six new Army officers, and two each for the Air Force and the Navy.
After graduation on Thursday, they will head to a variety of different assignments, including the infantry, military intelligence, military police, the National Guard, medical school leading to assignment in the Army Medical Corps, flight training at the Naval Air Station Pensacola in Florida, and as a surface warfare officer on a Navy-guided missile frigate.