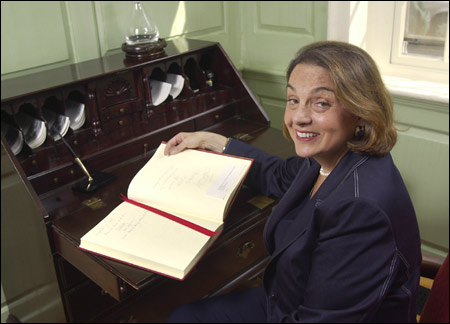 Presiding over this year's Commencement for the first time, new University Marshal Jackie O'Neill has no reason to be surprised. She has, after all, attended 24 of the past 25 ceremonies, and the form of the event has hardly changed in that time.
Still, O'Neill is amazed.
"I've experienced Commencement as an interested observer, I've experienced it as somebody who's staffed the president, and I've experienced it as a graduate of the Kennedy School," says O'Neill, who assumed the duties as Harvard's chief protocol officer in February. "But I have never experienced it up close and personal in the sense of understanding every operational detail."
And what detail it is, says O'Neill. She heaps generous praise on Commencement Director Grace Scheibner and the hundreds of staff, volunteers, and faculty members who spend hours and days and months preparing for Harvard's grandest public event.
"It has been amazing to me to meet all of these people, to learn about what they
---
University Marshal's Office,
http://www.marshal.harvard.edu
Harvard University Commencement Office,
http://www.commencementoffice.harvard.edu
---
do, to recognize how dedicated they are to making this thing go well," says O'Neill, who is also director of communications and external relations for Harvard's Allston Initiative. "There's a recognition that it is a moment that we all come together to celebrate what it is that we're all about. These large ceremonial moments are the things that knit everything together and make us feel like we're part of a larger community."
Overseeing the Morning Exercises and ensuring that they mesh as "a three-part ballet" with the lunchtime diploma ceremonies and afternoon meeting of the Harvard Alumni Association, O'Neill walks a thin line between planning and partying, schedules and spontaneity.
"It's about making the trains run on time, but giving people a celebratory, relaxed, convivial kind of experience. That's not easy to do," she says. The size, grandeur, and formality of Commencement overshadow the other major events O'Neill has orchestrated, the last two presidential inaugurations and the 1998 convocation in honor of Nelson Mandela.
In one of the only substantive tweaks to Commencement traditions, the "trains" will run a little earlier this year – the Morning Exercises begin at 9:45 instead of 10 a.m. – to allow graduates a more relaxed lunchtime at their Houses and Schools.
"It's an experiment to see whether we can capture time that will allow people to go back to their Schools, have a more leisurely lunch, and get back here in time to hear the speaker," says O'Neill, adding that she anticipates many guests will be eager to return to Tercentenary Theatre to hear speaker United Nations Secretary-General Kofi Annan.
The other major novelty in the tradition-steeped Commencement ceremonies is O'Neill herself: She is the first woman to serve as a Harvard Marshal.
"I'm very proud of that," she says. "It's important in this day and age for people in the audience to look up at that platform and see diversity of all kinds. I think of myself as a very, very small piece of that."
And while O'Neill's may be the voice that opens the Morning Exercises when she requests to the sheriff of Middlesex County, "Pray, give us order," she's humbly aware that the celebration and gravity of the occasion handily eclipse her role.
"Commencement is the prominent conclusion of the academic year, and there are many, many stakeholders who have to be accommodated," she says. "Mostly, though, it's making sure that the graduates and their families have a joyous experience. They've earned it."