The Harvard men's heavyweight crew managed its fourth consecutive sweep of the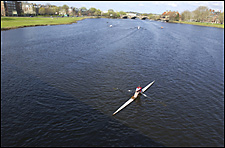 freshman, JV, and varsity races in the 139th annual Harvard-Yale Regatta this past Saturday (June 12) in New London, Conn. The Crimson rowers now hold an 86-53 series advantage in the storied regatta – the nation's oldest intercollegiate sporting event.
Opening competition in choppy waters, the freshman boat narrowly edged the Elis by three-quarters of a length, finishing in a time of 8:46.1. Yale, which finished third at the Intercollegiate Rowing Association Regatta earlier this month (a mere half-length behind Harvard), completed the four-mile course just four seconds later.
Next up, Harvard's second varsity earned the day's largest margin of victory, finishing a full 30 seconds ahead of Yale's 2V in a time of 13:46.1. A quarter-mile in, the Crimson enjoyed a length lead, before finding open water at the half-mile mark to leave Yale behind on the windy Thames. The win marked the JV's eighth straight.
In the final race, Harvard's varsity boat completed the four-mile course in a time of 18:42.1, nearly 25 seconds faster than the Elis' run of 19:06.8. With the day's rowing conditions at their least favorable, the Crimson extended its slight lead after the first mile to an open water advantage. Harvard concludes the 2004 campaign undefeated with a 7-0 dual record.
With the intercollegiate season complete, Harvard's varsity crew will compete in Switzerland this weekend (June 18-20) as part of the FISA World Cup. Racing as USA2, the Crimson will wear the red, white, and blue. Visit http://www.gocrimson.com for updates.