Success in fencing requires balance, timing, preparation, and sacrifice.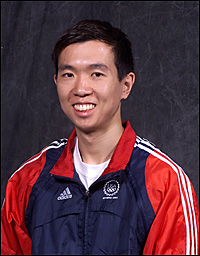 Achieving this elusive combination is as rare as it is impressive. Gregory Chang has done it.
Chang, a graduate of Harvard College '97 and Harvard Medical School (HMS) '03, will travel to Athens, Greece, and the Games of the XXVII Olympiad this summer as a member of the U.S. Olympic Fencing Team, the first Crimson fencer to make a modern Olympic team in close to 70 years.
Chang qualified for the team in men's foil by virtue of his third-place finish at the 2004 United States Fencing Association (USFA) Division 1 National Championships and Olympic Trials held in Atlanta in April 2004. To qualify, Chang came from behind to score eight straight touches against Jesse Schibilia of the powerhouse New York Athletic Club, winning his quarterfinal bout. As a result, Chang jumped up to fourth in the national rankings, earning him the last spot on the Olympic team.
"When I scored the 15th touch, I remember tearing off my mask and dropping to my knees screaming," Chang said. "I was obviously happy, but I didn't know that that had put me on the team…. About 15 minutes after the match ended, Simon Gershon, the national team coach came up to me and told me that I had made the team."
Chang's feat was the realization of a dream he's had since age 12, when he and his younger brother, Tim, first started fencing. Chang points to sister Heidi, an All-American fencer at Wellesley in 1995, and his parents as co-supporters of that dream along with Tim.
"She [Heidi] understands what my brother and I have been going through trying to continue competing after college," Chang said. "My parents I think have just always wanted me to be happy, and if it were not for their support all these years, then the Olympics this summer would definitely not be possible."
"Keeping it in the family" has served Chang well over the years. He's traveled throughout the country and around the world with Tim, now a nationally ranked fencer in senior men's foil and fellow competitor at the Olympic Trials. After Tim was eliminated in the round of 16, he proved an invaluable resource as his older brother prepared for his critical match.
"Tim was coaching me all throughout the bout, and his presence there was crucial for me," Chang said. "Not only did he give me good advice for the next period, but I felt more confident knowing he was there."
Confidence, and an ability to persevere in the face of adversity should benefit Chang once he puts down his foil, hangs up his mask, and steps away from competition. After completing an internship year at Cambridge Hospital, Chang will start his residency in radiology at N.Y.U. Medical Center in July 2005, a discipline Chang has previously pursued while working on a part-time basis for Gillian Lieberman at Beth Israel Deaconess Hospital. In the summer of 2003, after graduation from HMS and when not doing physical conditioning and working out at the Boston Fencing Club, Chang and Lieberman, an associate professor in radiology at HMS, created an educational CD that teaches medical students how to interpret plain films (X-rays) of the abdomen.
His preparation for a career in medicine, teaching, and research has suffered some interruptions from his fencing passion. After enrolling in the Medical School in the fall of 1997, Chang had to put his studies on hold not once, but twice, taking a total of three years off from medical school to dedicate himself to training in Paris full time from 1998 to 2000, and again from 2003 to 2004. While at HMS, Chang often used fencing as a means to keep from burning out from school, which at times required him to complete 40- to 100-hour rotations, then jet off to World Cup competitions, often overseas.
"HMS and many professors were very supportive of this decision, particularly Professors Orah Platt and William Taylor, and the Dean of Student Affairs Dr. Nancy Oriol," Chang said. "Without their support, I'm not sure I would have had the courage to take the time off."
His dedication and sacrifice make Chang just the fifth Crimson fencer to represent the United States in the summer Olympics. The last Harvard fencer to make an Olympic team prior to Chang was John G. Hurd '34, a men's foilist (like Chang) who represented the United States at the 1936 Summer Olympic Games held in Berlin.
"Harvard has such a long tradition of fencing, and it's great to be a part of that history. I hope that this will bring some recognition to Harvard Fencing."
Such recognition may come sooner rather than later, thanks to the efforts of head coach Peter Brand. Chang says that Brand's recruiting efforts have brought exceptional talent to the current Harvard team. New fencers include Tim Hagamen '07, a sophomore who nearly made the Olympic team in men's sabre this year; Enoch Woodhouse '07, an alternate for this year's U.S. Under-20 National Team; and Emily Cross '08, an incoming freshman in fall 2004 who was last year's Under 17 world champion.
For Chang, a top undergraduate fencer himself, the Olympics has always been his ultimate goal, but had he not made it to Athens this year, he says, the disappointment wouldn't have lingered.
"I've just lived through 10 or 12 years in a row not making teams, so it would have been nothing new to me," Chang said. "In the end, perhaps having less pressure on me – feeling like I had nothing to lose – was what enabled me to hold nothing back and perform that day."