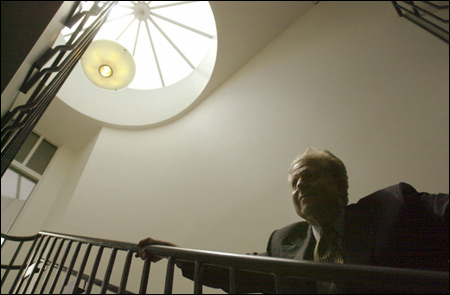 One of the world's foremost constitutional scholars and a chemist whose groundbreaking work in nanotechnology has had far-reaching impact will become Harvard's newest University Professors, President Lawrence H. Summers announced Monday (June 7).
Laurence H. Tribe, the Ralph S. Tyler Jr. Professor of Constitutional Law at Harvard Law School, has been named the Carl M. Loeb University Professor. In addition, Mallinckrodt Professor of Chemistry George M. Whitesides will become the first Woodford L. and Ann A. Flowers University Professor. Both appointments will take effect on July 1.
The Loeb Professorship was established by John L. Loeb '24, LLD '71 and Frances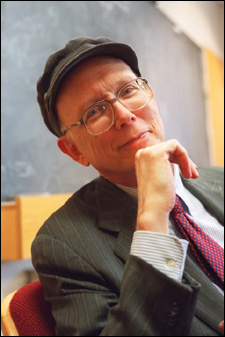 Lehman Loeb, two of the most generous University benefactors in Harvard's history. The Woodford L. and Ann A. Flowers University Professorship was established by their son, J. Christopher Flowers AB '79, and his wife, Mary H. White, to honor his parents' devotion to education.
"I'm delighted to announce these two new appointments," said Summers. "Larry Tribe is one of the great constitutional law scholars and practitioners of our time, and few law professors have had a comparable impact on the shaping of American law. George Whitesides is a scientist of extraordinary imagination and scope, and his long record of cross-disciplinary innovation, most recently in nanotechnology, exemplifies the excitement and promise of modern science. Both these outstanding faculty members have brought honor to Harvard through their scholarship and teaching, and both very much deserve the University's highest professorial distinction."
Tribe, a graduate of Harvard College and Harvard Law School who has been on the Law School faculty since 1968, is the author of "American Constitutional Law," widely regarded as the leading treatise on the subject. He is the author of over 100 other books and articles; his treatise and other publications have strongly influenced academic discourse and doctrinal development in an array of areas, including freedom of expression, freedom of religion, privacy, separation of powers, federalism and states' rights, and equal protection.
In addition, Tribe is a leading appellate advocate, having prevailed in the great majority of the many cases he has argued in the federal courts of appeals and in nearly two-thirds of the more than 35 cases he has presented to the U.S. Supreme Court. In 2003, he was lead author of Harvard's amicus brief in the Supreme Court cases involving admissions practices at the University of Michigan, and he prepared the American Civil Liberties Union's amicus brief in Lawrence v. Texas, a landmark decision on private sexual conduct that overturned Bowers v. Hardwick. Tribe also helped draft the new constitutions of South Africa, Russia, the Czech Republic, and the Marshall Islands.
Tribe has received numerous honorary degrees and in 2000 he received the Law School's Sacks-Freund Prize for Teaching Excellence.
"I am enormously grateful to President Summers and to Harvard for the honor they have bestowed by appointing me the Carl M. Loeb University Professor," said Tribe. "I hope my future work will vindicate the judgment that this appointment represents. Being named to the same chair that was once held (in 1976-84) by the justly legendary and recently departed Archibald Cox, and that was held before him (in 1958-76) by the remarkable Paul A. Freund, both of whom I was fortunate enough to have as my teachers and mentors while I was a student here in the 1960s and to have as colleagues and friends after I joined the law faculty, makes this an especially poignant and humbling experience for me."
Whitesides, also a Harvard College graduate and faculty member at Harvard since 1982, has had a profound impact on the field of materials science by drawing on a broad scientific perspective ranging from fundamental chemistry to applied technology. His efforts in nanostructured materials (at the level of the single molecule) and the techniques he created to produce them are being applied widely in areas such as biotechnology, electronics, optical networks, circuitry, and computer science.
Several recent honors indicate the scope and impact of Whitesides' work. He received the National Medal of Science in 1998 in recognition of his "innovative and far-ranging research in chemistry, biology, biochemistry, and material science, pioneering work of technological interest, and his extensive involvement with teaching, government, and industry." In 2000, he received the Materials Research Society's Von Hippel Award, and in 2003, the Inamori Foundation of Japan awarded him the prestigious Kyoto Prize for his pathbreaking contribution to the development of nanotechnology.
Whitesides, who received his Ph.D. from the California Institute of Technology and taught at the Massachusetts Institute of Technology before joining the Harvard faculty, is a past chairman of the Chemistry Department (1986-89) and a former associate dean of the Faculty of Arts and Sciences (1989-92).
"It is, of course, an honor and a pleasure," said Whitesides of the professorship. "I also note the obvious – that in an experimental research group (which ours is), the creative center of the group is the students. So, it is an honor and pleasure for all of us."
The University Professorships, first created by the President and Fellows in 1935, are chairs intended for "individuals of distinction … working on the frontiers of knowledge, and in such a way as to cross the conventional boundaries of the specialties." A total of 17 Harvard faculty members currently hold University Professorships.