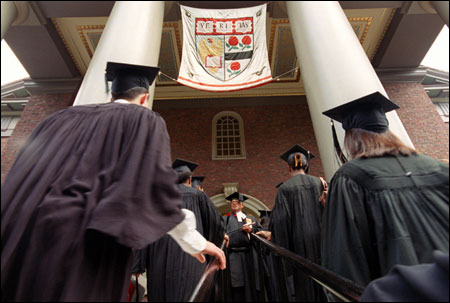 Think things through, Harvard President Lawrence H. Summers urged the Class of 2004, telling them to use throughout life the most valuable skill learned at Harvard: the ability to think deeply about problems that confront them.
"The liberal education we offered, and that you leave with now, could hardly teach you all you needed to know. You knew a lot coming in," Summers said. "Nor could it complete your education. You will be learning your whole life. What it could give you, and what I hope it did give you, was the habit of strenuous thought – of thinking carefully and creatively about things large and small."
Summers addressed the cap-and-gown-clad Class of 2004 inside the Memorial Church during the annual Baccalaureate address Tuesday (June 8) afternoon.
The Baccalaureate is one of Harvard's oldest Commencement rituals and gives Harvard's president and members of the clergy the chance to address the class in a more relaxed manner than will occur during Commencement ceremonies on Thursday (June 10).
The Baccalaureate began after a procession from the Old Yard, past the John Harvard Statue, around University Hall, through Tercentenary Theatre, and up the steps into the Memorial Church.
The Rev. Professor Peter J. Gomes, the Plummer Professor of Christian Morals and Pusey Minister in the Memorial Church, conducted the service and greeted students from the top of the church's steps as they filed in.
The service reflected the diversity of Harvard's student body, with readings in several languages from the Hebrew Bible, from Hindu Scripture, The Holy Quran, and from The New Testament.
Gomes opened the service, which lasted about an hour, with a welcome to the class, saying that though the Baccalaureate has changed over the centuries, it remains true to its original purpose: "to wish well to those about to leave the College with the first degree in arts or in sciences."
Gomes said Commencement will celebrate the accomplishments of their four years at Harvard, but the Baccalaureate celebrates the still "unfinished" aspects of soon-to-be graduates' lives.
"The Baccalaureate always looks … at the unfinished business of virtue, of goodness, and of wisdom," Gomes said.
Students called Summers' talk inspirational and humorous.
"It was nice to hear the president. He was both funny and serious," said Gail Pokorney, a senior from Mather House.
Summers' speech was the centerpiece of the service and covered a wide range of topics. Occasionally humorous, Summers had some good news and some bad news for parents, who listened to the speech as it was piped out to Tercentenary Theatre.
"Parents out there, the good news is no more term bills. The bad news, I can tell you as former Treasury Secretary, is that your children are no longer tax deductible as dependents," said Summers.
Though his speech was broad-ranging, touching on everything from architecture to Crimson Cash to the Cuban Missile Crisis, its major focus was pointed. Summers urged students to have confidence in the power of their own minds and to understand how much critical thinking can matter in the world.
In examining a problem, Summers said it is important to not just think deeply about one's own views, but also to consider the views of others, especially those who hold opposing views.
If one gets criticism after a decision is made, Summers said, it doesn't necessarily mean a decision is flawed. If criticism is unexpected, he said, it reflects a flawed decision-making process.
Summers held up the British appeasement of Hitler before World War II and the American failure to truly understand what was at stake in Vietnam as failures to think things through.
"Millions of people died not because of moral but because of intellectual failures, failures of comprehension, and failures brought on by weak analysis that overlooked the perspective of the adversary," Summers said.
In contrast, Summers cited President John F. Kennedy's analysis of the Cuban Missile Crisis as an example of a successful effort.
"John F. Kennedy and the team around him were successful in defusing the Cuban Missile Crisis because they thought not just about what they wanted to happen, but about all the things that could happen," Summers said. "They thought not just about their next moves, but their adversary's possible countermoves. They thought not just about their principles, but what would save face for their adversaries if their principles were to prevail."
Summers said that even deep and thoughtful deliberation is no guarantee against making the wrong decision. And sometimes, happily, decisions made lightly also turn out well. But over time, he said, thoughtful analysis will lead to success.
"You have the ability and you have the ideals to make a difference," Summers said. "Remember, though, what I hope you learned here. Think things through."