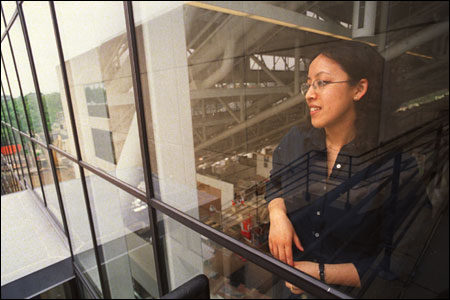 Design School graduate Mollica Manandhar's petite stature and soft voice give little indication of the determination and singleness of purpose that have guided her life since adolescence. Growing up in the city of Kathmandu in Nepal, Manandhar knew from an early age that she wanted to be an architect. Ask her why, and she answers with the sort of modest candor that characterizes most of her conversation.
"My mother always encouraged me in the fine arts, but I was also good in math and physics. I wanted to combine the two, and architecture seemed like a good choice."
There was another reason, but one that may seem a bit too grandiose to offer on first inquiry. She wanted to help save the architectural heritage of her native land.
Living in the Kathmandu Valley, Manandhar was aware of the exquisite and unique temples, shrines, pilgrims' rest houses, and public squares constructed mostly during the 17th and 18th centuries. But she also saw how these structures were being neglected and falling into decay, victims of a modernizing mentality that saw the old as inherently inferior to the new.
"I realized how little people value the traditional architecture, how little the average citizen knows about it. The uncontrolled development in the Kathmandu Valley, the urban sprawl and natural disasters have all taken their toll. I want to shape space using harmonious and innovative designs involving an interplay of new and traditional methods that will build and develop community and improve living conditions."
But at the time there were no colleges in Nepal that could offer Manandhar the training she needed to accomplish this goal, so with encouragement from her father she began looking outside her country. India was a possibility, but she decided to look further, toward the United States. She finally narrowed the choice to Harvard and the Massachusetts Institute of Technology (M.I.T.). M.I.T. seemed the better alternative because it offered a bachelor's degree in architecture, but Manandhar chose Harvard because she thought she would get a more well-rounded education here.
The transition from Kathmandu to Cambridge was something of a shock.
"It struck me how independent and individualistic everyone was. Everything was at your fingertips, but you had to do it yourself. There was so much more social support in Nepal than there was here."
Early in her undergraduate career, she found a mentor in Eduard Sekler, the Osgood Hooker Professor of Visual Art Emeritus. Sekler, an architect as well as an architectural historian, had been involved in safeguarding and renovating the traditional architecture of the Kathmandu Valley since the early 1960s. He and Manandhar have met regularly for informal discussions for the eight years she has been at Harvard.
Despite her initial sense of culture shock, Manandhar did so well as an undergraduate that by the end of her junior year she decided to apply for the Graduate School of Design's Seniors Program, which allows undergraduates who earn admission to the GSD to overlap their senior year with their first year of graduate school.
"The last person who'd been admitted to the Seniors Program was accepted seven years ago. I talked to her and she said, 'Don't do it, it's very difficult.' But there were courses that were being offered in the first year at the GSD that I was very interested in, so I decided to do it anyway. It was quite a challenge."
For her master's thesis, Manandhar designed a new performance center with public space for the city of Kathmandu. During visits to Nepal she has discussed her ideas with local politicians, community leaders, environmentalists, and artists, and has found that most people have been receptive to her proposal. She declines to speculate on the chances of her project actually being built, although she does say with quiet conviction: "If it were built, I think it would be a good thing."
Manandhar's life has not been without its share of darkness. When she was in ninth grade her mother died after a long illness.
"My older sister was away at school, so I became the female in charge of the family," she said.
But Manandhar was able to manage her duties at home and become head girl at the British-funded school she attended in Kathmandu, a school that had recently gone co-ed. She formed a relationship with the young man who held a similar position among the male students, a relationship that has endured while the two followed separate courses in college and graduate school.
The pair were recently married. Manandhar's husband, who graduated this year from a medical school in Nepal, will begin his residency at St. Elizabeth's Hospital in Boston while Manandhar takes a job with the Boston architectural firm Payette Associates.
As usual, Manandhar has a plan, and there seems little chance that she will let herself be deterred. In addition to restoring and beautifying the urban fabric of Nepal, she hopes to serve as an inspiration to younger Nepali architects, particularly women who dare to infiltrate what has been up to now a male-dominated field.
"I want to gain experience practicing in the real world. Then we both want to go back to Nepal and work there."