One composes operas that are performed all over the world; another has done breakthrough work on the psychological effect of racial and cultural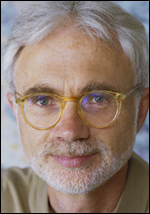 stereotyping; a third, a scholar of modern European history, has probably shaken hands with more world leaders than nearly anyone else on the planet; and a fourth, in addition to heading a non-profit that rescues victims of violent conflict, has served as president of two major universities.
They are the 2004 Graduate School of Arts and Sciences (GSAS) Centennial Medalists: John Adams '69, A.M. '72, music; Susan Fiske '73, Ph.D. '78, social psychology; Richard Hunt, Ph.D. '60, history; and George Rupp, Ph.D. '72, study of religion. All four received their awards on Wednesday (June 9), at a luncheon at the Harvard Faculty Club.
John Adams
John Adams is one of America's foremost contemporary classical composers and conductors. His operas include "Nixon in China," "The Death of Klinghoffer," "I Was Looking at the Ceiling and then I Saw the Sky," and "El Niño."
Adams' works have received numerous awards, among them the 1994 Royal Philharmonic Society Award for his "Chamber Symphony" and the 1995 Grawemeyer Award for his "Violin Concerto." In 2002 Adams composed "On the Transmigration of Souls" for the New York Philharmonic, a work written in commemoration of the first anniversary of the World Trade Center attacks. This work received the 2003 Pulitzer Prize for Music.
In April and May 2003, Lincoln Center presented "John Adams: An American Master," the most extensive festival mounted there devoted to a living composer. In celebration of a 15-year partnership, Nonesuch Records released in 1999 "The John Adams Earbox," a 10-CD compilation comprising most of Adams' oeuvre.
Adams continues to conduct regularly with the world's greatest orchestras and with programs combining his own works with those of composers from Debussy and Stravinsky to Zappa, Ives, Glass, and Ellington.
Susan Fiske
Susan Fiske is professor of psychology at Princeton University and an authority on the dilemma of cultural stereotyping, particularly regarding race and gender in the workplace.
Her research addresses how stereotyping, prejudice, and discrimination are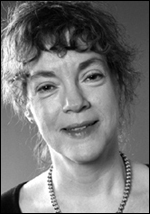 encouraged or discouraged by social relationships, such as cooperation, competition, and power. Her expert testimony in discrimination cases includes some cited by the U.S. Supreme Court in a 1989 landmark case on gender bias. In 1998, she testified before President Clinton's Race Initiative Advisory Board, and in 2001-03, she co-authored a National Academy of Science report on Methods for Measuring Discrimination.
She has served as president of the American Psychological Society (2002-03) and of the Society for Personality and Social Psychology (1994). She is the author or editor of dozens of articles and books, including "Handbook of Social Psychology" (as co-editor; 4th ed., 1998), "Confronting Racism: The Problem and the Response" (as co-editor; 1998), and, most recently, "Social Beings: A Core Motives Approach to Social Psychology" (2003).
Richard Hunt
Until his retirement in 2002, Richard Hunt was a Harvard faculty member in social studies for 42 years and Harvard's University marshal for 20 years. An
expert on modern European history, particularly the rise of National Socialism in Germany, Hunt has co-taught with such renowned Harvard scholars as Erik Erikson and David Riesman.
As University marshal, Hunt presided over Commencement and oversaw the Harvard International Office. He also greeted international visitors in the name of the President and Fellows of Harvard College, arranged for University delegates to attend installation ceremonies at other colleges and universities worldwide, and advised members of the University on matters of protocol.
During his tenure at Harvard, Hunt also served as director of the Mellon Faculty Fellowship Program, and as assistant dean (1960-1969) and associate dean (1970-1977) of the Graduate School of Arts and Sciences. Hunt was also chairman of the Faculty Committee on Religion, a member of the Social Studies Committee, and an affiliate of the Center for European Studies.
He is co-author (with John Bethell, former editor of Harvard Magazine, and the late Robert Shenton, former secretary of Harvard's governing boards) of "Harvard A to Z," recently published by Harvard University Press.
George Rupp
George Rupp is president of the International Rescue Committee (IRC), a position he has held since 2002.
Founded in 1933 at the request of Albert Einstein, the IRC is among the world's largest nonsectarian nonprofit agencies providing global emergency services for refugees and victims of oppression and violent conflict. The IRC conducts health, emergency, and resettlement programs in such places as Rwanda, Sudan, Kosovo, Chechnya, Afghanistan, and Iraq, among others.
Rupp previously served as president of Columbia University (1993-2003), where he
focused on enhancing undergraduate education, strengthening the relationship of the campus with surrounding communities, and increasing the international orientation of the University.
Prior to his time at Columbia, Rupp served as the president of Rice University, a position he held for eight years. At Rice, he launched a reform of the undergraduate curriculum and developed six multidisciplinary research institutes. Before that, he was dean of the Harvard Divinity School and John Lord O'Brian Professor of Divinity.
He is the author of "Beyond Existentialism and Zen: Religion in a Pluralistic World" (1979) and "Commitment and Community" (1989), among other books.
The Graduate School of Arts and Sciences Centennial Medal was first awarded in June 1989 on the occasion of the 100th anniversary of the founding of the Graduate School.
Alumni are honored for "contributions to society as they have emerged from one's graduate education at Harvard." Anyone who has earned a master's or doctoral degree from the Graduate School is eligible to be considered for a medal. Nominations, which may come from GSAS alumni and affiliates, are reviewed by senior University officials and by the Graduate School Alumni Association Council's medalist committee. The Harvard Corporation votes on these recommendations.