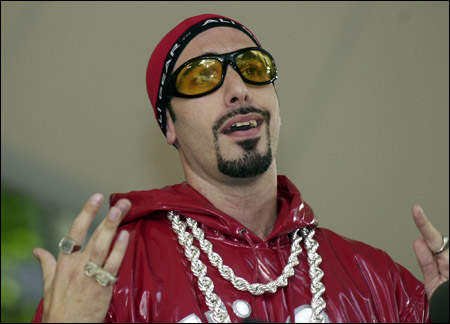 Sacha Baron Cohen, in the persona of bad boy rapper Ali G, amused Harvard's Class of 2004 – and no doubt bemused their parents and older relations – with more awe than advice at Class Day ceremonies Wednesday afternoon (June 9) in Tercentenary Theatre.
Opening his brief remarks with his signature "Booyakasha!", the star of HBO's "Da Ali G Show" proclaimed the graduating seniors "da most cleverest of students in America." The speaker, showcasing the misinformation and malapropisms that characterize his television interviews, lauded the proud heritage of Harvard alumni, including "President George Clinton" and Lyndon Baines Johnson, "or as he is known, JFK…. Or most importantly, that really fit hottie from 'Star Wars,'" he said, continuing to riff on his admiration – not necessarily scholarly – of Natalie Portman '03.
Admitting several times that bringing the grandparents might not have been wise, Ali G peppered his talk with references to sex, drugs, arrests, and scatological functioning. He snuck one profanity past the censors, warning the graduates "the world is totally F-blank-blank-blank-blank-blank-up."
He shared his dismay that Harvard would not pay for the pornography he watched in his hotel room; particularly surprising since one program – "Ivy League Cheerleaders" – served as research for his talk.
"But I digest," he said, speaking in a ghetto-thick English accent.
Harvard students are so bright, he said, that scholars of English "have
memorized the entire alphabet, A to X." Harvard's history students are graduating with advanced knowledge of such facts like "what did Lincoln give America, apart from the Town Car?" he said. In fact, Baron Cohen, who is of Welsh and Israeli descent, studied history at Cambridge University.
Ali G praised Harvard's diversity and the advances of women in its ranks. "A lot of you is probably feminists, or as we call them in England, 'lezzies,'" he said. "You women should only have to do half the housework. It's only fair that your mum should do the other half."
Abandoning his trademark yellow tracksuit for a crimson one emblazoned "Professor of Erbology," Ali G compared himself to "the great civil rights leader, Martin Luther Vandross," and warned the audience that they might hear his words echoed at Commencement ceremonies. "Kofi Annan's speech is pretty much like this," he said of the United Nations secretary-general who will deliver the afternoon address. "He's going to have to come up with all new material."
Looking back, moving on
Baron Cohen's remarks capped a festive, warm afternoon that celebrated the Class of 2004's time at Harvard and armed them with thought-provoking, inspirational ideas to carry into their futures. Traditionally the day before Commencement, Class Day is the student-focused, less formal celebration of the graduating class of Harvard College.
As students and their families sought shade and fanned themselves with their programs, speakers both serious and silly recalled memorable moments of their four years together, with several references to the occupation of Massachusetts Hall in 2001, the revitalization of the University Council, grade inflation, and the Last Chance Dance and other enhancements to Harvard's social life.
"All I have to say about the Last Chance Dance is 'Shame, shame, shame on all of you,'" said First Class Marshal Shaka Bahadu in his opening remarks. "And I have pictures."
In one of the two humorous Ivy orations, speaker Colin Jost recalled the challenging times the Class of 2004 had endured together: the war in Iraq, the threat of terrorism, "and that time when the Harvard server went down and we couldn't check facebook.com for more than an hour," he said.
Leila Strachan, the other Ivy orator, assured her classmates, "There are some things more important than money. Like fame."
In his more serious Harvard oration, Nicholas Smith mused on his search for veritas at Harvard. "Whose truth? Was this included in the tuition? Would my roommate and I receive the same truth?" he said, recalling his freshman year. "The truth we bring is not spelled with a capital T. It is rather a thirst for truth, a love for truth, a reverence for truth that we have shared together and which we carry beyond these ivy gates."
In her Harvard oration, Jennifer Hawkins encouraged her classmates to seize each moment and live it to the fullest. "Now is our time, your hour and mine. For us, let there be no small tasks, only noble endeavors," she said.
Class Day ceremonies also included the presentation of the Ames Awards – granted to a graduating male and female "unsung hero" of public service – to Christine Tran and George Lee.