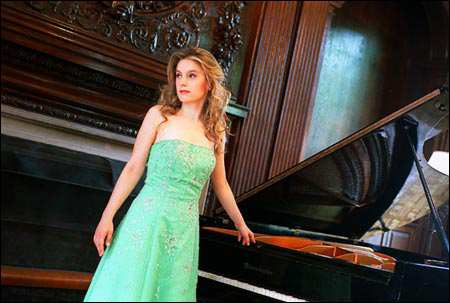 To the extent that there is an average Harvard student, Berenika Zakrzewski '04 is no average Harvard student.
In the midst of final exams, when her classmates tumble about campus in sweatpants and bed head, she arrives at a morning meeting crisp and fresh, designer sunglasses perched atop a carefully arranged mane of blonde; high-heeled boots boosting her several inches into the rarified air of a professional musician.
Which is, after all, where Zakrzewski (zak SHEV ski) belongs. As most members of the Class of '04 prepare to launch their careers upon graduation, Zakrzewski will merely continue the career as a pianist that she's been toiling at for more than a decade.
On a campus bristling with overscheduled overachievers for whom juggling and multitasking are as essential – and natural – to survival as eating and drinking, Zakrzewski's path through Harvard nonetheless stands out. She's maintained a concert schedule, traveling once a month to perform around the nation and the world; she played for firefighters and relief workers at New York's Ground Zero and recorded with the Sinfonietta Cracovia in Poland. She stuffs her summers with performances and residencies at some of the world's most prestigious music festivals. And somehow, she manages to spend five or six hours a day ("That's a good day," she admits) at one of Kirkland House's pianos.
And while she acknowledges that her social life suffers for her art, she belongs to the all-female social club the Bee, the Hasty Pudding, and the Signet Society, and counts dancers, actors, and lacrosse players as friends.
"I want to do everything. I'm a very enthusiastic person," says the soft-spoken Zakrzewski, her lilting Canadian accent ebbing and flowing. "I wish I didn't have to sleep."
Liberal arts vs. performing arts
Born in Warsaw and raised in Canada, Zakrzewski started playing piano at age 3. "I haven't stopped since," she says. She made her debut as a soloist at age 9 with an orchestra in her hometown of Sault Sainte Marie, Ontario. Her career took her to the Juilliard School's precollege division and the Professional Children's School, a private school that lets young performers shoehorn rigorous academics around their budding music, acting, or dance careers.
If a staunchly liberal arts education in Cambridge seems a detour in Zakrzewski's arrow-straight charge to a musical career, don't be fooled, she says. And no, Harvard is absolutely not a fallback, guaranteeing her an entrée into consulting should the whole globetrotting concert pianist thing not work out. It will, she declares without a hint of self-doubt, work out.
"I want to be a pianist. But what that means for me might mean something else for someone else. This is how I am accomplishing my professional goals. This is the right decision for me," she says.
Choosing Harvard over Juilliard, Zakrzewski gladly forfeited jam sessions and performances with musical equals for heady discussions of American politics, biochemistry, or medieval history.
"I work best when I have lots of ideas, lots of things I want to communicate. Being stimulated constantly … I flourish in that kind of environment. Harvard is very good at providing that," she says.
A music and government concentrator who names Robert Levin '68, Dwight P. Robinson Jr. Professor of Music, as her primary teacher and mentor, Zakrzewski has gorged at the buffet of ideas Harvard lays out, deftly weaving her musical passion into broader intellectual interests.
"I've had an opportunity to be in class with a lot of the greats, people who've written a lot of our textbooks and informed a lot of how we think about the world," she says. From associate professor of music Karen Painter's course on conducting and composers, she probed the sociological and musicological context of her favorite performance pieces. She lapped up Bass Professor Michael Sandel's "Justice" and trembled before the late Stephen Jay Gould, the Alexander Agassiz Professor of Zoology, when her concert schedule forced her to request that she postpone the midterm for his "History of Life" Core course. (Gould, a music fan, graciously obliged her request.)
Andrew Moravcsik's Core course on International Conflict and Cooperation in the Modern World inspired her to write her thesis, which explores the political, social, and economic aspects of American concert halls.
"My art, in the context of this place, has reached new and exciting levels," she says.
Playing with fire
Zakrzewski names her 2001 performance in "Segue!", the performance event that opened the inauguration of President Lawrence H. Summers, as a highlight of her Harvard career. Anyone who attended that Sanders Theatre showcase of student talent likely also remembers Zakrzewski's performance as a highlight, as she breathed fire into Liszt's "Hungarian Rhapsody No. 6."
It's this incendiary impetus that guides Zakrzewski's playing. "I'm a very energetic, passionate person – and performer," she says. "I think performances are meant to be high-energy experiences. I want my audiences to be involved. I want to grab them when they first come in and keep them till they leave. If they remember, if it moves them, I've accomplished something."
Levin credits this passion, accompanied by Zakrzewski's obvious musical gifts and determination, for helping her connect with her audiences in a profound way. "She has a great deal of fire, temperament, energy, drive, and all of these kinetic factors are very much in evidence when she performs," he says. "She's a naturally flamboyant performer, and her presence charms and excites a lot of people."
After a summer in the Berkshires as a fellow at the Tanglewood Music Center, Zakrzewski will return to Harvard for her final semester (her family will cheer her on at today's Commencement, but she won't officially graduate until January). After that, she says, she'll move to New York City and continue to fulfill her dreams. While she makes room for improvisation, there's little doubt in her mind what the future holds.
"I want it all. I want to perform around the world in great halls with great musicians and share music. It's what makes me happy," she says with the same clear-eyed focus that brought her this far.
For this pianist, however, success goes far beyond flawless performances in the world's great concert halls. "I want to affect audiences and be remembered," she says. "Not necessarily me, but maybe the performances, as something that changed somebody's life, or at least affected it for that moment. It's a very powerful thing."