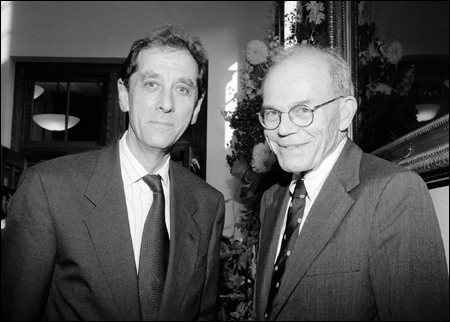 At a time when there is intense scrutiny of Harvard's undergraduate curriculum, the College is fortunate to have received a gift that addresses one of the key goals that has emerged from the ongoing curricular review.
To encourage early and close contact between undergraduates and faculty members, the J.M.R. Barker Foundation has made a grant of $5 million to establish the Robert R. Barker Fund for Small-Group Instruction in Honor of Jeremy R. Knowles, Amory Houghton Professor of Chemistry and Biochemistry, Harvard University Distinguished Service Professor, and former dean of the Faculty of Arts and Sciences (FAS).
"This gift supports the enormously important goal of fostering close and meaningful ties in our academic community," said William C. Kirby, dean of the Faculty of Arts and Sciences and Geisinger Professor of History. "In the right setting, a professor can inspire, instruct, and guide a student, in ways that affect a lifetime. I am grateful to the Barker Foundation; this gift will help us reshape the culture of teaching and learning at Harvard."
The fund, which will enable Kirby to attract non-FAS and emeritus faculty members of the University and beyond to teach small groups of undergraduates, will be used initially to expand and enrich the offerings of the Freshman Seminar program; thereafter, it will support other forms of small-group instruction.
The gift will also serve as a lasting tribute to the late Robert R. Barker '36 and his deep connections to Harvard. "My father was a longtime, generous supporter who believed in stretching to support Harvard. This gift honors that commitment," said James R. Barker '65, who is a board member of the Barker Foundation, along with his sister, Margaret Barker Clark '73, and brother, W.B. Barker '69. (Barker's one other daughter is Ann S. Barker.)
The gift also recognizes the great friendship between Barker and Knowles, who collaborated together for many years in strengthening Harvard.
"Bob Barker was a friend, and a princely alumnus who understood what we most needed, and then made it happen," said Knowles. "The Barker Center [for the humanities] is testimony to that wisdom and generosity. And now the Barker family foundation – in his memory and following his commitment – has wonderfully reminded us of Bob's concern for the educational experience of students in the College. I am truly honored, and Harvard is so fortunate, thus to enjoy the Barkers' continuing support."