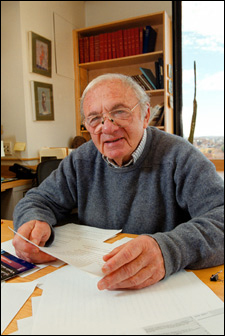 The American Society for Biochemistry and Molecular Biology (ASBMB) has named Jack L. Strominger, Higgins Professor of Biochemistry in the Department of Molecular and Cellular Biology, as the 2004 recipient of the ASBMB-Merck Award. This award, which consists of a stipend, plaque, and transportation expenses to the association's annual meeting, at which Strominger will present a lecture, recognizes outstanding contributions to research in biochemistry and molecular biology.
In nominating him for the award, Alexander Rich, professor of biophysics at the Massachusetts Institute of Technology, cited Strominger for his "pioneering contributions to our understanding of the biochemical basis of molecular recognition in infection and immunity. During his career, he made seminal contributions in two different fields."
Over the past 30 years, according to the ASBMB, Strominger led the way in the discovery of the structures of both class I and class II human major histocompatibility complex antigens and their recognition of self and foreign peptides for presentation to the immune system. In two groundbreaking papers, both published in the Journal of Biological Chemistry, he reported the isolation of two classes of histocompatibility protein, and showed that they are closely related structurally, differing in the linkage of their four domains. They are the Class I and Class II MHC proteins (MHC I and MHC II). Only a single class had been known previously.