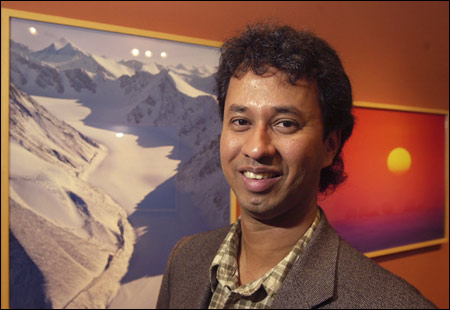 Subhankar Banerjee insists that his 14-month photographic journey to the Arctic National Wildlife Refuge was unmotivated by politics. It was an artistic and spiritual quest, he says, that prompted him to quit his job as a scientist, take up photography – almost from scratch, and capture the landscape, nature, and culture that makes the remote Alaskan region unique.
While art and spirit pervade his photos, 49 of which are assembled into an exhibit at the Harvard Museum of Natural History called "Arctic Wildlife Refuge: Seasons of Life and Land," politics are unavoidable. Banerjee's experience of this pristine, diverse, and embattled ecosystem has clearly inspired an irrepressible environmental activism.
"We cannot isolate ourselves from politics, but it was not a work that was
---
'Arctic National Wildlife Refuge: Seasons of Life and Land' will run through Sept. 6 at the Harvard Museum of Natural History. The HMNH presentation of this exhibition is made possible by a generous gift from The Wilderness Society. Visit http://www.hmnh.harvard.edu for more information.
---
driven by politics," says Banerjee. "I am an artist and an educator. I am hoping to inform people about this remarkable land and the people who have lived there for thousands of years."
Nearly every image in the exhibit – whether of soaring peaks or starkly stunning plains, of vibrant foliage or wildflowers sipping life from the harshest conditions, of caribou, snow geese, polar bears, or the native Gwich'in or Inupiat people – invites a response both artistic and political.
The political power of Banerjee's photographs, the first to document the 19 million-acre Arctic national Wildlife Refuge in all four seasons, came to the fore in the spring of 2003, as "Seasons of Life and Land" prepared to open at the Smithsonian Institute. As the Senate debated proposals to open the area to oil exploration, Banerjee's book of photographs was offered to counter the prodevelopment perspective that the region is a "frozen wasteland" for nine months of the year. The government-funded Smithsonian moved Banerjee's exhibit to a far less prominent space and excised text from the signage that might have been construed as activist.
Simplicity, grandeur, harshness
In the clipped accent of his native Calcutta, Banerjee weaves art and activism into a seamless commentary on his work. Teasing the two concepts apart seems impossible: A dramatic aerial photo of migrating Porcupine caribou, ant-sized specks across the snow-covered plain, brings an explanation of the importance of the caribou to the 10,000-year-old culture of the native Gwich'in people. Musk oxen beneath a flaming midnight sun call forth a discussion of the impact of climate change on their foraging sources.
In a photo Banerjee calls one of his favorites, hundreds of snow geese in flight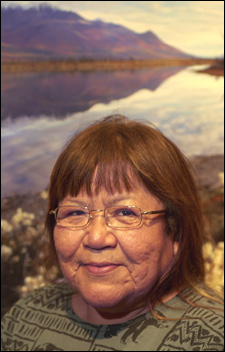 dot the warm browns and crisp blues of the coastal plain, the 1.5 million acres that are proposed for oil exploration. "There are birds that come from all over the world – six continents and all 50 states – that go up there to nest or to feed," Banerjee narrates. "This coastal plain is the biological heart of the refuge."
Even without words, his image of hot pink Siberian phlox clinging to a rocky moonscape or a pale yellow bloom emerging from a summer snow defy any commonly held image of the region as a whitewashed icebox.
"It's a very different place from what Americans are used to knowing as nature's beauty," says Banerjee. "It is simple, but at the same time, it is very grand." In his photographs, he says, he aims to represent the delicate balance of simplicity and grandeur, as well as the harshness of the landscape.
'I fell in love with this land'
Roaming 4,000 miles of the remote refuge with his Inupiat guide and friend Robert Thompson, Banerjee gained a healthy appreciation for that harshness. On his first day there, his camera froze on a walk he took with Thompson. "I barely made it back to the village and I started to think about going back to Seattle," he admits.
After several months, he says, he could operate his camera in temperatures 40 degrees below Fahrenheit wearing just thin gloves. "I was in tune with the land and I was enjoying every moment," he recalls. "Including the blizzards."
This, from a native of one of the hottest, most crowded places on earth. "I guess opposites attract," he laughs, adding that his next project will take him back to India.
Until then, he'll enjoy the temperate climes of the United States, accompanying this exhibit, sponsored by the California Academy of Sciences, as it travels. His itinerary includes events in 25 cities, at each of which he'll be accompanied by a native of the Arctic National Wildlife Refuge; Sarah James, a Gwich'in leader and cultural activist from Arctic Village, joined him for a recent presentation at the Harvard Museum of Natural History.
And despite his assertion that he is not an activist, Banerjee notes with pride that his talks and his photographs have changed a few minds about opening the refuge for oil exploration, which has made the public appearances more palatable to the artist who describes himself as solitary.
"I fell in love with this land. …This place inspired me and I want to inspire the public," he says. "We have an opportunity here to preserve an intact ecosystem and a way of life of indigenous people."