Professor Emeritus Archibald Cox, former Watergate special prosecutor and solicitor general, died Saturday (May 29) in his home in Brooksville, Maine. He was 92.
Cox graduated from Harvard College in 1934 and from Harvard Law School in 1937.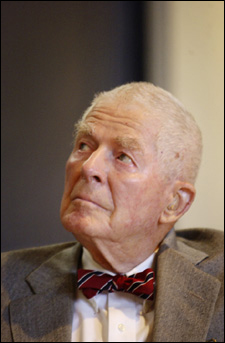 He served as a law clerk for Judge Learned Hand before joining the Harvard Law faculty in 1945 as a visiting lecturer. The following year he became a tenured professor at the age of 34. An expert in torts, administrative law, and constitutional law, Cox frequently took breaks from teaching to perform a range of public service legal work. In 1980, he became chairman of Common Cause, the Washington-based advocacy group.
"Archibald Cox was a man of unwavering principle and one of the great law professors of his time," said Harvard University President Lawrence H. Summers. "He had a shaping influence on constitutional law and labor law, and he served the public interest with devotion as solicitor general of the United States. His reputation for integrity and fairness led to his playing a pivotal role in one of the most turbulent episodes in the nation's political history. His many colleagues, students, friends, and admirers in the Harvard community join in mourning his loss and remembering his extraordinary life."
Derek Bok, the Three Hundredth Anniversary University Research Professor and Harvard President Emeritus, studied under Cox as a student at Harvard Law School. He said: "Archie Cox was an outstanding scholar, dedicated teacher, and exemplarypublic servant, but he was much more besides. His character and unfailing sense of personal responsibility, always apparent but never imposed, made a deep impression on all of us who knew him and inspired us all to reach a higher standard in our own lives."
Although Cox was involved in a number of landmark Supreme Court cases – many as solicitor general – he is best known for the five months he served as the Watergate special prosecutor. In this position, Cox earned a national reputation for his principled advocacy of the public interest.
"We live in a time when the claims of national security to trump law and accountability are at their strongest," said Philip Heymann, the James Barr Ames Professor of Law. "In that enduring contest for our allegiance, the side that demands lawfulness has not, in our lifetime, had a more committed and inspiring leader than Archie Cox. One of the most important moments of that great debate took place 30 years ago. President Nixon asked the country to understand his firing an honest prosecutor so that he could get on with national security business. Cox spoke to the American people about the primacy of the rule of law even during a near-confrontation with the Soviet Union over the Yom Kippur war. Unfrightened, unpretentious, talking from the very depths of his convictions and loyalties to hundreds of millions of individual Americans as one citizen to another, Archie reversed a congressional retreat and found a nation following him along the path of freedom. The people and the Congress rallied to the cause of a professor who, without a hint of anger, spoke mildly about our history and principles, and who made clear that what would happen to him was not an issue. After that the executive was again bound by the laws that make men free, and Archie became a national symbol of the triumph of law."
In October 2003, Cox was on hand at a ceremony in Langdell Hall to unveil his portrait, which now hangs in a prominent place in Pound Hall. "It gives me great pleasure to have my portrait join the great company that adorn the walls of the Harvard Law School," said Cox.
During the portrait unveiling ceremony, Dean Elena Kagan praised Cox for his commitment to teaching and public service. "There is no better example for today's students, and for young lawyers everywhere, than the life and work of Archibald Cox," she said.
Cox was born on May 17, 1912, in Plainfield, N.J. He is survived by his wife, Phyllis Ames; two daughters, Phyllis, of Denver, and Sarah, of Brooksville, Maine; a son, Archibald Jr., of Markleville, Ind.; and several grandchildren and great-grandchildren.
– Harvard Law School