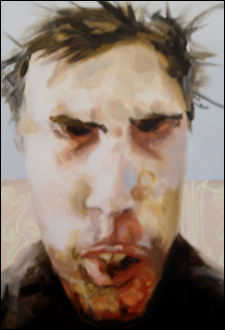 "Uneasy" is the title of the Department of Visual Studies' (VES) Thesis Exhibition and the feeling embodied in almost all the works displayed. First to greet the visitor is Grace Catenaccio's glitter-loaded schoolgirl ballerina, who assumes a triumphant end-of-routine pose. Her expression is uncertain, braced for disapproval.
Anna Ludwig's "Incubus" and "Succubus" are a pair of restive demons set off by wallpaper depicting delicately barbed vegetal forms. "Patient ID" is a graveyard scene in winter, the numbered concrete cubes that serve as patient memorials pushing up from the snow. Also included in the show is Ludwig's two-volume notebook "Ghost Investigations," a Polaroid-studded journal of the artist's late-hours pursuit of the paranormal, matter-of-factly presented.
Meredith James' motorized spiral "Staircase" sounds like an invisible army, as Grace Catenaccio's 'Shuffle Off To Buffalo' (detail), glitter on wood with black and white photocopy rubber flaps hit the stair treads, driven by gears at the foot of the stairs. Nearby, "Armor" of pressed tin is ranged on the floor. James also shows some expressive furniture: blubbery marine forms attached to an end-table host and the weepy-drawered "Crying Table."
The disquiet carries through to Thenji Nkosi's large canvases depicting the massive tower blocks of Johannesburg, all seemingly deserted: no geraniums, no curtains, no laundry. Daniela Tartakoff's portraits are similarly monumental and austere, her subjects' generously drawn limbs contrasting with their bleak expressions.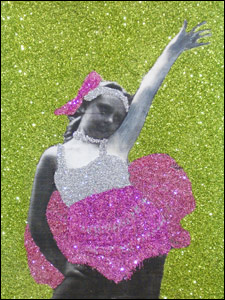 "Gerry" is Charlene Music's portrait of a homeless street musician and stonemason. As his biographer, she collects memorabilia from Gerry's family, recordings of his music, and photographs of him choosing workboots in a thrift shop, counting the meager takings after a day busking, settling in on a friend's sofa. The portrait that emerges describes not a desperate life, but one of great weariness. Likewise, Janet Kim's top-hatted dancer, covered from head to toe in fishnet, announces "I Need a Vacation." Kim's "Fashion Show," performed live on May 7 and 14, and presented here as a series of stills, allows the artist to regard the viewer with an unsettling, unfashionlike attitude.
"Uneasy" can be seen at the Carpenter Center through June 10.