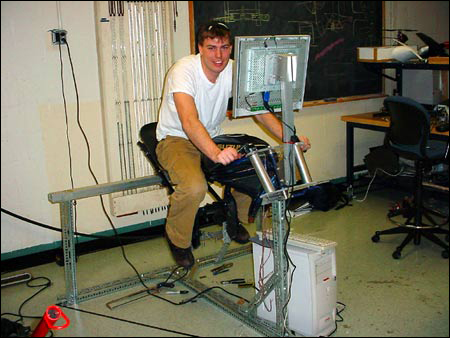 Kyle Clark '04, an engineering sciences concentrator at the Harvard Division of Engineering and Applied Sciences (DEAS), received praise and awe from faculty and students alike when he presented his senior design project, "Design and Construction of a Dynamic Flight Simulator," at the Harvard Division of Engineering and Applied Sciences.
The "best in show" effort was part of the yearlong "Engineering Sciences 100-100hf" course, intended to provide students with direct experience – from electrical circuit design to mechanical fabrication – in the processes and practice of engineering design. At the end of the second semester of the senior year, ES 100-100hf students present their final projects for faculty review and assessment. They are judged on the project itself (scope and technical achievement) and their presentation skills.
Clark's flight simulator is based on the chassis of a motorcycle and driven by three large servomotors that are controlled by a series of cueing algorithms written in LabView, powerful graphical development software. The "pilot" can control the simulated CyclePlane while sitting in a motorcycle rider position – which, according to Clark, is better than the current standard cockpit layout most aircraft employ.
Although it is impossible to simulate all of the forces encountered in a real flight environment in a confined space, his motorcycle design can emulate the most pronounced forces felt in flight: roll, pitch, and heave. For example, the simulator can slowly dip forward and asymptotically approach the desired forward angle while the visual screen makes the pilot feel as if he isn't rotating, but only translating. If Clark has his way, the project will not be confined to the testing grounds, but will one day go airborne. His simulator is only one piece of a larger effort to design a real motorcycle-airplane that separates for ground travel.
"I have every intention of taking this project through to completion," says Clark, a recreational flyer and member of the Experimental Aviation Association. "As of now, I have a physical flying radio-controlled model, a computer model that mimics the calculated flight characteristics and the dynamic simulator. The feasibility study is complete and the concept is indeed realistic.
"I really think this could be a turning point in experimental general aviation. Many car-plane scenarios have been tried, but few have ever left the ground. The recent release of lightweight super-powered sport bikes makes this aircraft not only possible, but fast, efficient, and elegant – qualities that previous attempts lacked," explains Clark.
Professor John Hutchinson, Abbott and James Lawrence Professor of Engineering and associate dean for academic programs at DEAS, oversaw the design of the simulator and contributed significantly to its mechanical design. Prior to his sabbatical, Professor Robert Howe, Gordon McKay Professor of Engineering, served as Clark's adviser on the design and analysis of the actual plane and r/c model.
Clark's eventual goal is for the CyclePlane to become a part of NASA's Personal Air Vehicle Exploration (PAVE) initiative. The space agency has long been interested in developing inexpensive and easy-to-use aviation vehicles for direct point-to-point and local flights. Clark's innovative flying-motorcycle design could provide an approach to personal air transportation that will one day have us all flying high.