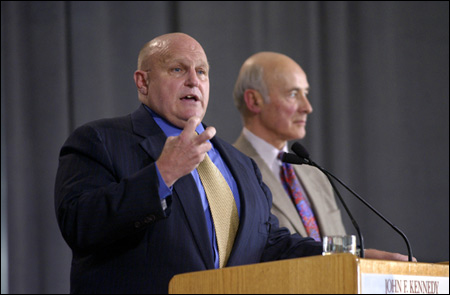 U.S. Deputy Secretary of State Richard Armitage rebutted Bush administration critics Friday (April 30), saying that President Bush's approach to international affairs has not been to go it alone, rather it has been one of cooperation and coordination with international allies.
Armitage, speaking before a crowd of several hundred inside a tent pitched in JFK Park, said the challenges facing the United States and the international community are far too complex for one nation to solve, even a nation as powerful as the United States.
Armitage said that the Bush administration has moved on the international stage with other nations at its side, and that a different reality lies behind the assertion of critics that the administration has repeatedly acted unilaterally.
Armitage said 180 nations have made some contribution to the war on terrorism since the World Trade Center attacks in 2001. That includes 68 nations who have contributed in some way to the efforts in Iraq and Afghanistan.
"We need international cooperation on a scale we've not seen before," Armitage said.
Armitage was the luncheon keynote speaker for a two-day conference, "Decision 2004: What Is at Stake Home and Abroad," at the John F. Kennedy School of Government. The conference, which began Friday (April 30) and concluded Saturday, examined the national and international ramifications of the U.S. presidential election.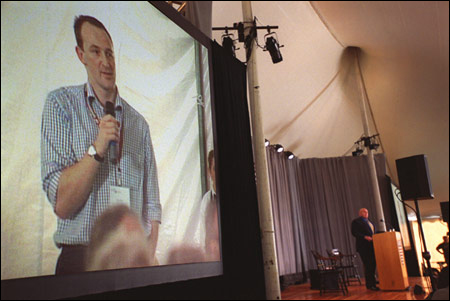 The conference, chaired by Kennedy School Dean Joseph S. Nye Jr., included sessions on a diverse range of issues, including homeland security, the global economy, the federal budget deficit, the problem of uninsured people, leadership, and the media.
Nye introduced Armitage, who was appointed deputy secretary of state in 2001, saying that Armitage is a role model for Kennedy School students.
"The mission of the Kennedy School is to train public leaders; Rich is a role model of what it means to be a public leader," Nye said.
Armitage, in his 40-minute talk, said that all the clout the United States has on the world stage – military, economic, and social – aren't enough to allow it to solve the world's problems alone. He said there is an urgency to the work being done in Afghanistan and in Iraq to prove to the people in those nations that democracy and peace offer a better future.
He said he thought the window of opportunity in Iraq was smaller and hence the situation more urgent. It is important in both places, however, Armitage said,
---
For more information:
that civil reforms move along with military and security improvements. People across both nations need to see better roads, new schools, childhood vaccinations, and other improvements in their daily lives if the nations are to stabilize under new regimes.
Critics of the administration's policies often characterize the administration as acting unilaterally. Armitage traced that characterization to rejection of the Kyoto climate agreement and opposition to the International Criminal Court. But Armitage said that in those two cases, Bush merely followed through on promises he made during the presidential campaign.
On Iraq, Armitage said, the United States is often criticized for acting unilaterally, but Armitage pointed out that U.S. action was taken only after considerable debate in the United Nations.
Armitage said it is likely that the United States will continue to have disagreements with international partners over various issues and characterized those disagreements as a healthy sign.
Armitage said international cooperation on both Iraq and Afghanistan illustrates that the international community understands the importance of providing stable futures for the countries. He cited a variety of help, from donations of tea and rice from Vietnam to Swedish forensic experts helping examine mass graves in Iraq.
"The survival and eventual success of Afghanistan and Iraq are in the interests of the international community, which explains why so many international countries are involved," Armitage said.
Despite difficulties in both nations, Armitage said people living there want the freedoms that democracy and the rule of law can bring. Despite the violence in Iraq, efforts to incite civil war between Sunnis and Shiites have failed because the United States has made it clear that every group will have a voice in a new Iraq.
In addition, Armitage said during questions after his speech, the United States is pushing hard so the new governments that emerge embrace a broader role for women in society.
The nature of international relationships have changed, Armitage said, making it harder to ignore situations once thought intractable. He cited turmoil in nations such as Haiti, Liberia, North Korea, and the Sudan as examples. In addition, international problems such as human trafficking and the drug trade require international efforts to address.
"In my view, Americans are reluctant internationalists, and in my view, we have to get over it," Armitage said. "It's going to take many hands to do the hard work of the new century."