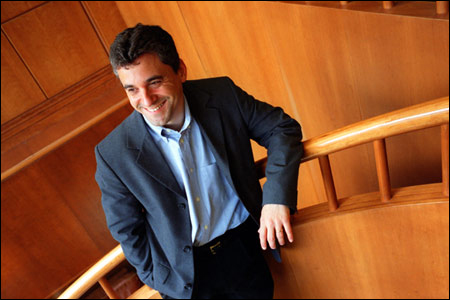 A professor of government and a professor of English and American literature and language have won this year's Roslyn Abramson Award for outstanding undergraduate teaching.
Associate Professor of Government and of Social Studies Steven Levitsky and Assistant Professor of English and American Literature and Language Lynn Festa were chosen based on their ability to communicate with and inspire undergraduates, their accessibility and sensitivity to undergraduates, and their devotion to teaching.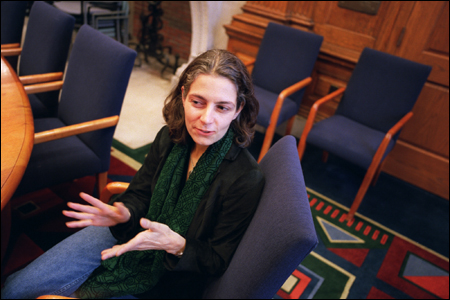 "This is an award given to our most dedicated teachers – colleagues who value the education of students to, as the terms say, 'the near sacrifice' of everything else," said Faculty of Arts and Sciences Dean and Geisinger Professor of History William C. Kirby. "It is a real pleasure to honor Professors Lynn Festa and Steven Levitsky."
Festa, who teaches "Literatures of Travel in the 18th Century," "Sex and Sensibility in the Enlightenment," "The 18th Century Novel," and "Jane Austen," said she was honored and delighted to receive the award.
"One of the most rewarding aspects of being at Harvard has been the opportunity to work with such extraordinary undergraduates," Festa said. "They bring so much to the classroom that teaching at times seems to be a matter of meeting them halfway."
Lawrence Buell, the Powell M. Cabot Professor of American Literature and chairman of the Department of English and American Literature and Language, praised Festa's teaching as brilliant and exciting for her students.
"Lynn Festa is a teacher of striking brilliance, verve, intensity, and flair, with a gift for making all she touches seem genuinely exciting to her students," Buell said.
Festa's students agreed, saying the energy, enthusiasm, and ability to understand what students are both trying to say and what they're going through is unique.
"The animation and enthusiasm with which Professor Festa teaches every class is amazing," said Mildred Ming Yuan '04. "Being in class is like being a part of a unique project. Discussion can go anywhere and does, but somehow, magically, Professor Festa manages to pull everything into a cohesive, meaningful experience."
Festa has served as an assistant professor at Harvard since 1999. Before that, she served as an instructor in the University of Pennsylvania's College of General Studies in 1997 and 1998. She served as a lecturer at the Universite de Paris X (Nanterre) from 1994 to 1996.
Festa received her doctorate in comparative literature from the University of Pennsylvania in 2000, a master's degree in comparative literature from the University of Pennsylvania in 1992, and a bachelor's degree in comparative literature from Yale University in 1990.
Levitsky, who teaches "Introduction to Comparative Politics," "Art and Society," "Authoritarianism and Democracy in Latin America," and "Comparative Politics in Latin America," said he remembers being an undergraduate and appreciates the difference professors can make in a student's learning.
Levitsky said the talented students at Harvard make teaching easy in many ways, asking engaging and thoughtful questions that make him think hard about what he's saying and teaching. Levitsky said his ambition is to be compelling in his presentation to students and to have his passion for the material come across in his teaching.
"I want every sentence that comes out of my mouth to mean something to students. I want them to see the immense importance of every topic and subtopic we cover in class," Levitsky said. "Comparative politics is about exploring some incredibly important questions…. It's about how the world works. What could be more exciting than that? And yet in many political science departments, undergraduates consider "Introduction to Comparative Politics" a boring course. Comparative politics should never be boring."
Students and colleagues say Levitsky's commitment to communicating his passion to students is effective.
"You could feel his enthusiasm for the material immediately after entering the room, it was contagious," said Humberto Duarte, a freshman who took Levitsky's "Comparative Politics in Latin America" course. "He had read and reviewed everything he was teaching us dozens of times over the years but all his lectures felt fresh and exciting. Nothing, even the heavy political theory, ever felt dry."
Duarte and Jorge I. Dominguez, Clarence Dillon Professor of International Affairs and director of the Weatherhead Center for International Affairs, said Levitsky's extra efforts extended outside of class, as Levitsky encouraged students to attend his office hours and scheduled lunches throughout the semester to get to know students better.
"Levitsky lectures with clarity and intensity. Students understand – feel – that he is not just engaged in a mere intellectual exercise," Dominguez said. "There is a strong sense of engagement and commitment with the subject matter, wrestling with ideas, communicating clearly. And in class and especially outside of class, he is equally thoughtful and helpful one-on-one working with students."
Levitsky was named associate professor of government and social studies in January. Before that, he was assistant professor of government and social studies at Harvard since 2000.
He received a doctorate in political science in 1999 from the University of California, Berkeley, and a bachelor's degree in political science in 1990 from Stanford University.