ALLSTON: PROGRESS REPORT OF THE FACULTY TASK FORCES 2004
While the faculty task forces have been considering the University's academic program, another working group of faculty and administrators has been working to identify a world-class planning firm to help translate the University's academic aspirations into physical reality.
In December, invitations were sent to 26 planning and design firms inviting them to submit requests for proposals for the Allston planning process. The University planning working group – chaired by Sally Zeckhauser, vice president
---
'Already the process has been tremendously stimulating and we are only at the beginning of seeing faculty work through a dozen or more possible initiatives that can create a new scientific infrastructure for the University.'
– Christopher T. Walsh, Hamilton Kuhn Professor of Biological Chemistry and Molecular Pharmacology
---
for administration, and including Professor Alan Altshuler, KSG/GSD; Dean Kim Clark, HBS; Robert Geddes, former dean of the Princeton School of Architecture; Professor Jeremy Knowles, FAS; Professor Alex Krieger, GSD; and William Lacy, executive director of the Pritzker Architecture Prize – then narrowed the list of respondents to four finalists. For the past few months, members of the working group have been conducting visits to various project sites that represent the work of the finalists, and supplementing these in-person visits with due-diligence calls to the finalists' clients.
In addition to a traditional request for proposals, the finalists were asked to address six sets of questions revolving around the following themes: connections (transportation); phasing; building designs; community/public space; comparability; and overall planning strategy. The planning firm, once selected, will work with faculty and administrators to create a strategic planning framework that will guide future development decisions in Allston.
"This isn't about designing a building, or even several buildings; it's about planning for the connectivities within each function, amongst the various functions of Harvard, and between Harvard and the Allston neighborhood," said Jeremy Knowles, Amory Houghton Professor of Chemistry and Biochemistry, Harvard University Distinguished Service Professor, and a member of the University's working group on planning. "Good master plans provide a flexible framework that can adapt to whatever new challenges the University may face in the future, while having ensured that there is a lively University community that is happily embedded in the Allston neighborhood."
In recent weeks, the working group on planning conducted in-depth interviews with the four firms. During these interviews, each firm was given the opportunity to present its ideas on the various themes, and to respond to the working group's questions. In evaluating each firm, the working group has been taking into account information gathered through office and site visits, due-diligence references and interviews, review of the ideas presented, and final interviews with the candidates.
"One thing has been a common theme among the candidates: to not engage in a process that sits on a shelf, but rather to build plans that can flow into implementation," said Alex Krieger, chair of the Department of Urban Planning and Design at the Graduate School of Design and another member of the University planning working group. "If done properly," he added, "we will have a much better public relationship to the Charles, a much better transit service …. The potential is tremendous to make for a better regional environment and Harvard should be a catalyst for achieving a better Boston."
Selecting the right team for Harvard will be important to the success of the Allston enterprise. This team will have to deliver a planning framework that reconciles differences of opinion among a broad range of constituents, creates a campus vision that welcomes the community but does not overwhelm the nature of the neighborhood, and balances Harvard's programmatic needs with the physical needs of the landscape, such as the addition of infrastructure improvements to open spaces, better accessibility to the Charles River, and improvements in transportation that will serve all.
But if past history is a predictor, the Allston campus is one puzzle that can be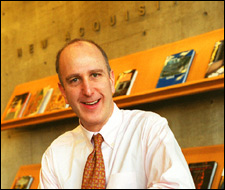 ---
'Harvard's opportunity in Allston is extraordinary: to create from the start a 21st century university environment that is innovative, serves complementary and diverse interests, and enhances the City of Boston. Who could not be both inspired and humbled by this opportunity?'
– Jerold Kayden, Frank Backus Williams Professor of Urban Planning and Design
---
pieced together to achieve something extraordinary. "I bet the idea of moving the Business School across the river into the former salt marshes in Allston was just as daunting," Krieger said. "But today, we take pride in the fact that more than a century ago, Harvard's leaders created a marvelous campus that has many of the characteristics of Harvard in Cambridge, so we can do it again."
The planning team will also continue to gather ideas and opinions from faculty, students, and others within the University, as well as consult with Mayor Menino, other city and state officials, as well as Allston neighbors. Already, a group of students and faculty, led by the Harvard Green Campus Initiative, are working to develop principles of sustainable design that can be applied to institutional development in Allston. The goal of these discussions is to align academic and physical planning with both neighborhood aspirations and regulatory requirements.
"It is important that we gain as much insight from those within the University and those outside as we embark on this shared endeavor," said Alan J. Stone, Harvard vice president for government, community and public affairs. "As many of the task forces have noted in their reports, Allston not only speaks to the University's future, it also offers the opportunity for programs, services, and a shared environment that will serve the community. We are in an unprecedented position to create the university of the 21st century in Allston, one that is not merely an enclave unto itself, but in myriad ways is an asset to those around it."
Meanwhile, much more internal planning remains to be done. The academic planning process continues. Financial teams will model planning options as the University considers the cost of developing Allston over the long term. Fundraising for Allston will likely be a part of a future University campaign, which is now in the initial stages of planning.
With time, all pieces of the Allston puzzle will come together to help define the Harvard of tomorrow.
"The kind of opportunity before us comes along rarely in the life of a modern university," wrote Summers in his October 2003 letter to the community. "That the opportunity entails hard questions and complex choices should not divert us from recognizing its enormous long-term potential to advance our shared commitment to education, scholarship, and service."
Members of the community interested in sharing their thoughts on Allston can send comments to allston@harvard.edu.