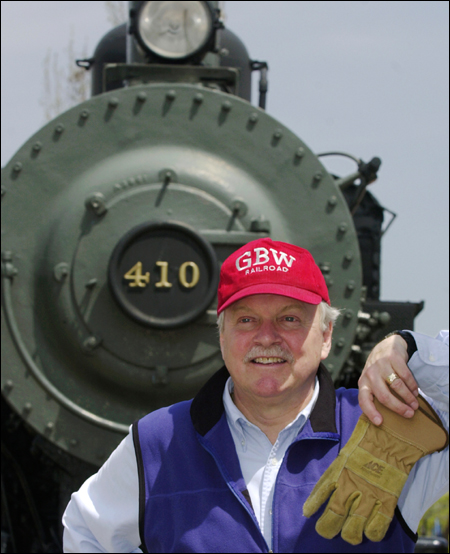 Photo by Jon Chase
Herb Fuller is a second-generation railroad buff. His father, Harold Fuller, founded the National Railroad Museum in 1956 in Green Bay, Wis. Back then, the Fuller family's idea of a great summer vacation was to travel to mining country in Wyoming to watch the huge steam locomotives hauling mile-long trains loaded with ore through the mountains. Fuller's dad got to ride in the cab of the "Big Boy," the largest locomotive ever built, but safety regulations kept Fuller and his brother from enjoying the same experience.
Nevertheless, the romance of railroading continued to fascinate Fuller. In high school, he and a group of friends renovated a derelict railroad car and brought it back to its former elegance. Fuller's dad used the car to host tailgate parties at Green Bay Packers football games, and the railroad chef who was hired to cater the parties taught Fuller to cook. Later, Fuller worked at the Railroad Museum, arranging an exhibition of General Eisenhower's World War II command train, which had been shipped over from England. He also wrote a book about the train.
Fuller studied filmmaking at the Massachusetts Institute of Technology and became a documentary filmmaker and cameraman. Among his many projects was a documentary made with his father on the development of British railway locomotives, "Rainhill, 150 Years on the Main Line."
Fuller's greatest railroad thrill came just a few years ago when he took a course on running a steam locomotive. Except for museums like the one in Green Bay or the fantasy railroading school in Essex, Conn., where Fuller finally got his hand on the throttle, the steam locomotive has been rendered nearly extinct by diesels and electric trains. But as Fuller discovered, there is a special quality to steam that no other form of transportation affords.
"There's a warmth to steam. Each locomotive is individual. It takes a lot of skill to operate them, almost like piloting a ship. When you're in the cab looking down at the tracks, you can see every wiggle, every uphill and downhill. It can be kind of scary."
Fuller has written a book about the experience, interspersed with flashbacks about his father and their mutual involvement with trains. He has titled the book "From Cowcatcher to Caboose: A Lifetime Love Affair with Steam Locomotives" and is now in search of a publisher.
When Fuller is not puttering about with trains or writing mystery novels (his first, "It's a Wrap," set in the world of international filmmaking, came out in 2002, and he is putting the finishing touches on a sequel), he can be found in Williams James Hall, where he works as building manager.