Thirty high school freshmen from 14 Boston and Cambridge high schools – the inaugural class of Crimson Summer Academy – were welcomed into the Harvard family at a May 9 reception celebrating the new academic enrichment program for talented, low-income students from Boston and Cambridge.
The brightly colored icing on a large festive cake reflected the mood of the day as the students and their families gathered for the first time at Harvard. In a sense, the reception was a true commencement for these young scholars.
"The most important thing that we do is give people a chance to develop their own talents to change the world," said Harvard University President Lawrence H. Summers to the mothers, sisters, fathers, and brothers who filled the Barker Center. "And that is why we're so excited to be at the inauguration of this program. That is why so many of our students are going to be working with you as their summer jobs. That is why so many of our faculty have agreed to talk about the field in which they are the leading experts in the world."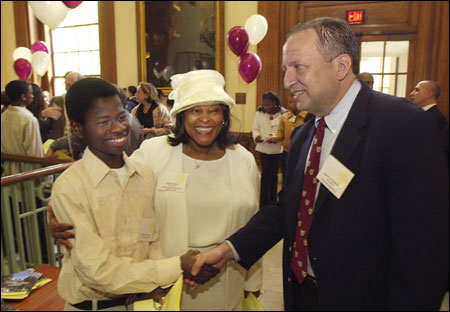 "We are going to give a lot. We are going to ask for your hard work and your effort back. Because together we can do great things," added Summers.
"As Crimson Scholars, you are now a part of the community that is Harvard. Look to the faculty who will teach you and the mentors who will guide you. We are all partners in this endeavor," said Robert Lue, dean of the Harvard Summer School.
This gathering of the class was the first opportunity for the scholars' families to get to know each other. Amid the congenial hubbub, Harvard faculty, who will be guest speakers this summer, mingled with Crimson Scholars, discussing ideas around the academy's theme of citizenship in the 21st century – what it means to be a responsible American in an interconnected world. And Harvard students, who will serve as mentors, keeping the scholars connected throughout the summer and into the academic year, spruced up the afternoon with energetic conversations and sky blue T-shirts reading "Very Cool. Veritas."
For some Crimson Scholars and their families the academy represents a first step to something they once believed they could never achieve.
"She always wanted to go to Harvard," said Jenniffer Tyler, mother of Chynah, the only freshman selected from Roxbury Charter High School, who is passing up a summer basketball camp for the opportunity. "I said: 'I'd have to have 10 jobs for you to go to Harvard!' But now we can see that it is a possibility."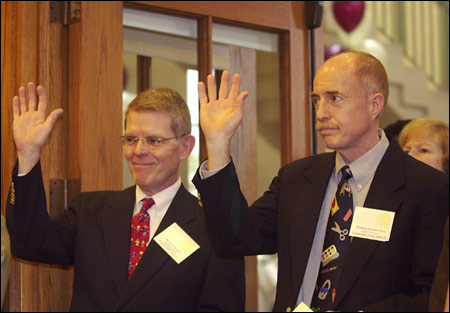 For Laura Ospina, a freshman at Cambridge Rindge and Latin School, the reception marked the moment that Harvard became more than a landmark.
"I pass by the Harvard campus every day to go to school," said Ospina, who said her mother jumped up and down when they heard the news that she was accepted. "I never thought I would become a part of Harvard."
While the scholars come from all walks of life, having been born in more than a dozen countries from as far afield as Congo, Nigeria, Haiti, Colombia, and Vietnam, they all share something in common – a talent waiting to be ignited. As several family members noted, the Crimson Academy represents a challenge that their sibling or child has not yet faced in their school lives.
"Steve is at the top of his class, but he hasn't had a challenge yet," said Mirlina Hilaire, sister of Steve Hilaire, a freshman at Fenway High School. "I've always thought that he needed a good challenge and here it is. We were so excited when he was accepted. It was like he had gotten into college."
Developed from a proposal by Maxine Rodburg, director of the Crimson Summer Academy at Harvard, the Crimson Summer Academy offers an intensive program in academic enrichment and personal development for talented students who are nominated by their public and parochial schools, then selected by the Academy's 11-member admissions committee.
This year's Crimson Summer Academy, beginning July 7 and lasting four weeks,
---
'This is a great opportunity. It has the possibility of changing a child's life. These young people were hand-picked and told they should apply. That special recognition makes a huge difference.'
– Thomas Fowler-Finn, superintendent of Cambridge public schools
---
marks the first of three summers of challenging academic work and rewarding activities for the scholars. During their time at Harvard, they will earn a summer stipend and, upon successful completion of the Academy, will be eligible for a $3,000 scholarship to the college of their choice. Said Rodburg, "I'm incredibly thrilled with the academy. It's been an abstract idea through the years, but has finally taken shape through the hard work and commitment of so many people."
According to Tom Payzant, Boston schools superintendent, getting to students early so that they realize that they can do rigorous academic work, get the support they need, and take full advantage of their high school years is extremely important.
"There are so many students who, if they have the opportunity, can really take off," said Payzant. "They might not be able to access it because their parents can't afford to send them away to camps or to go travel. Having something like this program is an exceptional opportunity."
Thomas Fowler-Finn, superintendent of Cambridge public schools, seconded the sentiment: "This is a great opportunity. It has the possibility of changing a child's life. It isn't lost on these young people that this is a chance to go to Harvard, the best in the nation."
But these accomplishments are not made alone. As Summers noted to the group, "None of us succeed on our own. The most important reason why any of us succeed is through the hope and love of our families."
And a room full of mothers, sisters, brothers, and fathers smiled.