'Where She Always Was' wins 2004 Swenson Poetry Award
Utah State University Press (USU Press) has selected "Where She Always Was," a volume of poems by Frannie Lindsay, graduate coordinator in Romance Languages and Literatures, as the winner of the 2004 May Swenson Poetry Award. Lindsay will receive a $1,000 cash award, and USU Press will publish "Where She Always Was," her first volume of poetry, next month.
Given annually to published and unpublished writers, the Swenson Poetry Award recognizes an outstanding collection of poetry in English. The award attracted 700 poets this year from across the United States and several other nations.
"It is impossible, reading her poems, not to hear a musical hand at work … Lindsay moves from detail to trope with utter poise, with an intuitive sense of what to sustain or emphasize," writes well-known poet and critic J.D. McClatchy in the book's forward. McClatchy, who judged the competition, selected "Where She Always Was" as the winning work.
Ruth Wisse to receive honorary degree from Yeshiva University
Martin Peretz Professor of Yiddish Literature Ruth Wisse will receive an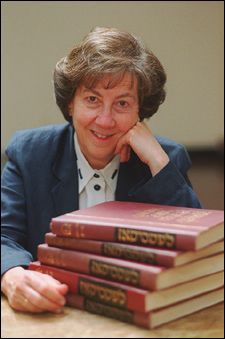 honorary doctoral degree from Yeshiva University (YU) at its 73rd annual commencement on May 20. The exercises will take place at the Theater at Madison Square Garden, where YU president Richard M. Joel will deliver the commencement address and confer more than 2,000 undergraduate and graduate degrees. Wisse, who is also a professor of comparative literature at Harvard, was the director of the Center for Jewish Studies at Harvard from 1993 to 1996, and has taught at McGill and Tel Aviv universities.
Harvard researchers receive Presidential Awards
The White House recently announced William Carlezon, associate professor of psychiatry, and Thomas D. Cabot Associate Professor of Organismic and Evolutionary Biology John R. Wakeley as recipients of the 2002 Presidential Early Career Awards for Scientists and Engineers. Established in 1996, these awards honor the most promising beginning researchers in the nation within their fields. Eight federal departments and agencies nominated 57 awardees with up to five years of funding to support research of critical government missions.
The Department of Health and Human Services, and the National Science Foundation nominated, respectively, Carlezon and Wakeley.
– Compiled by Andrew Brooks