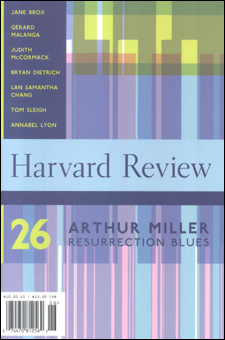 For the third consecutive year a piece from Harvard Review has been selected for inclusion in The Best American Series (Houghton Mifflin), a showcase for the year's finest fiction and nonfiction writing since 1915. "Yarn," by Kyoko Mori, was chosen for the 2004 edition of "The Best American Essays" and was selected by guest editor Louis Menand, a critic, essayist, and Harvard professor of English and American literature and Language. It originally appeared in Harvard Review 24 (spring 2003). Contributors to Harvard Review have also been selected for "The Best American Poetry 2002," "The Best American Essays 2003," and "The Best American Short Stories 2003."
"Yarn" explores the author's personal history as it relates to knitting, while also illuminating the history of the craft. Mori, a Briggs-Copeland Fellow in Creative Writing, has written three novels, a book of poetry, and two books of creative nonfiction.
Following on the heels of the award announcement, Harvard Review released its spring 2004 issue, number 26. The new issue contains two scenes from "Resurrection Blues," a new play by Arthur Miller that deals with the subject of a crucifixion; an essay from Jane Brox's forthcoming book; an excerpt from Lan Samantha Chang's new novel, "Inheritance"; fiction by Canadian writer Judith McCormack; poetry by Tom Sleigh and Bruce Bond; and monotypes by Peik Larsen.
Harvard Review is published twice yearly, in spring and fall, and subscription information can be found online at http://hcl.harvard.edu/harvardreview. The journal can also be purchased for $10 from the Harvard Coop, the Harvard Book Store, or directly from the Harvard Review office in Lamont Library. For a list of additional bookstores that carry the journal, contact the Harvard Review office at harvrev@fas.harvard.edu.
The staff includes Christina Thompson, editor; Don Share, poetry; Grace Dane Mazur, fiction; Robert Scanlan, drama; Prudence Steiner, book reviews; Roger Kizik, visual arts; and Erika Namaka, assistant editor.