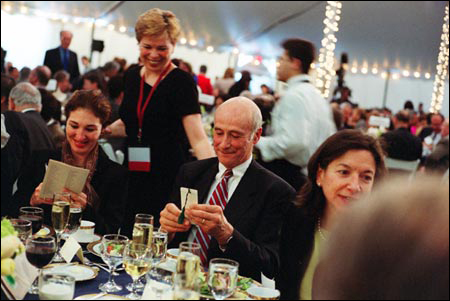 There was something fishy about the farewell bash the Kennedy School of Government (KSG) threw for Joseph S. Nye Jr. last Thursday (April 29).
While the guests filed in, a pair of slide projectors flashed photos of the retiring Kennedy School dean posing proudly with a succession of trophy salmon. The cover of the program featured a picture of a fishing fly with a real feather attached, the main course was baked cod steak, and the fruit and puff pastry desert included a slab of white chocolate in the shape of a fish.
Nye's reputation in the outside world may be that of an expert in national security and international affairs who has combined teaching, academic leadership, and writing with government service, but to the colleagues, friends, and family who set the tone for the evening's festivities, it was Nye the outdoorsman, Nye the gentleman farmer, and Nye the devoted husband, father, and grandfather who captured the spotlight.
As the many speakers stepped before the microphone or delivered their tributes via video, the audience learned details of Nye's life they may not have known before:
Nye's addiction to fly-fishing is so strong that his nickname among his fishing buddies is "One Last Cast."
Nye took his wife, Molly, fly-fishing for their honeymoon.
On a fishing trip, Nye once insisted on bringing home a large and increasingly smelly salmon so he could prove it was larger than one his son caught earlier.
Nye had a pet raccoon that often escaped and made him late for class.
On a trek up Mt. Washington, Nye surreptitiously slipped stones in Graham Allison's backpack so he could beat him to the top.But while the evening abounded in irreverence and levity, there was also much deeply felt affection and praise. Harvard President Lawrence H. Summers called Nye "an example to all of us as a scholar, a leader, a public servant, and in every other way."Summers said that the celebration of Nye's retirement as dean was "a bittersweet occasion, but not that bittersweet, because Joe will remain a leader on the faculty. The administration's loss will be the students' and scholarship's very great gain."Nye has been a member of the Harvard faculty since 1964. Currently the Sultan of Oman Professor of International Relations, Nye became dean of the Kennedy School

A fishing-themed memento of the evening.

of Government in 1995, after serving from 1993 to 1994 as chairman of the National Intelligence Council, and from 1994 to 1995 as assistant secretary of defense for International Security Affairs. He had already decided to continue in government service rather than return to teaching when he received an offer to become KSG dean. The Oklahoma City bombing in April 1995 helped him make up his mind. He decided that the loss of confidence in government that had been brought to light by that event could be better addressed from the vantage point of academia than from within government itself.

His achievements as dean have been impressive. Among them, Summers mentioned a 40 percent increase in the size of the faculty; 13 new endowed chairs; new programs in public leadership, Asia, and human rights; a 50 percent increase in the number of graduates going on to government and public service; and a threefold increase in the number of fellowships available to students.

"In addition, Joe has completed several much-discussed books while serving as dean," Summers said. "He has not only encouraged the faculty to manage their affairs in a disciplined way and to be attentive to students, but has set an example for others."

John Deutch, the Institute Professor at the Massachusetts Institute of Technology, former director of the Central Intelligence Agency, and a friend of Nye's for 30 years, said that Nye was an effective public servant because "he went into government with a notion about government, not about himself."

Deutch introduced videos from Presidents Jimmy Carter and Bill Clinton, personally thanking Nye for the work he had done while serving in their administrations.

"You helped make the world a safer place," Carter said.

"Joe, you got it right," said Clinton. "Just like you got it right for eight years at the Kennedy School of Government."

Another video presented tributes by former Secretary of State Madeleine Albright, former ambassador and director of the KSG's Women and Public Policy Forum Swanee Hunt, Harvard President Emeritus Derek Bok, and KSG benefactor Walter H. Shorenstein.

Madelyn Yucht, M.P.A. 1993, the chair of the KSG alumni executive council, said that she spoke for the School's 26,000 alumni when she praised the "dignity, grace, and thoughtfulness" Nye displayed in his dealings with KSG graduates. Yucht said that Nye "reconnected alumni with this School in a way that's never been done before. You made the alumni feel that they really mattered, that they were really cared about."

After brief and mostly humorous tributes by David Ellwood, the Scott Black Professor of Political Economy, who will take over as KSG dean after Nye steps down, and Graham Allison, the Douglas Dillon Professor of Government and a former KSG dean, Nye himself stepped to the podium to deliver a few remarks.

"Believe it or not, tonight was a surprise for me," he said. "I've been rendered speechless, which, as anyone who knows me will tell you, is unusual for me."

Nye hobnobs with friends at his good-bye party at the Kennedy School. Earlier, President Summers said that the celebration of Nye's retirement as dean was 'a bittersweet occasion, but not that bittersweet, because Joe will remain a leader on the faculty. The administration's loss will be the students' and scholarship's very great gain.'

Nye said that the experience was something like attending your own funeral in that you get to hear all the good things people say about you while you are still alive. "It's a rare experience and a true treat," he said.

"The eight and a half years I have served as dean have been truly extraordinary ones; I've been surrounded by people with a sense of mission, people who want to come to work because they think they can make the world a better place. They are an immensely satisfying group of people to work with."