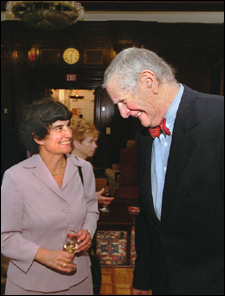 On May 12 the Harvard Foundation and the Harvard Alumni Association sponsored an evening in honor of Senior U.S. Federal District Court Judge A. David Mazzone '50 at his undergraduate residence, Kirkland House. The evening's program, hosted by Harvard Foundation Director S. Allen Counter and Kirkland House Masters Tom and Verena Conley, began with a reception in the Kirkland House Junior Common Room where family, friends, classmates, and fellow judges greeted Mazzone.
At a dinner following the reception, Harvard College students and alumni paid tribute to Mazzone's contributions to his alma mater and society at large.
For more than 20 years, Mazzone has participated in many of the Harvard Foundation's programs. "He has always been there for the Foundation, our students, and their programs," said Counter. "In addition to being one of Harvard's most distinguished alumni, he is one of the most honorable and most compassionate persons I have known. I am proud to have him as a friend."
The featured speaker of the evening was U.S. District Judge Patti Saris '73, a member of the Harvard Board of Overseers and a close colleague of Mazzone. Saris cited many of Mazzone's achievements on the bench, particularly his order for the cleanup of the Boston Harbor, which has had a profound environmental and social impact on the Boston community. Saris then offered a toast to Mazzone.
Following the toast, Counter presented Mazzone with a Harvard Foundation Distinguished Alumnus Award, signed by Counter and Harvard College Dean Benedict Gross, for Mazzone's notable contributions to the Harvard community, American jurisprudence, and intercultural relations. Counter also presented the judge with a proclamation and key to the city of Cambridge from Mayor Michael Sullivan.
Mazzone thanked the Harvard Foundation, Kirkland House, and the Alumni Association for the evening and tributes, expressing both surprise and delight at being selected for the Distinguished Alumnus Award.