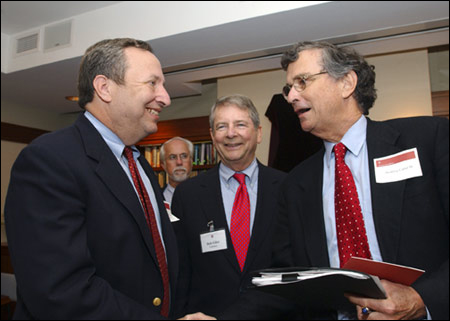 The new wing on the Nieman Foundation's home at Harvard University was dedicated Monday (May 24) in honor of the John S. and James L. Knight Foundation for its long-standing support of the Nieman mission to elevate the standards of journalism.
During a ceremony at Walter Lippmann House, the Nieman Foundation also announced the start of a $4 million capital campaign to cover the remaining cost of the new facility. "The Knight Foundation gift was essential to completing the building project and marks the first phase of longer-range Nieman Foundation development strategy," said Robert H. Giles, curator of the Nieman Foundation.
The addition to Walter Lippmann House includes a seminar room, a library, and a media technology laboratory, and is called the "Knight Center." Present at the ceremonies marking the dedication were Harvard University President Lawrence H. Summers and Knight Foundation President and CEO Hodding Carter III.