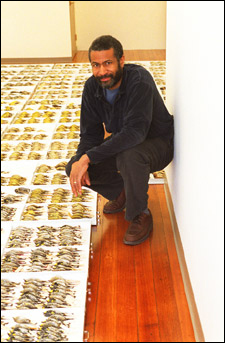 Harvard's Museum of Comparative Zoology (MCZ) is the final resting place for some 330,000 preserved birds, the silent inhabitants of a collection dating to 1846. For the collection's new curator, Professor of Organismic and Evolutionary Biology Scott V. Edwards '86, part of the excitement of returning to Harvard is the challenge of breathing new life into this collection, the fifth largest of its type in the world.
An expert on avian biology, Edwards, 40, recently arrived from the University of Washington, where he served as professor of biology and curator of genetic resources at that institution's Burke Museum. His research has earned him a reputation as an international leader on the genetics of birds, yielding many insights into avian ecology, evolution, and behavior.
"Professor Edwards' work has increased by an order of magnitude the avian DNA sequences available for genetic analysis, leading to new insights into avian genome evolution and population genetics," says William C. Kirby, Dean of the Faculty of Arts and Sciences, and Edith and Benjamin Geisinger Professor of History. "He brings a valued modern perspective on avian biology to the Harvard faculty."
A world removed from recreational birders armed with binoculars and field guides, modern ornithologists like Edwards use genetic databases and sophisticated molecular analyses to compare distantly related species, study the biological pressures they face, and assess how birds are evolving in response. Much as his own research has brought these trappings of the genomic revolution to the realm of ornithology, Edwards wants to bring a more contemporary approach to Harvard's bird collection, which includes countless extinct and endangered species.
"I look forward to launching the collection into the 21st century, and encouraging scholars of all types to come use it," he says. "Where exactly did this extinct species live? And was it the same species whose feathers were used to make that ancient Hawaiian cloak? We can help researchers answer those types of questions. Every bird in our collection is a powerful record of a time and place."
Born in Hawaii, Edwards developed a love of the outdoors at an early age. The birding bug first bit at age 8, when he was living in the Bronx: "A neighbor took me out birdwatching, and the rest is history," he says. His fascination with the feathered creatures of the world lingered, even though he readily admits that "as an elementary school kid in the '70s, birdwatching was not a cool thing to do."
Birding remained a hobby right into Edwards' undergraduate years at Harvard College. Vaguely interested in science but unsure which professional path to follow, Edwards took a year off from his studies to spend six months working with ornithologists at the Smithsonian Institution, followed by five months of fieldwork in Hawaii. It was, in retrospect, a "Eureka!" experience.
"That year really showed me that biological research could have a purpose," he says. "I realized, 'Hey, I can do this and it's fun.'"
Upon his return to Cambridge, Edwards joined the laboratory of Rodney Honeycutt, then an associate professor at Harvard and curator of MCZ's mammal collection. He earned an A.B. in biology in 1986, followed by a Ph.D. from the University of California, Berkeley, in 1992. He joined the University of Washington faculty in 1995, following an Alfred P. Sloan Postdoctoral Fellowship at the University of Florida. In recent years he has also served as a visiting researcher at the Australian National University in Canberra and the Institute for Animal Health in the United Kingdom.
Recognizing the role played by Honeycutt and other dedicated scientists in charting his career path, Edwards places a premium on the mentoring of undergraduates. His lab has long been hospitable to younger students, and for the past three years he has administered a National Science Foundation grant that sends 15 undergraduates to the annual meeting of the Society for the Study of Evolution.
Edwards is also passionate about drawing minority students into the life sciences. "There's a huge need for more diversity on science faculties, especially in evolutionary biology," he says. "We need to work to make this more of a priority."
Edwards' research interests lie at the intersection of ornithology, genetics, and evolution. He is interested in applying the lessons of the human genome project, and its avian counterparts, to questions about the evolution of birds around the world. Ornithologists are now using some of the same bioinformatics tools as biomedical scientists to make sense of what Edwards calls "the huge flood of As, Gs, Ts, and Cs" generated by such gene sequencing efforts.
Edwards' niche in bird genetics affords opportunities to conduct fieldwork in far-flung locales. Much of his work has been conducted with species from Australia, the evolutionary "birthplace of all songbirds," a taxonomic group to which over half of all bird species today belong. Unmolested by the glaciers that once scraped across parts of the Northern Hemisphere, Australian species inhabit a gradually changing environment that has preserved geographic distributions and caused many species' ranges to change in concert with one another. This setting presents unusually fertile ground for big-picture questions: Can scientists detect common evolutionary histories among species now distributed across similar locales and landscapes? When species inhabit the same habitat, does that imply more similar evolutionary history than if they inhabited different habitats? At what point in time did slightly different species with similar geographic ranges diverge, and why?
Closer to home, Edwards is studying the plight of the house finch, a species common in Massachusetts that was devastated a decade ago by a bacterial infection originating in chickens. However, the damage was not random, and Edwards is investigating the exact genetic and biochemical nature of the outbreak's selectivity: "It culled certain sectors of the house finch population, paradoxically sparing smaller males while decimating populations of larger males," he says.
In a broader sense, Edwards is interested in the tremendous role that disease plays as an evolutionary force. He's studying the immunological tool kit that represents species' first lines of disease resistance, as well as how these genes and proteins combine to protect certain birds and how they explain finches' rebound from the catastrophe of the 1990s. These so-called histocompatibility genes are perhaps best known as the culprit behind bodily rejection of transplanted organs in humans, but Edwards says they may have a much broader impact on birds' daily health, appearance, and attractiveness to mates than previously suspected.