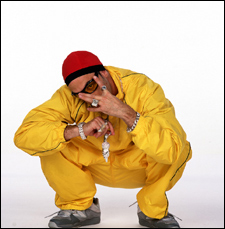 Sacha Baron Cohen, worldwide TV personality and "comedy phenomenon" who currently hosts HBO's Emmy Award-nominated late-night comedy series "Da Ali G Show," is the 2004 Class Day speaker, announced the Harvard College Class of 2004 Senior Class Committee and the Harvard Alumni Association. Baron Cohen was selected after months of secret negotiations. Baron Cohen will address the senior class and guests on Class Day, June 9, at 2 p.m., in Tercentenary Theatre.
"Already a legend in the British Isles, Sacha Baron Cohen (aka Ali G) and his various personalities have taken the States by storm with his HBO show," says Class Marshal JP Fox '04. "We are excited to welcome this most talented and hilarious performer, along with his yellow jumpsuit and copious amounts of ice, to Harvard's Class Day."
Traditionally taking place on the day before Commencement, Class Day is a student-focused, less formal celebration of the graduating class at Harvard College.
"We are really excited to have Ali G come as our Class Day speaker. We never know what's going to happen with him on the stage, which is fun and exciting," said Benita Liao, second class marshal.
On "Da Ali G Show," which returns to HBO Sunday, July 18, for its second season, Baron Cohen is best known for putting his primary alter ego Ali G in "unusual and delightfully uncomfortable situations." He also displays his wit and humor through other memorable characters, among them, Borat, an incredibly naive TV "reporter" from Kazakhstan, and Bruno, a self-obsessed and vain Austrian fashion reporter.
Baron Cohen, who introduced Ali G on Channel Four's (United Kingdom) satire of late night news, "The 11 O'Clock Show," in 1998, has also worked in music video and feature films. He made his U.S. debut in Madonna's music video, "Music," in which he portrayed a chauffeur whisking Madonna through the streets of London. "Da Ali G Show" has received numerous awards, including two BAFTA Awards.