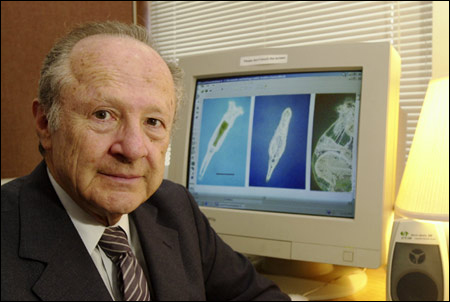 Matthew S. Meselson, Thomas Dudley Cabot Professor of the Natural Sciences in the Department of Molecular and Cellular Biology at Harvard University, has received the Pauling Legacy Award and the Dart/New York University (NYU) Biotechnology Achievement Award. Each award honors his five decades of pioneering molecular genetics research and his 40 years of work to eliminate biological and chemical weapons.
On May 5, Meselson became the third recipient of the Pauling Legacy Award. The annual award was established in 2001 in honor of Linus Pauling, who won two Nobel Prizes (chemistry, 1954; peace, 1962), and is dedicated to recognition of outstanding achievement by an individual or organization in a subject of interest to Linus Pauling. Meselson received his doctorate degree in Pauling's lab at the California Institute of Technology in 1957.
On April 12, Meselson received the Dart/NYU Biotechnology Achievement Award from the Biotechnology Study Center of the NYU School of Medicine. The center honors three leaders each year who have made outstanding contributions to molecular biology, biotechnology, or translational medicine.
Both awards cite the 1957 Meselson-Stahl experiment, which established the semi- conservative nature of DNA replication, and Meselson's more recent work in basic biology and in seeking the elimination of biological and chemical weapons.