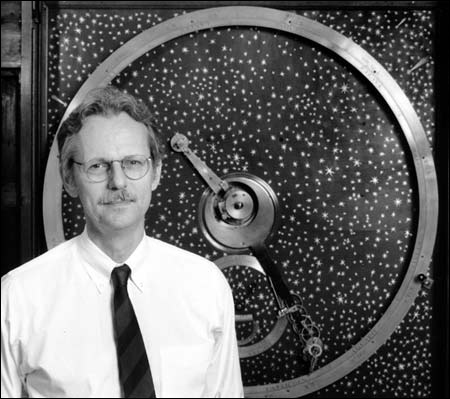 Following an international search, Charles R. Alcock, a pioneer in astrophysicists' quest to find "dark matter" in the universe, has been named director of the Harvard-Smithsonian Center for Astrophysics (CfA), director of the Smithsonian Astrophysical Observatory, director of the Harvard College Observatory, and professor of astronomy at Harvard University, effective Aug. 1.
Alcock comes to the CfA from the University of Pennsylvania, where he is Reese W. Flower Professor of Astronomy.
"Charles Alcock is an extraordinary astrophysicist and scientific administrator," said Harvard President Lawrence H. Summers. "I greatly look forward to working with him as we develop the University's program in astrophysics."
"With his great skills, experience, and expertise, Dr. Alcock is well suited to lead the Center for Astrophysics to new levels of excellence," said Lawrence Small, secretary of the Smithsonian Institution. "We're fortunate to have such a distinguished scientist joining the center, one of the largest and most diverse astrophysical research organizations in the world."
Over the past 25 years, Alcock has taught, conducted research, and held administrative positions at Penn, the Lawrence Livermore National Laboratory (LLNL), the Massachusetts Institute of Technology, and the Institute for Advanced Study in Princeton, N.J. He was educated at the University of Auckland in his native New Zealand, and the California Institute of Technology, which granted him a Ph.D. in 1978.
"Charles Alcock is an outstanding scholar and a leader in the scientific community," said William C. Kirby, dean of Harvard's Faculty of Arts and Sciences, and Edith and Benjamin Geisinger Professor of History. "His investigations of dark matter, and the insights that led to his microlensing techniques, attest to his pre-eminence in the field. I am delighted that Professor Alcock will lead the center; the future of the CfA, and of astronomy, look very bright."
Among his numerous honors, Alcock was elected a member of the National Academy of Sciences in 2001, received the American Astronomical Society's Beatrice M. Tinsley Prize in 2000, and was honored with the U.S. Department of Energy's E.O. Lawrence Award for Physics in 1996.
"Dr. Alcock is widely regarded as a fine teacher and mentor, dedicated researcher, and experienced leader," said David Evans, undersecretary for science at the Smithsonian. "All of those qualities will benefit the CfA as he takes the helm."
While at LLNL, Alcock served as deputy associate director of physics and as head of the Institute of Geophysics and Planetary Physics, and led the University Collaborative Research Program, which involves graduate students in LLNL research. He is currently principal investigator on the Taiwanese-American Occultation Survey, an international project involving scientists from the United States, Taiwan, and Korea, and on the W.M. Keck Cyber Universe Survey Project, which develops high-speed, automated data analysis pipelines for small survey projects.
"Given the complexity, breadth, and interdisciplinary nature of the Harvard-Smithsonian Center for Astrophysics, Charles Alcock will be a fantastic addition," said Venkatesh Narayanamurti, dean of Physical Sciences and dean of the Division of Engineering and Applied Sciences at Harvard. "He offers a combination of scientific savvy and management know-how necessary for continuing our tradition of excellence in a field dealing with some of the most fundamental questions about our universe."
Alcock has long been an international leader in the search for faintly detectable "dark matter" in the outer reaches of the Milky Way. Astronomers have suspected for several decades that the universe contains far more mass than is visible in the form of ordinary matter; this "missing mass" is referred to as dark matter because it is invisible using current techniques.
As principal investigator on the so-called MACHO project, Alcock and collaborators found evidence of several dozen compact but weighty objects known as Massive Compact Halo Objects, or MACHOs. The discovery of these invisible MACHOs in just one small slice of the universe has led scientists to believe that MACHOs may account for a significant portion of our galaxy's mass.
Alcock has deduced the presence of dark matter objects by observing "lensing," a temporary increase in the brightness of a background star during the time it takes dark matter to pass in front of it. While only one in 2 million stars is undergoing lensing at any given moment, Alcock and fellow MACHO astrophysicists observed some 400 lensing events over a 10-year span, culminating in their report several years ago of the first direct detection and measurement of the properties of a dark matter object in the Milky Way. Alcock's most recent work has involved using lensing effects to search for minuscule objects – as small as 3 kilometers in diameter – in the furthest reaches of our solar system.
Alcock succeeds Irwin Shapiro, Timken University Professor, who has served as director of the CfA since 1983.
"Dr. Shapiro has served the Harvard-Smithsonian Center for Astrophysics, and indeed the broader scientific community, with great distinction," Kirby said. "He is a luminary in his field, and has shared his expertise not only at the CfA, but at NASA, the National Science Foundation, and many other venues. We are grateful for his guidance of the CfA, and we wish him the very best as he returns full time to research."
The Harvard-Smithsonian Center for Astrophysics combines the resources, research facilities, and scientific staff of the Smithsonian Astrophysical Observatory (SAO) and the Harvard College Observatory (HCO) under a single director to pursue studies of the basic physical processes that determine the nature and evolution of the universe. The SAO is a bureau of the Smithsonian Institution, founded in 1890. The HCO, founded in 1839, is a research institution of Harvard's Faculty of Arts and Sciences. The long relationship between the two organizations, which began when the SAO moved its headquarters to Cambridge in 1955, was formalized by the establishment of a joint center in 1973. Today, some 300 Smithsonian and Harvard scientists cooperate in broad programs of astrophysical research supported by federal appropriations, private gifts, and University funds, as well as contracts and grants from government agencies.