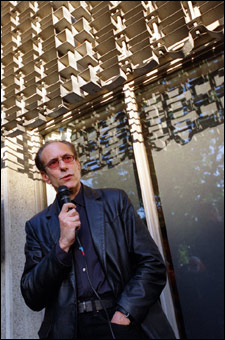 Tragedy awaited them within, but out in the garden of the American Repertory Theatre (A.R.T.) ticket holders were basking happily in the warm afternoon sun and enjoying a selection of scrumptious hors d'oeuvres.
Wednesday (May 19) was the opening night performance of Sophocles' "Oedipus," directed by A.R.T. artistic director Robert Woodruff. A special reception preceded the performance, bringing together representatives of the Greek and French governments, a former Greek ambassador (now the president of the Onassis Foundation, a major sponsor of the production), A.R.T. advisory board members, other major donors, University faculty and administrators, and members of the press.
Among those who delivered informal remarks was Harvard President Lawrence H. Summers, who thanked Woodruff, executive director Robert Orchard, and associate artistic director and dramaturg Gideon Lester "for all they bring to the community through their splendid leadership of the A.R.T."
Summers went on to say that the A.RT "means a great deal to the Harvard community, and we have all been enriched by it. I can say that one young economics professor who was a season ticket holder in the 1980s was much improved by the performances he experienced there and missed them very much when he went to Washington."
Quoting Helen Vendler, the A. Kingsley Porter University Professor, Summers said that an appreciation of the arts needs to be central to the study of the humanities. "We would be incomplete if we did not associate ourselves with great artistic creations," he said.
Loucas Tsilas, former Greek ambassador to the United States, now president of the Alexander S. Onassis Foundation, spoke about the efforts of his organization to further good relations between Greece and the United States and to promote appreciation of Greek culture.
"It is always an exciting feeling to come to Boston, the Athens of the United States," Tsilas said. "How could we not be part of this wonderful endeavor?"
A.R.T. 2004-05 season
Artistic director Robert Woodruff, associate artistic director Gideon Lester, and executive director of the American Repertory Theatre (A.R.T.) Robert J. Orchard recently announced the productions that will be offered as part of A.R.T.'s 2004-05 season. The new season marks a major step in A.R.T.'s theatrical history with a brand-new second performance space at Zero Arrow Street.
The upcoming season will include the following productions:
The Flying Karamazov Brothers in "LIFE: A Guide for the Perplexed" (convention edition). A series of parables designed to help us survive the modern world. July 21-Aug. 8, Loeb Stage.
Marcel Marceau and Company in "Les Contes Fantastiques" (Fantastic Tales). The world's greatest mime returns to the A.R.T. with a stunning new program. "Les Contes Fantastiques" features the master entertainer displaying his unique talents in a solo first act, before Marceau and Company fill the stage with three "fantasy tales." Sept. 10-Oct. 9, Loeb Stage.
"The Provok'd Wife" by Sir John Vanbrugh, directed by Mark Wing-Davey. A comedy about the drastic steps a wealthy couple will take to spice up their marriage. Nov. 27-Dec. 22, Loeb Stage.
Marking the 10th anniversary of the end of apartheid, the A.R.T. presents a "Festival of South African Theatre," which will include theater, music, films, lectures, and discussions that explore the intersection between art and social justice. Three theatrical productions will be at the center of the festival: "The Syringa Tree," written and performed by Pamela Gien (Dec. 30-Jan. 16, Loeb Stage); "Foreign Aids" written and performed by Pieter-Dirk Uys (Jan. 5-23, The Theatre at Zero Arrow Street); and "Nothing But the Truth" written by and featuring John Kani (Jan. 21-30, Loeb Stage).
"The Far Side of the Moon" written and directed by Robert Lepage. The Canadian director's multimedia pageant has played to wild acclaim at festivals around the world. Feb. 5-27, Loeb Stage.
"Dido, Queen of Carthage" by Christopher Marlowe, directed by Neil Bartlett. British director, translator, and novelist Bartlett joins us to stage Marlowe's retelling of the tragic infatuation of Dido for the Trojan hero Aeneas. In Marlowe's hands, the classical legend becomes rich in arias of longing, ambition, and rage. March 5-26, Loeb Stage.
"The Woodruff Project" directed by Robert Woodruff. Woodruff will explore the theatrical possibilities of the brand-new theater at Zero Arrow Street, directing the A.R.T.'s first fully staged production in the space. April 1-24, The Theatre at Zero Arrow Street.
"Desire Under the Elms" by Eugene O'Neill, directed by János Szász. Hungarian director Szász returns to stage O'Neill's drama of love and greed set on a New England farm. May 14-June 12, Loeb Stage.
"Three Sisters" by Anton Chekhov, directed by Krystian Lupa. Internationally renowned theater artist Lupa will direct Chekhov's drama of love and anguish in a provincial Russian town. June 18-July 17, Loeb Stage.
The A.R.T. is again offering several subscription plans and a host of benefits, including discounts on parking, fine dining, a child-care series and a discussion series, and tickets to other theaters. To learn more about the A.R.T. season, visit http://www.amrep.org, or call the A.R.T. information at (617) 547-8300.