Vicki Norberg-Bohm, a pioneer in the study of technology innovation,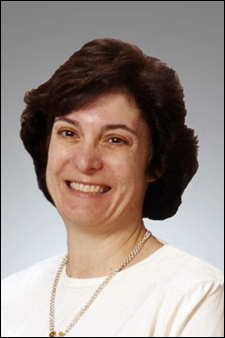 died March 21 at the age of 48 after a courageous fight with cancer.
Her work focused on understanding the process of technological change and the role of public policy in stimulating innovation and the diffusion of environment-enhancing technologies. Her research resulted in expanded interest in the field of technology innovation for sustainable development and improving the environment, and brought her to the attention of the world's leaders.
Norberg-Bohm was director of the Energy Technology Innovation Project at Harvard's Belfer Center for Science and International Affairs from 1999 until 2003, when she stepped down as a result of her illness. She was recruited to direct the Energy Technology Innovation Project by John Holdren, director of the Belfer Center's Science, Technology, and Public Policy program.
Norberg-Bohm developed the project around research that would allow society in both the rich and poor parts of the world to benefit from plentiful and cheap energy without imposing unacceptable burdens on the environment. Her work focused on technology innovation for sustainable development and voluntary approaches to reaching energy and environmental goals.
During her doctoral studies at the Kennedy School of Government, Norberg-Bohm
---
OBITUARY
---
was recruited by a number of environmental and government leaders to work on major energy and environmental challenges, including the U.S. Congress' first effort to determine how technology might mitigate the threat of global climate change, a major study by the National Academy of Sciences on human sources of global environmental change, and the first international research program on industrial ecology.
A native of St. Louis, Mo., Norberg-Bohm earned her B.A. in social science from the University of Michigan and M.S./B.S. in mechanical engineering from Washington University. Before moving east to pursue her Ph.D. at Harvard, she was a practicing engineer in energy and environmental systems, work that cemented her interest in the field and convinced her that understanding technological change required working with the people who chose to adopt, adapt, or reject technical innovations.
Following the completion of her Ph.D. in public policy at Harvard in 1996, Norberg-Bohm went to the Massachusetts Institute of Technology where she was assistant professor in the Department of Urban Studies and Planning and co-director of the Program on Environmental Research and Education from 1994 to 1999. She returned to Harvard in 1999 to direct the Energy Technology Innovation Project.
Norberg-Bohm published widely. MIT Press will publish in 2005 the book she conceived and co-edited, "Industrial Transformation: Environmental Policy Innovation in the United States and Europe."
"Vicki was not only an impressive scholar, she was a scholar with a mission. She never lost sight of why she was doing her research – to find better ways to harness the potential of technology to improve human well-being while protecting the environment. Her unique blend of intelligence and commitment, energy, and infectious enthusiasm added greatly to the lives of all who had the pleasure of working with her. She is fondly remembered, and deeply missed," says colleague William Clark, Harvey Brooks Professor of International Science, Public Policy and Human Development at the Kennedy School.
Vicki Norberg-Bohm lived in Arlington and is survived by her husband, Craig Norberg-Bohm, and their son, Jeremy.
In recognition of her work on energy and environmental issues, Harvard University has established a fund in Norberg-Bohm's memory. Donations may be sent to the Vicki Norberg-Bohm Fund, External Affairs Office, Kennedy School of Government, Harvard University, 79 JFK St., Cambridge, MA 02138. Checks should be made payable to Harvard University. Questions may be directed to the KSG Belfer Center Communications Office at (617) 495-9858.