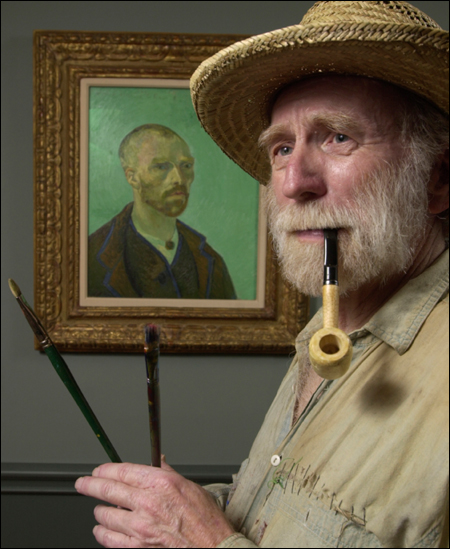 Photo by Jon Chase
With his trim beard and snappy straw hat, David Noard looks quite a lot like Vincent Van Gogh, the artist he portrays in his original one-man show, "My Name Is Vincent."
And as Noard describes his life – struggles with depression and attention deficit disorder that, while now managed with medication, led to a string of college flunkouts, "failures and wreckages strewn over the North American continent"- it's easy to assume he feels a unique bond with the famously troubled artist.
But Noard insists that any connection he has to the artist he portrays is more universal than unique.
"I have insight as a consequence of depression and as a consequence of a history of failure. I know what it is to be an outsider," says the museum attendant at the Harvard University Art Museums. "But so do millions of other people."
Nonetheless, Noard has forged an alliance with Van Gogh through a self-published biography of the artist and his play, which he's performed for audiences throughout New England and Florida (Noard performs "My Name Is Vincent" at Club Passim in Harvard Square this Sunday, April 25, at 8 p.m.). Although Van Gogh was not his favorite artist – Noard's own depression led him to the darker vision of the surrealists – the idea to explore Vincent's life in words and theater "came bubbling up" after another artistic endeavor fell through.
"I thought, if I did Vincent Van Gogh, I could promote the arts, I could battle for the underdog, and maybe do something for mental health," he says.
Indeed, "courage" and "humanity" come up repeatedly as Noard discusses Van Gogh's life. "I portray Vincent as somebody who's very willing to struggle to reach what he thinks he is," says Noard. The actor's admiration for Van Gogh's technical talent and visionary imagination are palpable as he describes the gnarled hands and expressive faces of "The Potato Eaters" or the vivid colors of "The Bedroom."
In "My Name Is Vincent," which incorporates discussion with the audience, Noard tells oft ignored stories of Van Gogh's short life as an artist: his upbringing as the son of a Dutch pastor, his diligence and skill at drawing, his ongoing health struggles, the enormous support and influence his brother Theo and Theo's wife, Joanna, had on his career success.
Along the way, Noard engenders new appreciation for Van Gogh's artistry and clears up some misconceptions, including the most enduring falsehood, which he denies with vigor.
"Van Gogh did not cut off his ear," he says. "He cut off the lower lobe and a little bit of his left ear."