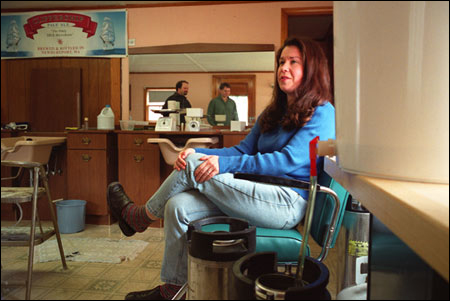 Photo by Stephanie Mitchell
What's smaller than a microbrewery but bigger than a cauldron of homebrew stinking up the kitchen?
A nanobrewery, says Heather Brownell. Brownell is one-third of the "nano" New England Brewing Co.; she, her husband, and a friend produce Clipper Ship Pale Ale in 10-gallon batches out of a former beauty salon behind her North Shore home. Distribution is nano, as well, as they currently share their wares only with friends and visitors at the Newburyport Microbrew Festival, an annual benefit for the Newburyport Maritime Museum.
"We're having a lot of fun," says Brownell, a microbiologist who works at the Harvard Medical School as a licensing associate in the Office of Technology Licensing and Industry Sponsored Research. Indeed, fun drives the venture far more than business plans, production schedules, or visions of grandeur. "Whenever we have the time, we brew," Brownell says, adding that on average, the trio produces about one batch a month. Asked what they do with the beer they brew, Brownell looks dumbfounded. "We drink it," she says with polite incredulity. What else?
New England Brewing Co. was born in 2002, but its heritage extends back to Brownell's days as a teaching assistant at Queens University in Ontario, where she was pursuing a Ph.D. in microbiology. She found beer brewing to be an effective way to interest undergraduates in microbiology. "It was the only lab everyone showed up for," she says.
Years later, living in Newburyport and perfecting their pale ale on the kitchen stove, the trio entered the local festival. "It was pretty awesome," says Brownell, and it got them hooked. In fellow brewers, she's found advice and friendship. "It's great to meet all the characters. People who like to brew beer like to talk about brewing beer," she says.
Buying the house with the erstwhile beauty salon meant the brewers could take their messy operation out of the kitchen to scale up – albeit modestly. With her professional familiarity with paperwork and procedures, Brownell deftly guided the company through the licensing process. New England Brewing (the name is scheduled to change to reflect their North Shore identification) is now legal as "farmer brewers," and Brownell and her partners hope to entice some local restaurants to carry their nanobrew.
While they may sport the trappings of a professional operation – the company has a Web site and a banner – brewing beer in the beauty salon remains more pleasure than business, says Brownell. "Someday, maybe we'll give tours of our nanobrewery."