For the group of public school educators and administrators who gathered at the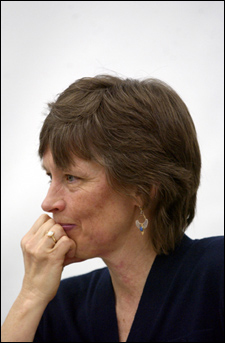 Graduate School of Education (GSE) Wednesday (March 31), pink slips and hiring freezes make teacher shortages difficult to imagine.
Within the next 10 years, however, our nation's schools will need 2 million new teachers, Professor Susan Moore Johnson told them. And if schools are to recruit and retain the best and brightest of teachers, most of them need to update their practices to better match the expectation of today's would-be teachers.
Johnson, the Pforzheimer Jr. Professor of Teaching and Learning, addressed educators from Boston and beyond, including Boston Public Schools Superintendent Thomas Payzant, at the GSE's annual Fleet Forum lecture, a continuing component of the GSE's Boston-Harvard Leadership Development Initiative (LDI), a partnership with Boston Public Schools. Johnson shared findings from her multiyear study, the Project on the Next Generation of Teachers, in a lecture called "Finders and Keepers: Helping New Teachers Survive and Thrive in Our Schools." The lecture also marked the release of her book by the same name (Jossey-Bass, 2004).
"This shortage is in fact very real," said Johnson, noting that some parts of the country, some types of schools, and some subjects are facing immediate
---
Project on the Next Generation
---
shortages of qualified teachers. For most of the nation's schools, however, a bump in hiring needs will come in the next decade, as student populations swell, reforms reduce class size, and a significant cohort of teachers who began their careers in the 1960s and '70s retire.
While efforts to counteract this impending shortage began several years ago with recruiting practices borrowed from the private sector – signing bonuses, poaching teachers from other schools, even promises of health club memberships or Palm Pilots – those techniques merely shifted the problem to retention. "The focus has to be simultaneously on attracting new teachers – strong, committed, able teachers – but also a serious effort to support and retain the very best of them," said Johnson.
School leaders must "continue to be very, very willing to look at how we can improve the opportunities to attract good people to the profession [and] provide them with the kind of education that they need so that when they enter the classroom to work with children, they are as knowledgeable and skilled as they can be," said Payzant in his opening remarks.
Not your mother's career
Johnson and her Next Generation of Teachers research team – co-investigators and GSE advanced doctoral students Sarah Birkeland, Susan Kardos, David Kauffman, Edward Liu, and Heather Peske – studied 50 new teachers in Massachusetts and conducted a broader survey of nearly 500 first- and second-year teachers in four states to explore how the current generation of teachers differs from those who began teaching decades ago.
Unlike their predecessors, teachers entering the profession now have far more career options that offer better pay and better-resourced workplaces, and nearly half of them are likely to have pursued another career before teaching. Forty-eight percent of new teachers in the sample were midcareer entrants with an average age of 35.
This mix of teachers straight out of college and those with other work experiences demands that schools accommodate those "who don't expect the copy machine to work," Johnson said, as well as those with work experience who are "astonished" at how schools function.
"They are members of a new generation as far as the profession goes," said Johnson. "Schools are not well-organized for them. In fact, the schools are organized for the teachers who are about to retire."
Hiring, mentoring, 'scaffolding'
Johnson detailed several structural processes that should change to better mesh with these new teachers' needs and expectations. Timely hiring – in the four-state survey, the researchers found that 35 percent of new teachers were hired after the start of the school year – and fair and appropriate teaching assignments are key to helping teachers get off on the right foot. Often, the researchers found, new teachers are assigned to the lowest tracks, the largest classes, or the classes preparing for standardized tests, leading to what one teacher called a setup for failure.
Unlike the retiring cohort of teachers, who value autonomy in what Johnson called "egg-crate classrooms," new teachers eagerly look to their colleagues for support. The ideal school culture fosters this collegiality by integrating the expertise and professional guidance of veteran teachers with the energy and commitment of new teachers with ongoing exchanges between veterans and novices. While many schools attempt to optimize this mix, Johnson said, too often structural issues – mismatched mentor assignments, misaligned preparation periods, a lack of support for peer observation – prevent novices and veterans from easily exchanging information.
Finally, Johnson urged schools to rethink the traditionally flat career path of a classroom teacher to better match new teachers' expectations of career mobility. If schools don't create what she called "scaffolds" of opportunities for teachers, they're in danger of becoming like summer camps, hiring a fresh staff each year. "If our schools move in that direction, then we will have serious problems," she said.