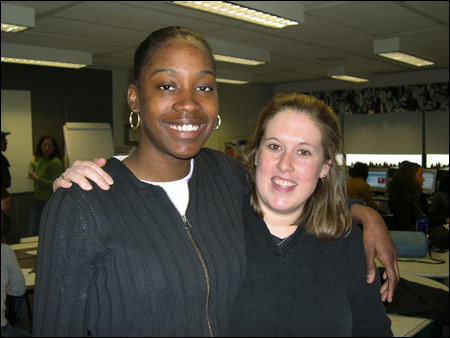 Doing things solo was never a problem for Alesia Johnson. After all, the Charlestown High senior from Dorchester held down a part-time job at a local bank, paid her own living expenses, and kept up pretty good grades without parental involvement. But when it came to applying to college, the first-generation college-bound senior was stumped.
Faced with application forms, questions about college affordability, and selecting the right school, "I just didn't know what to do," said Johnson. "For someone brand-new to the college application process, it was very overwhelming."
But this time, Johnson didn't have to go it alone. She had weekly guidance from
---
For more information on the COACH program
---
a group of Harvard student volunteers who form the backbone of Harvard's College Opportunity and Career Help (COACH) program. With their help, she applied to several area colleges and universities with a single online application available on the COACH Network, the latest addition to the program.
"My coaches helped me research the colleges I wanted to attend and get organized," said Johnson, who is shooting for admission to Babson or Bentley, but also applied to Northeastern University, Emmanuel College, Fitchburg State, Newbury College, and a few others.
"One thing's for sure, applying to all these colleges would have put a dent in my pocket," Johnson said, referring to the $60 per application processing fee. (Applying via the COACH Network is free to students. Colleges have agreed to waive the application fees, which can range from $40 to $75, and there is no charge for using the Web site.)
COACH programs currently serve three Boston high schools. The largest is the Charlestown program. At the Dorcester Educational Complex, COACH is implemented through a partnership with UMASS Boston, and there is a COACH program at South Boston Excel High School, as well.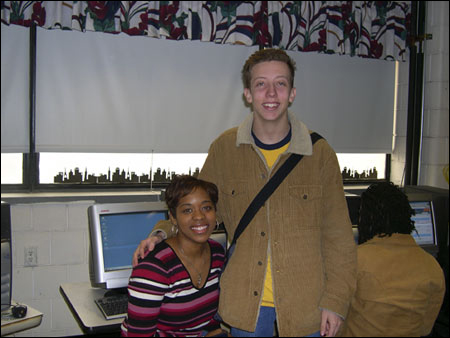 A streamlined application process
Johnson was among the first group of Boston high school seniors to take advantage of the new online system that was designed by the creators of COACH. In the Network's first year, nearly 400 Boston public school seniors have been able to instantly apply to up to eight of 35 participating colleges and universities at a time. It has also helped schools interested in recruiting minority students locate potential applicants.
"There are a lot of places where things can go wrong in the college application process," said Kennedy School of Government Public Policy Professor Christopher Avery, who co-created COACH to help address the disparity between numbers of college-bound students at inner-city public schools and those at suburban public schools.
"The process itself is very logistically complicated for our students, and although we work with them week to week, progress could slow for any number of reasons," said Avery. "But with the online system, students had the confidence that anytime we worked together, their work was saved and progress on their college applications moved forward."
Bridging the college gap for inner-city youth
The COACH program was created five years ago when Avery and fellow Kennedy School faculty member Tom Kane (now of the University of California, Los Angeles) sought to answer why low-income students were much less likely to go to college than more affluent peers. The widespread belief was lack of funds kept college out of reach for these students. But in the course of a three-year research project, where Harvard volunteers helped seniors in three Boston public schools, it became clear that the college application process itself was far more of an obstacle.
The bridge that COACH builds between the high school students and college is a human one, made possible through individual mentoring from a team of Harvard students who each year volunteer weekly at select Boston high schools. Over the years, the program has included high school juniors as well as seniors, giving students a jump start on the application process.
"The way we characterize this program to Boston public schools is this: We plan to bring in energetic college students and get out of their way as they help these students get to where they want to be," said Avery, noting that he expects 80 percent of seniors at Charlestown to be college-bound this year.
According to college and career counselors at Charlestown High School, where COACH has operated for the past four years, the program has had an impact on the entire senior class.
"Twenty-five percent more seniors apply to college now," said Terry Feeney, the Charlestown school-to-career coordinator. "It's the personalization that has the biggest impact. Many of these kids are from first-generation immigrant families. A lot don't have parents who will guide them through the process. On their own, the process is overwhelming, so they would just give up."
Looking forward to a bright future
For senior Jaime Lopez, the encouragement and perspective he got from his COACH gave him the push he needed to apply to his top-choice colleges.
"He was underselling himself," said COACH volunteer Dawn Henson, a second-year student at Harvard Divinity School.
Today Lopez is riding high with a choice of Bentley College and Northeastern University, and is waiting to hear if he has been accepted to others.
Meanwhile, Alesia Johnson has been accepted to Newbury College, but is still holding out for Emmanuel, a recent favorite. The reality that she will actually be going to college is sinking in. Now she's turned her attention to scholarships and is taking advantage of the COACH seminars on college budgeting and time management.
While Johnson is relieved she was accepted, COACH's Martha Mullane has no doubts about her future.
"She has the energy and drive to make things happen, and in this case, just needed a little push to start thinking about her life after high school," said Mullane, a recent graduate of the School of Education and one of the COACHes who guided Johnson through the process. "She has the fire to make it…."